Chicken Baryani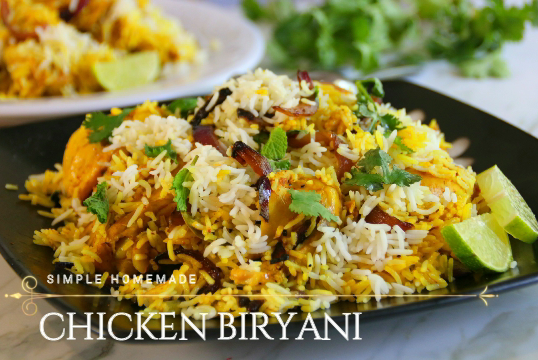 For the Marinate:
9 Chicken thighs or breasts, cubed
½ cup of plain yogurt
1 medium chopped tomato
4 - 5 cloves of crushed garlic
2 thumb size ginger, crushed
1 tbsp of lime juice
½ tsp of salt
½ tsp of pepper
drizzle of olive oil
2 tsp of garam masala
2 tsp of cumin
2 tsp of turmeric powder
For the Rice:
2 cups of basmati rice
2 bay leaves
1 pack of chicken bouillon or 1 chicken cube
2 tsp of salt
water for soaking and boiling
Additional Ingredients and Garnishes:
1 large red onion, sliced
handful of fresh mint and coriander leaves
3 tbsp of warm milk
2 pinches of saffron
cooking oil or ghee
Soak the rice in water for about 20 minutes.
While the rice is soaking, put the chicken in a bowl and add in the marinate ingredients. Using a spoon or your hands, mix to ensure the spices are well combined and the chicken is completely coated. Cover the bowl with cling wrap and let it marinate for 30 minutes or so - overnight is preferred.
Add the onions to a pan and fry until soft and brown. This will take 10 minutes or so over medium high heat. Set them aside.
Transfer the chicken into a pot with the marinate and bring it to a boil. Reduce to a simmer, cover, and let the chicken cook through. This will take about 20 minutes on medium heat. Turn off the heat and set aside.
Meanwhile, combine the warm milk and saffron. Mix until well combined and allow it to soak for a few minutes. The mixture should turn orange.
Bring a pot of water to a boil. Season it with salt, bay leaves, and chicken bouillon. Drain the rice and put it into the boiling water. Cook for 3minutes and not more than 5. You want it 70 percent cooked.
Ladle the rice over the chicken mixture.
Top the rice with the onions, mint, and coriander.
Spoon the saffron mixture over the top.
Put the pot back on the stove, over low heat, and let it steam for 10 or 15 minutes.
Serve and enjoy your chicken biryani.