Seafood
Pesang Isda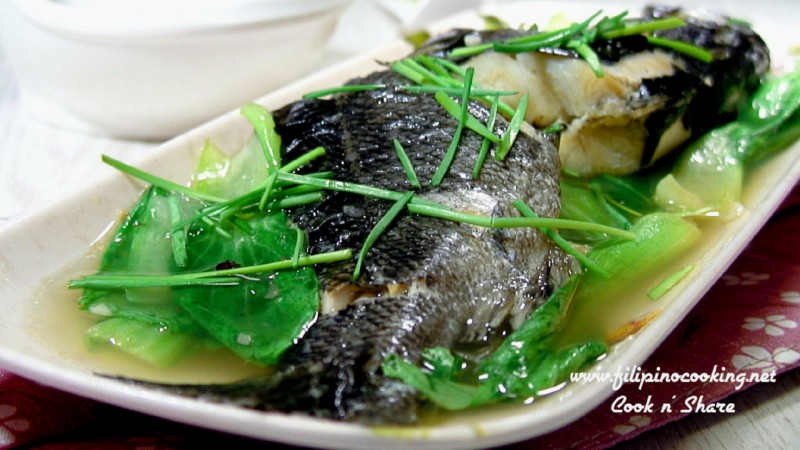 Pesang isda a variation of Nilaga with the exception of the use of fish. It is a very healthy native Filipino dish. It is best prepared with Lapu Lapu fish, however, any kind of white  fish can be used such as maya-maya, tilapia, or samaral, depending on the availability. Some Filipinos fry the fish first, but this recipe has been handed down from my family and, in this case, the fish is cooked using the traditional way of Nilaga Baka. To get a good outcome, make sure you don't over cook the fish. In this recipe, 10 minutes simmering of fish  is perfect. Longer time will make the fish soggy. You can also season the fish according to your taste. To enjoy this dish, serve it with patis with chopped siling labuyo on the side, plus hot rice. Eat them with bare hands. Are you craving now for this delicate fish soup? Make this today and enjoy.

Ingredients:
1 medium size fish (lapu-lapu, mayamaya, samaral or any white fish) cut in serving pieces
1 small onion chopped
3 cloves garlic, chopped
1 thumb size ginger chopped
1 bundle bokchoy leaves
leeks, chopped for garnish
2-3 tbsp fish sauce (to taste)
1/2 tsp whole pepper corn
3 cups water
cooking oil
Servings: 2
Time: 30 minutes
Level: Easy
Cuisine: Filipino
Add to Recipe Box
Recipe Rating:
(3.5 / 5)
Cooking Video:
Directions:
Add cooking oil in a preheated pan. Saute garlic, onion and ginger until soft and fragrant.
Pour in enough water. Season with fish sauce and add whole pepper corn. (Adjust seasoning according to taste). Bring to boil.
After a boil, place the fish in. Turn on lower heat and simmer until both sides are cooked approximately 10 minutes. Do not over cooked fish.
When fish turns opaque, add bokchoy leaves. Turn off heat and let leaves soak for at least 3-5 minutes until tender.
Garnish with leeks. Serve and enjoy!
Share This Recipe