Pork
Slow Cooker Pork Ribs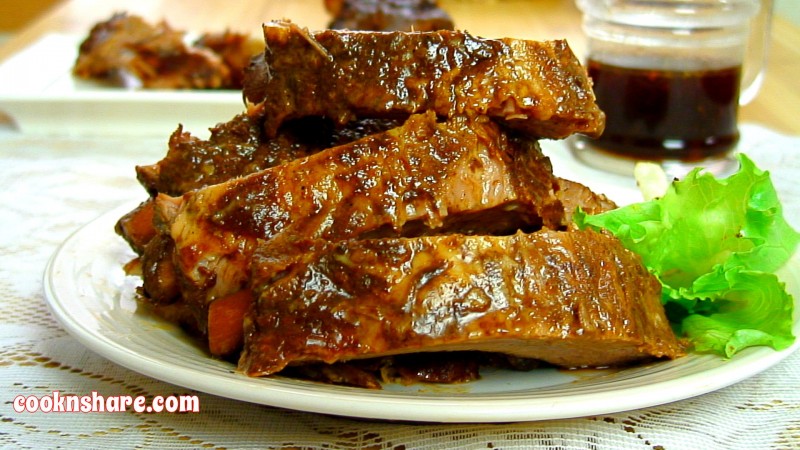 Slow cooker pork ribs are one of my favorites. When they are done, they are moist, tender, and fall off  the bone. I like to serve these up with some baked potatoes or fries. A nice garden salad goes well with them. Of course, don't forget a nice cold beer.
The rub is very simple and basic. If you want to add a few extra spices, by all means feel free to do so. I sometimes add a touch of onion powder and paprika. If you have your own favorite rub, use it. I use Hunts Hickory and Brown Sugar for the sauce as this is one of my favorites. I have at times used a couple of tablespoons of ketchup and a tablespoon of Worcestershire sauce to add some kick to it. Of course, if you have your own barbecue sauce, use it. The ribs are the most tender when cooked on low for 6 or 7 hours. If you are in a hurry, however, you can get away with cooking them on high for about three and a half hours.
[wpsr_facebook][wpsr_pinterest][wpsr_stumbleupon][wpsr_linkedin]

Ingredients:
3 lb. whole pork ribs or baby back rib
1/4 cup brown sugar
1 tbsp chili powder
2 – 3 cloves of garlic
salt and pepper
1 medium onion quartered and shred
Barbecue sauce of your choice for basting
Servings: 5-6
Time: 7 hours
Level: Easy
Cuisine: American
Add to Recipe Box
Recipe Rating:
(5 / 5)
Cooking Video:
Directions:
Remove the ribs from the fridge, rinse, pat dry, and allow them to sit a room temperature for 20 minutes to half an hour
In a mixing bowl combine the chili powder, brown sugar, garlic, salt and pepper. Rub it on all side of the ribs. Brush a generous application of the sauce on the backside of the ribs (concave up).
Place the onions into the bottom of the crock pot. Add in the ribs (concave side down). Coat the top side with another layer of sauce. Cook on low for 6 or 7 hours. Half way though the cook (about 3 1/2 hours) give the ribs another generous application of sauce – top and bottom. If you are in a hurry, you can cook them on high for 3 to 3/2 hours.
Gently remove the ribs from the slow cooker. Serve and enjoy your slow cooker pork ribs.