I remember growing up and having ravioli in a can. Good old Chef Boyardee. The funny part is, I simply loved it. Then, as I got older, I had the opportunity to experience true Italian ravioli. Suddenly, gone were the days of Chef Boyardee, and sadly he had to throw in his apron. When I decided to make ravioli from scratch, it was laborious and time consuming but in the long run often worth the effort. Then I made up the simple four ingredient baked ravioli recipe and was shocked at the outcome. I never thought that somethings so simple could be so easy and delicious.
To make this recipe all you need is a bag of pre-made ravioli, a jar of spaghetti sauce, some grated cheese, and spinach. Of course, you can use the ingredients of your choice and the ones I have mentioned are interchangeable. Also feel free to spice the recipe up using the seasoning of your choice. For example, some Italian seasoning, garlic powder, onion powder, and other types of seasoning would certainly not go amiss.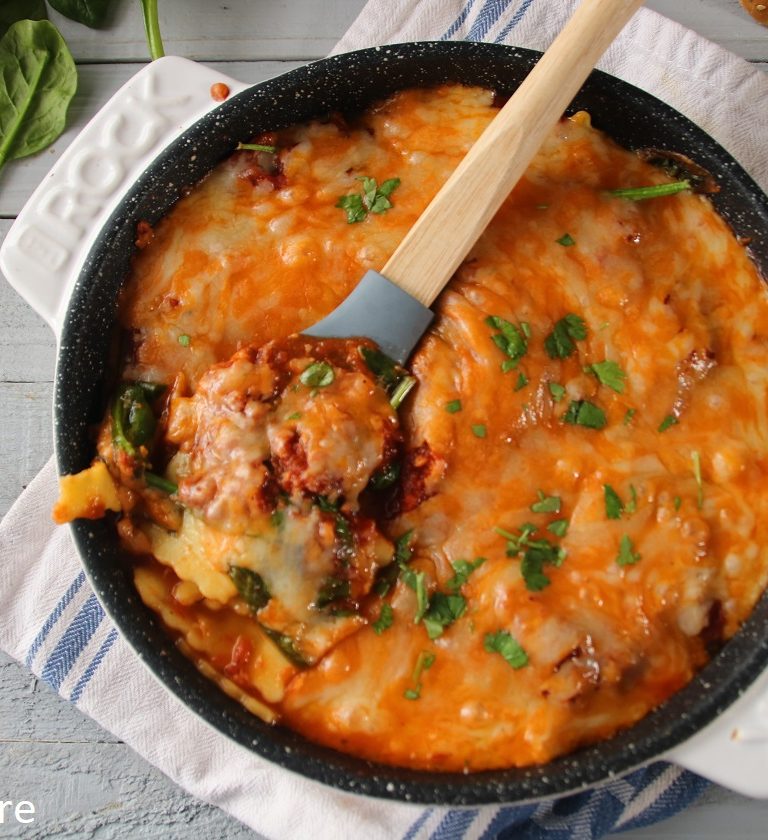 4 Ingredient Baked Ravioli Recipe
Description
When it comes to loving ravioli, I am certainly a victim. When I was young I used to have ravioli in a can all the time. That was the trouble, however. It was in a can. The day I came across this four ingredient baked ravioli recipe, I was hooked for life. Simple, easy, and delicious. This dish makes a fantastic midweek meal and the kids will love it.
Add a couple of tablespoons of spaghetti sauce to the bottom of a casserole dish. This stops the ravioli from sticking.

Add in the ravioli and spread it out evenly. Follow by adding the spinach, remaining spaghetti sauce, and cheese.

Place the ravioli in a 375°F or 190°C preheated oven for 20 minutes.

Remove it from the oven and garnish it with basil or parsley.

Serve your baked ravioli up with a garden salad and some Italian or French bread. As always, enjoy!
Servings 1
---
Amount Per Serving

% Daily Value *

Total Fat 22g

34

%

Saturated Fat 10.48g

53

%

Cholesterol 157.98mg

53

%

Sodium 1230mg

52

%

Potassium 119.97mg

4

%

Total Carbohydrate 52g

18

%

Dietary Fiber 7.5g

30

%

Sugars 4.5g

Protein 25g

50

%
---
* Percent Daily Values are based on a 2,000 calorie diet. Your daily value may be higher or lower depending on your calorie needs. Nutritional values are a within reason estimate and my vary depending on several factors.
Note
I use the pre-made spinach and cheese ravioli. Just to keep it on the veggie side. You can, however, use any ravioli of your choice. A meat ravioli is often nice as well.
In terms of the cheese, I use the four mix Tex-Mex. Of course, you can use any cheese you like.
As for the spaghetti sauce, I just use a Jar of common spaghetti sauce. Often I'll use basil and garlic. You can, however, make it from scratch if you have time. I'd also like to add that you can season the sauce according to your liking. I'm just giving you the recipe to keep things as basic as possible. Some Italian seasoning, garlic powder, onion powder, etc. certainly would not go amiss.
Ravioli, Italian Recipes, Midweek Meals, Easy Dishes, Pasta