Our baked potato omelette is a simple and delicious recipe that involves only a few east steps. The ingredients can be as simple or as complex as you would have them. For example, we use three medium size white potatoes, two eggs, olive oil, salt, pepper, and a slice of chopped, cooked ham, 1/4 cup of a chopped red onion, some basil, and garlic powder. It's simply doesn't get much easier than this. Additional ingredients can be used too. In example, some milk would fit in nicely as it would make the eggs fluffier.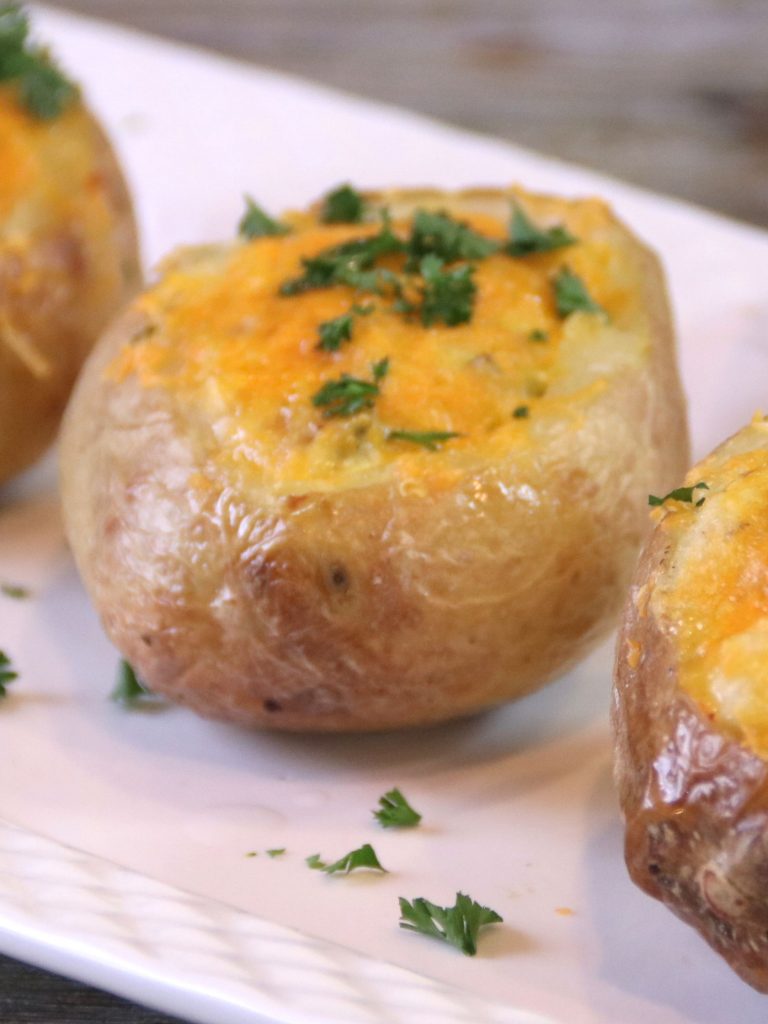 Baked Potato Omelette
Description
The process involves pouring some oil over the potatoes so they don't dry out too fast, and placing them in a 170°C 350°F preheated oven for about 45 minutes or until they become fork tender. I always, I cheat and do the potatoes the night before and place them in the fridge which makes the whole process a lot easier for breakfast the next morning. I like a no nonsense breakfast.
The meat or flesh from the potatoes is then mixed with the eggs, salt, pepper, cooked ham, red onion, basil, and garlic. It is whisked and poured back into the potato bowl as I call it. You might have some mixture left over for a regular omelet the following morning which is always nice. Some cheddar cheese is then sprinkled over the top, you can use mozzarella if you wish, and they are placed back in the oven, at the same temperature, for about 10 minutes until the cheese melts and the egg sets.
Give it a try, let us know what you think, and enjoy your baked potato omelet.
Preheat your oven to 1 75°C or 350 Fahrenheit

Pour olive oil over the potatoes

Place in the oven and bake for 45 minutes or until fork tender.

Using a sharp knife, cut about half an inch slab off the potato.

With a melon ball or spoon scoop most of the flesh out of the potato, leaving some around the bottom edges - about half an inch.

Place the potatoes on a baking tray lined with aluminum foil or parchment paper.

In a separate bowl, place in the potato flesh, eggs, cooked ham, onion, basil, salt, pepper, and garlic powder. Whisk until well combined.

Pour the mixture into the potato bowl, spread the cheese over the top, and placed back in the oven for an additional 10 minutes or so until the exit and cheese melts and the eggs set.

Serve and enjoy your big potato omelette.
Serving Size 1
Servings 3
---
Amount Per Serving

% Daily Value *

Total Fat 16.4g

26

%

Cholesterol 218mg

73

%

Potassium 860mg

25

%

Total Carbohydrate 28g

10

%
---
* Percent Daily Values are based on a 2,000 calorie diet. Your daily value may be higher or lower depending on your calorie needs. Nutritional values are a within reason estimate and my vary depending on several factors.