If you're a fan of calzones but find yourself hesitating due to their often hefty price tag when ordering take-out, we've got you covered. Our homemade calzones are not only incredibly tasty, but they're also half the price of what you'd pay for take-out.
In this recipe, we'll guide you through the entire process of making these budget calzones from scratch. From preparing the dough to filling it with a mouthwatering combination of ingredients, you'll learn all the tips and tricks to create perfect calzones every time.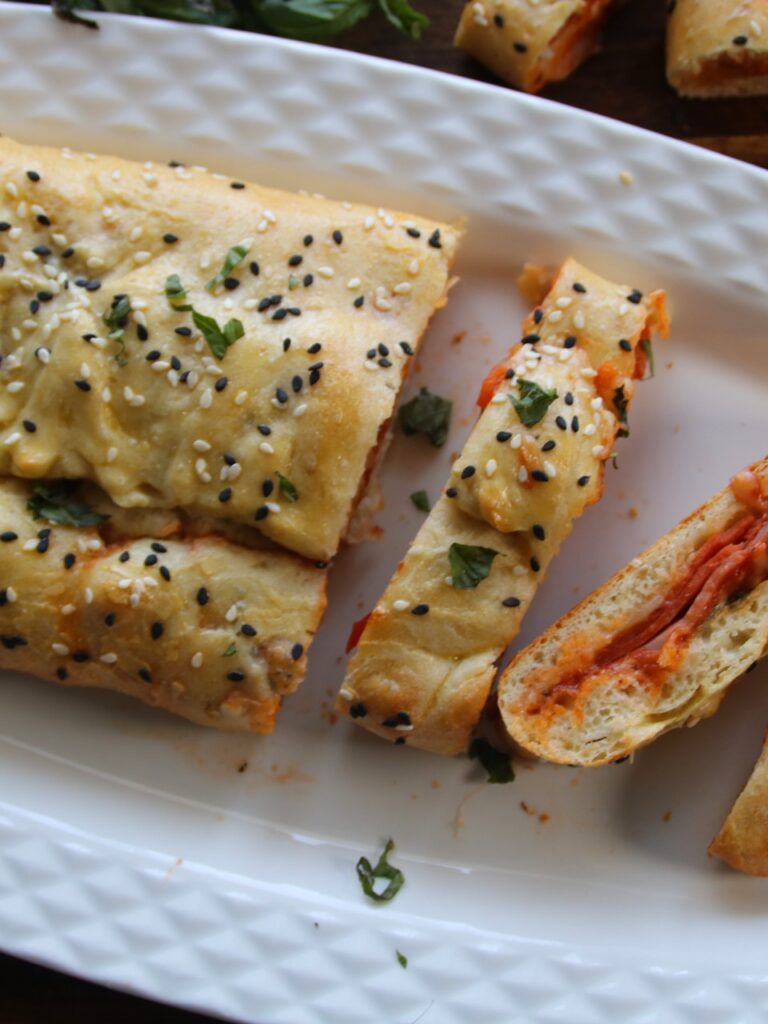 Budget Calzones – HALF the PRICE of Take-Out
Description
Not only will you save money by making these calzones at home, but you'll also have full control over the ingredients. Whether you prefer classic combinations like pepperoni and cheese or want to experiment with unique fillings, the possibilities are endless.
Spray a baking tray with baking spray. Place the pizza ball on and roll it out into a rectangle. Approximately 10 by 14 inches. 

Lay the Swiss cheese over followed by the pepperoni, ham, pizza sauce, mozzarella, red bell pepper, and Italian seasoning. 

Grab up the dough from one side and fold it towards the centre. Do the same for the opposite side. Pinch it shut. 

Combine the milk and egg in a small bowl and mix until combined. Brush it over the calzone. Sprinkle the sesame seeds over the top. 

Place the calzone in a 400 degree F or 200 degree C preheated oven for about 20 minutes. 

Slice, serve, and enjoy your calzone. 
---
Amount Per Serving

% Daily Value *

Total Fat 90g

139

%

Saturated Fat 37g

185

%

Trans Fat 1.1g

Cholesterol 242mg

81

%

Sodium 2500mg

105

%

Potassium 2000mg

58

%

Total Carbohydrate 55g

19

%

Dietary Fiber 3.1g

13

%

Sugars 3.1g

Protein 66g

132

%
---
* Percent Daily Values are based on a 2,000 calorie diet. Your daily value may be higher or lower depending on your calorie needs. Nutritional values are a within reason estimate and my vary depending on several factors.
Note
Dough: Making your own dough is not only cost-effective but also allows you to customize the texture and flavor of your calzones. But, as in this recipe, feel free to use store-bought dough if you prefer a quicker option.

Filling: The beauty of calzones is that you can get creative with the fillings while still keeping it budget-friendly. Opt for affordable ingredients like shredded mozzarella cheese, sliced pepperoni, diced bell peppers, onions, and mushrooms. Feel free to add any other toppings or vegetables you have on hand to personalize your calzones.

Sauce: Serve your calzones with a side of marinara sauce for dipping. You can make a homemade sauce using canned crushed tomatoes, garlic, herbs, and spices. Alternatively, you can use store-bought marinara sauce to save time and effort.

Size and Shape: The size and shape of your calzones are up to you. You can make individual-sized calzones or a larger one to share. Just make sure to adjust the baking time accordingly.

Baking: Preheat your oven to the recommended temperature mentioned in the recipe. Place the calzones on a baking sheet lined with parchment paper or a lightly greased baking dish. Bake until the calzones are golden brown and the cheese is melted and bubbly. Keep an eye on them to prevent overcooking.

Serving Suggestions: Once your calzones are done, allow them to cool slightly before serving. Serve them as a main dish alongside a fresh salad or as a delicious appetizer at parties or game nights. You can also pack them as a budget-friendly lunch option for school or work.

Storage: If you have any leftovers, allow the calzones to cool completely before storing them in an airtight container in the refrigerator. They can be reheated in the oven or microwave for a quick and satisfying meal.
Remember, the best part of making budget calzones is that you can customize them to your liking while keeping the costs low. Get creative, have fun in the kitchen, and enjoy your homemade calzones that are as tasty as take-out but half the price!
Italian Cuisine, Calzone, Snacks, Pizza