Looking for a quick and easy weeknight dinner idea that's budget – friendly, delicious and filling? Look no further than this cheesy hamburger and potato casserole recipe! In this recipe, we show you step-by-step how to make this family favourite comfort food. We start by browning the ground beef. Then, adding the potatoes to a casserole dish and layering the ground beef mixture and cheese to create a mouthwatering casserole.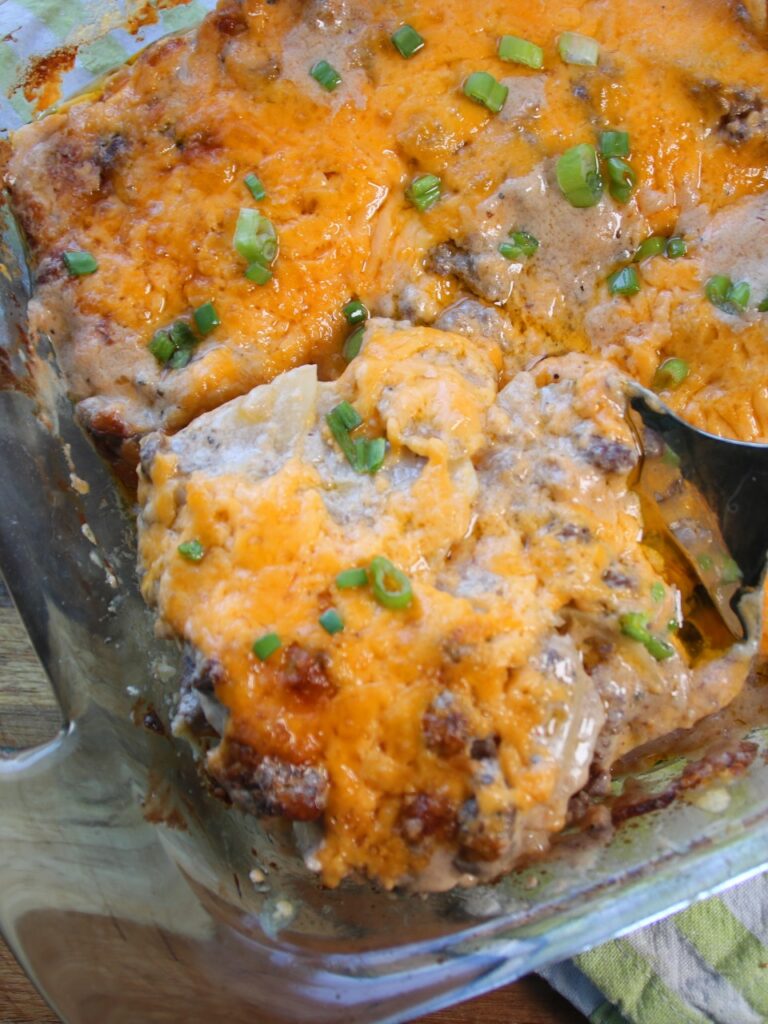 Budget Cheesy Hamburger Potato Casserole
Description
Our recipe is easy to follow and requires minimal prep time, making it a great option for novice cooks or anyone looking to simplify their meal planning. And with its rich, cheesy flavour and filling texture, it's sure to become a favourite in your household.
Add some oil to a pan over medium high heat. Place the ground beef in. Break it up and fry until browned.

Add in the onion and garlic. Fry until the garlic is fragrant and the onion becomes translucent. This should take 3 or 4 minutes. 

Add in the bbq sauce, Worcestershire sauce, Italian seasoning, salt, and pepper. Stir and fry until combined.

Pour in the soup and the milk. Stir and bring to a boil. 

Add a layer of potatoes to the bottom of a casserole dish. Follow this by half the ground beef mixture. Then half the cheese. Repeat this process for the final layer.

Place in a 375 degree F or 200 C preheated oven for 45 minutes. Remove, garnish with onions, and serve. 

Enjoy your cheesy hamburger potato casserole. 
---
Amount Per Serving

% Daily Value *

Total Fat 20g

31

%

Saturated Fat 4.5g

23

%

Cholesterol 75mg

25

%

Sodium 1100mg

46

%

Potassium 1120mg

32

%

Total Carbohydrate 30g

10

%

Dietary Fiber 5g

20

%

Sugars 4.2g

Protein 28g

57

%
---
* Percent Daily Values are based on a 2,000 calorie diet. Your daily value may be higher or lower depending on your calorie needs. Nutritional values are a within reason estimate and my vary depending on several factors.
Note
Ingredient variations: Feel free to add or substitute other ingredients to suit your taste preferences. For example, you could add green peppers or mushrooms for extra flavour and nutrition.
Preparing the potatoes: Make sure to slice the potatoes thinly and evenly to ensure they cook through and are tender. If you're short on time, you can also partially cook the sliced potatoes in the microwave for a few minutes before assembling the casserole.
Seasoning the ground beef: To add extra flavour to the ground beef, you can season it with a variety of spices such as onion powder or paprika.
Cheese variations: Use any type of cheese you prefer, such as cheddar, mozzarella, or Monterey Jack. You can also use a blend of different cheeses for added flavour.
Baking time: The baking time for the casserole may vary depending on the thickness of the potato slices and the type of oven used. To ensure the casserole is fully cooked, test the potatoes with a fork to make sure they are tender.
Serving suggestions: Cheesy hamburger and potato casserole pairs well with a variety of side dishes, such as a green salad or steamed vegetables. It also makes great leftovers for lunch or dinner the next day.
Hamburger DIsh, Casserole, Hamburger and Potato, Dinner