Who doesn't like budget friendly meals, especially if they are easy and delicious. Imagine, only $2.00 per serving as well. If that's the case, then these budget mini meatloaf cups are for your. Another great thing is you can freeze and store these. That's right, make them up, slip them in the freezer, and they are at your fingertips for whenever you want them.
These meatloaf cups are so easy and only use a few ingredients that you should have right in your pantry or fridge: ground beef, garlic, onion, salt, pepper, Italian seasoning, breadcrumbs, eggs. Worcestershire sauce, and ketchup. It simple doesn't get any easier.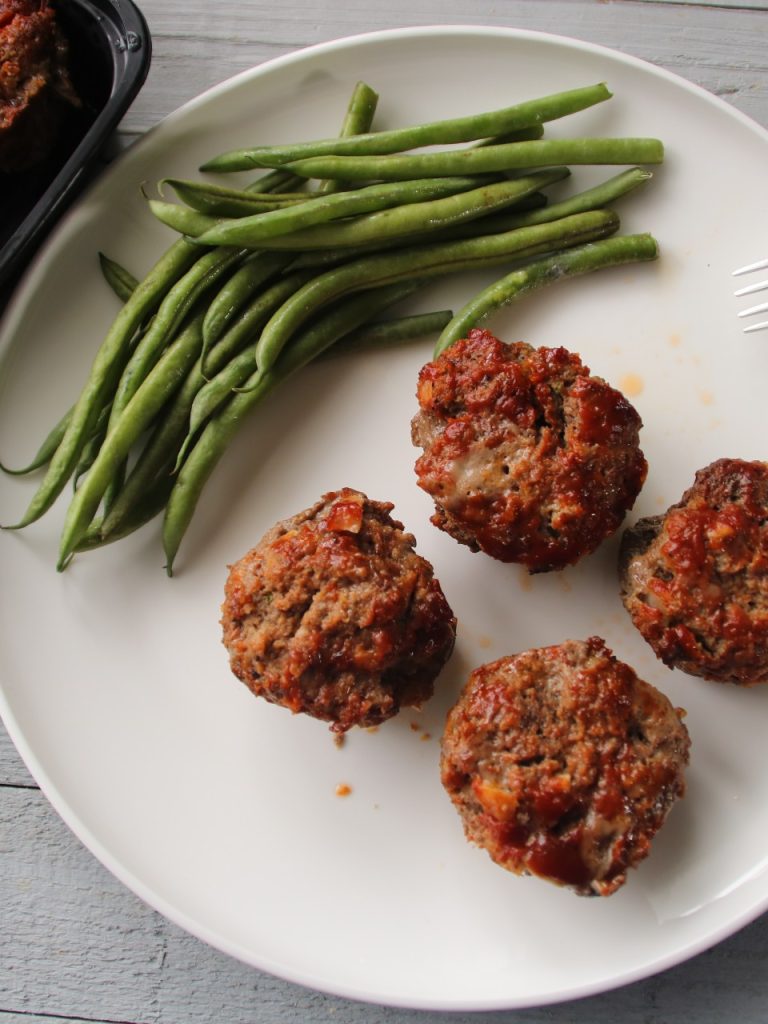 Budget Mini Meatloaf Cups Freeze and Store
Combine all of the ingredients in a mixing bowl. Mix until well combined.

Spray a muffin tray with baking spray. You can oil as well. Scoop up 2 or 3 tablespoons of the mixture into each well and smooth out. I often use an ice cream scooper. You want the will basically full.

Pour some sauce over each cup and smooth out with a brush.

Place into 375 F or 190 C preheated oven for about 20 minutes. 

Allow to cool and place in storage containers to freeze. You can also serve immediately.
To Make the Sauce
Combine the ingredients for the sauce in a mixing bowl. Mix well.
Servings 1
---
Amount Per Serving

% Daily Value *

Total Fat 5.9g

10

%

Cholesterol 75mg

25

%

Sodium 510mg

22

%

Potassium 18mg

1

%

Total Carbohydrate 14g

5

%

Dietary Fiber 1g

4

%

Sugars 6.2g

Protein 18.1g

37

%
---
* Percent Daily Values are based on a 2,000 calorie diet. Your daily value may be higher or lower depending on your calorie needs. Nutritional values are a within reason estimate and my vary depending on several factors.
Note
Additional Notes:
Ground Meat: You can use any ground meat of your choice for this recipe. Ground beef, turkey, chicken, or a combination of meats work well. Choose leaner cuts to keep it healthier.

Breadcrumbs: Breadcrumbs help bind the meatloaf mixture together. You can use store-bought breadcrumbs or make your own by processing stale bread slices in a food processor.

Vegetables: Sneak in some extra nutrition by adding finely chopped vegetables to the meatloaf mixture. Carrots, onions, bell peppers, and zucchini work great. Sauté them before adding to the mixture for enhanced flavor.

Seasonings: Experiment with different herbs and spices to personalize the flavor of your meatloaf muffins. Some popular choices include garlic powder, dried oregano, thyme, or a dash of Worcestershire sauce.

Toppings: Before baking, you can brush the tops of the meatloaf muffins with ketchup, BBQ sauce, or a mixture of tomato paste and brown sugar for a tangy and sweet glaze. It adds an extra layer of flavor and moisture.

Make-Ahead and Freezing: These meatloaf muffins are perfect for meal prepping. Once baked and cooled, you can store them in an airtight container in the refrigerator for up to 3 days. They can also be frozen for up to 2 months. To reheat, simply pop them in the microwave or oven until heated through.

Serving Suggestions: Serve these Dollar Wise Meatloaf Muffins with your favorite sides such as mashed potatoes, steamed vegetables, or a fresh green salad. They also make great sandwich fillings or protein-packed snacks on the go.
Remember, the key to being Dollar Wise in the kitchen is to make the most of what you have while still enjoying delicious meals. So, get creative, have fun, and enjoy these tasty meatloaf muffins that won't break the bank!
Meatloaf, Quick Meals, Freezable, 30 Minute Meals