These tasty little doughnuts will tickle you and your families' pallet. Your friends and guests will also love them too. They are fantastic served up with a cup of coffee, tea, or milk. The great thing is (shhhhhhh), they can be made up so fast, you won't believe it. You can, however, add a few extra ingredients to the coating itself. As always, give them a try and let us know what you think.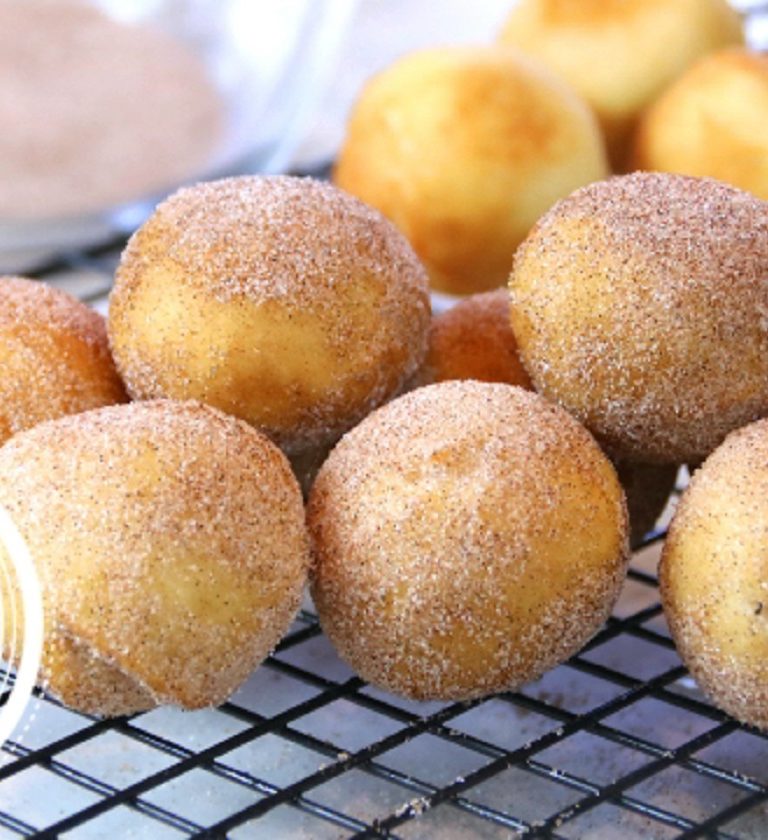 Cinnamon Sugar Coated Doughnuts – 3 ingredients 10 Minutes
Description
Our cinnamon coated doughnuts are so easy to make. They are also incredibly delicious. Made with a simple combination of basic ingredients and coated with cinnamon and sugar, they can be made up in a jiffy.
Add the sugar and flour to a mixing bowl and whisk until well combined.

Pour the milk in. Using a wooden spoon, mix until a dough forms. If it is too gooey, you can certainly add more flour.

Pinch up a palm full of dough and place it the palm of your hand

Roll into a ball and place on a plate.

Preheat oil to 350 F. 177 C.

Place the doughnuts in and fry them, in batches, until they a a beautifully golden brown.

This will take 3 or 4 minutes.

In a bowl, combine the sugar and cinnamon.

Roll the doughnuts in the mixture and place back on a wire rack.

Serve and enjoy your cinnamon sugar coated doughnuts.

Set them aside on a wire rack lined with a baking tray.

Once the doughnuts are cool enjoy to handle, roll in in the cinnamon sugar mixture.

Serve and enjoy your cinnamon sugar coated doughnuts.
Servings 1
---
Amount Per Serving

% Daily Value *

Total Fat 3g

5

%

Saturated Fat 0.5g

3

%

Cholesterol 5mg

2

%

Sodium 75mg

4

%
---
* Percent Daily Values are based on a 2,000 calorie diet. Your daily value may be higher or lower depending on your calorie needs. Nutritional values are a within reason estimate and my vary depending on several factors.
Note
If you're a cinnamon lover, add more. If you are a sweet tooth lover, add more. Altering the recipe if fairly straight forward depending on your taste. You be the boss of your doughnuts. 
Doughnuts, Cinnamon, Doughnut Holes