Our classic creamy chicken soup recipe is excellent on cold and rainy days. It is one of my winter soup go to recipes by far and is one of the nicest comfort foods I know of. I make it with a combination of chicken, thyme, salt, pepper, onions, carrots, celery, cream, and milk. In light of this, it stands out as simple, elegant, and classic. One of the greatest things is, it's a 30 minute recipe. Which makes it the perfect fast soup recipe.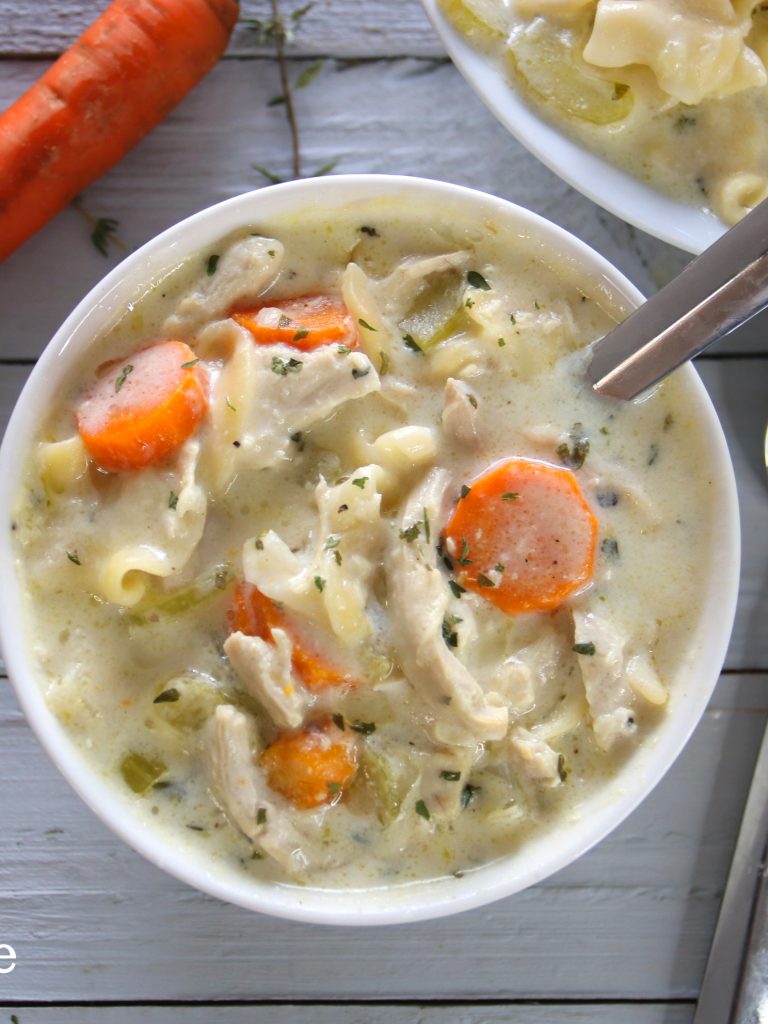 Classic Creamy Chicken Noodle Soup Recipe
Description
Chicken noodle soup is a classic around the world. This recipe is simple to make and contains ingredients that most people will have in their pantry or fridges. Member Sara Roberts says: "It's one of the richest, creamiest, chicken noodle soups she has ever tasted. Not to mention, so simple to make." 
Add the butter to a large pot over medium heat. Place in the onions, carrots, and celery. Stir and saute until softened. 

While the veggies are cooking, add the flour to the milk and stir.

Once the vegetables are tender, add in the milk and stir to ensure there are no lumps. Pour the chicken stock in and stir once again.

Put the chicken in followed by the thyme, parsley, salt, and pepper. Stir and bring to a soft boil. 

Place the noodles in, stir, cover, and allow to simmer for about 10 to 12 minutes until the noodles are cooked.

Add in the cream, stir, and allow to simmer for another couple of minutes.

Serve and enjoy your classic creamy chicken noodle soup.
Servings 1
---
Amount Per Serving

% Daily Value *

Total Fat 7.2g

12

%

Trans Fat 2.3g

Cholesterol 42.3mg

15

%

Sodium 295mg

13

%

Potassium 475.3mg

14

%

Total Carbohydrate 30.1g

11

%

Dietary Fiber 1.5g

6

%

Sugars 3.2g

Protein 17g

34

%
---
Vitamin A

8.6

IU

Vitamin C

4.3

mg

Calcium

26

mg

Iron

8.9

mg

Vitamin D

12.7

IU

Vitamin E

0.9

IU

Thiamin

22.2

mg

Riboflavin

27.8

mg

Folate

18.4

mcg

Vitamin B12

16

mcg

Pantothenic Acid

10.5

mg

Phosphorus

28.8

mg

Zinc

9

mcg

Selenium

32.5

mg

Copper

5.8

mg

Manganese

10.7

mg
* Percent Daily Values are based on a 2,000 calorie diet. Your daily value may be higher or lower depending on your calorie needs. Nutritional values are a within reason estimate and my vary depending on several factors.
Note
This recipe produces, in my opinion, a rich and creamy soup. You can, however, add additional ingredients to suit your likings. For example, extra vegetables or seasoning would be a welcomed addition.  
Soups, Chicken Noodle Soup, Soup Recipes, Leftover Chicken