Like the rest of the world, I love fried chicken. It's simply down home comfort food. The hardest part to making it, however, is getting it crispy and keeping it crispy. In this recipe we have mastered the technique. It boils down to the use of butter milk and what's in the batter. We also reveal the secret of the 11 herbs and spices that is believed to be in Kentucky Fried Chicken or KFC. Believe me, this chicken is super crispy and has a taste beyond words. It will blow you mind and knock your socks off.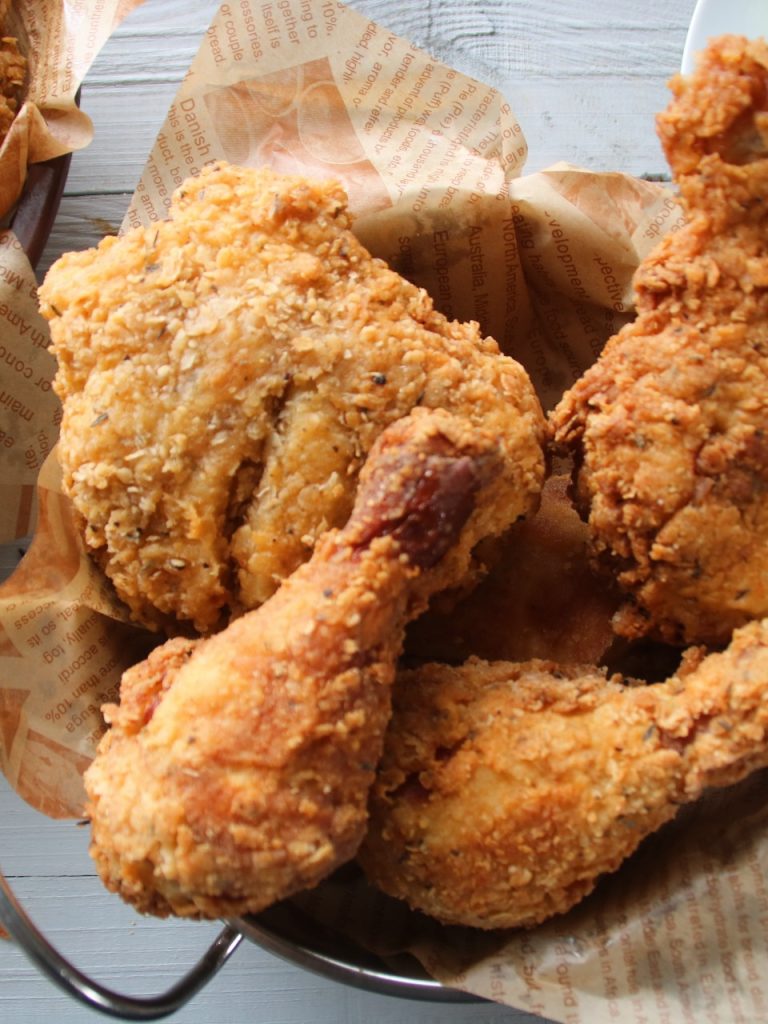 Crispy Fried Chicken With 11 Herbs and Spices
Description
Who doesn't love fried chicken. The trick is to get it crispy and stay crispy. I think we have resolved the problem in this recipe, however. It all lies in the use of butter milk and a little extra addition to the batter. We also add the essential 11 herbs and spices that will blow your mind. Just like KFC or better.
For the Marinate
For the Flour Mixture
Add the buttermilk, egg, and salt to a bowl. Mix until well incorporated. 

Add the chicken in and mix until completely coated. Cover with cling wrap and leave in the fridge for a couple of hours or overnight. I often use mine right away, however. 

Add the flour, corn starch, and herbs and seasoning to a bowl. Whisk until well combined. Dredge the chicken in until completely covered and set aside on a wire rack or plate. 

Heat oil to 359 degrees F or 180 C. Place the chicken in, in batches, and fry until golden brown. This should take about 10 to 12 minutes.

Serve and enjoy your super crispy fired chicken. 
Servings 1
---
Amount Per Serving

% Daily Value *

Total Fat 19.5g

30

%

Saturated Fat 3.4g

17

%

Cholesterol 54.5mg

19

%

Sodium 570mg

24

%

Potassium 240.98mg

7

%

Total Carbohydrate 14.5g

5

%

Dietary Fiber 1.2g

5

%

Sugars 0.9g

Protein 15.27g

31

%
---
* Percent Daily Values are based on a 2,000 calorie diet. Your daily value may be higher or lower depending on your calorie needs. Nutritional values are a within reason estimate and my vary depending on several factors.
Note
As always, you can alter the ingredients according to your liking. Meaning, add a little more or a little less.
Chicken parts can also vary. For example, wings could be used. Just reduce the cooking time.
I often double dredge my chicken for super crispy results. 
Fried Chicken, Chicken Recipe, Crispy Fried Chicken, KFC Chicken