I usually make up these delightful crispy garlic battered chicken wings for parties and game nights. There is a secret to making these, however. That is the addition of cold, cold sparkling water to add the bubble which creates the crispiness. The great thing is, these wings are easy to make and air fried which makes them healthy. They made with bread crumbs so they contain little or no carbs. This makes them keto friendly except for the flour.
Let's face it guys, who can't resist wings. Serve them up with your favourite sauce. What a treat!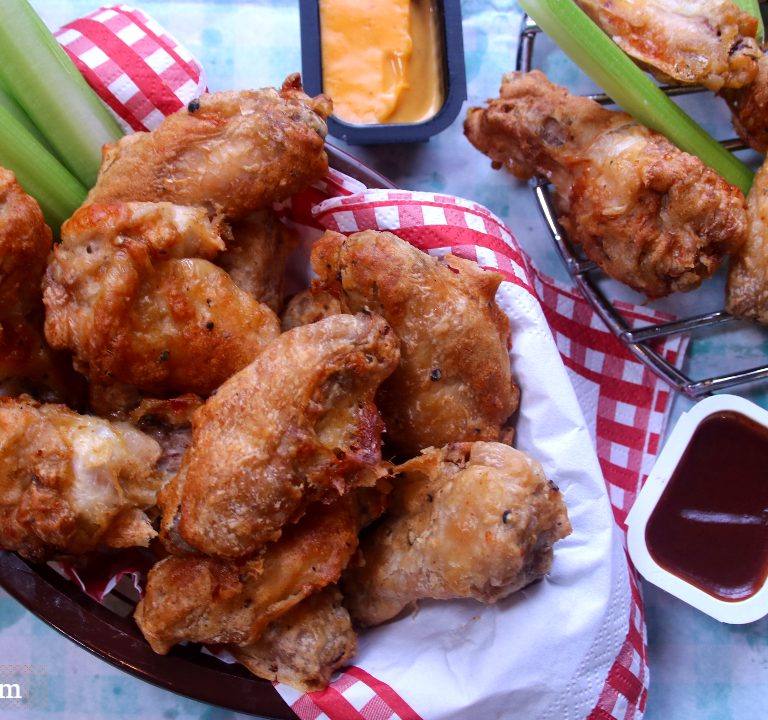 Crispy Garlic Battered Chicken Wings
Description
These crispy garlic battered chicken wings are are one of the tastiest wings I have ever had. They are made with a simple combination of wings dipped in a spiced batter and air fried to perfection. As I said earlier, they are a delightful addition to parties and game nights. 
Adding the flour, salt, paprika, baking powder, garlic powder, pepper, and cayenne to a mixing bowl and mix until well combined.

Add in the sparkling water and whisk once again. You will feel the whisk beginning to drag and a muddy slightly thick mixture will form. 

Place the chicken in and mix and message until well coated.

Place in the air fryer and fry, in batches, at 375 degrees F or 190 C. for about 25 minutes.

Place them on a wire rack to drain any excess grease. 

Plate and serve. Enjoy your crispy garlic batter chicken wings.
Servings 1
---
Amount Per Serving

% Daily Value *

Total Fat 10g

16

%

Cholesterol 39mg

13

%

Sodium 157mg

7

%

Total Carbohydrate 5g

2

%

Dietary Fiber 0.1g

1

%

Protein 9g

18

%
---
* Percent Daily Values are based on a 2,000 calorie diet. Your daily value may be higher or lower depending on your calorie needs. Nutritional values are a within reason estimate and my vary depending on several factors.
Note
As always, you can alter the ingredients to meet your tastes. For example, if you like you wings on the hot side, add a bit more pepper. If you don't like them as hot, add less. 
I air fry the wings, but you can deep fry or make them in the oven. Just adjust to cooking time accordingly. 
Chicken Wings, Party Foods, Snacks. Wings and Pizza, Chicken Recipe