I've always loved French fries. Especially their wonderful texture, taste, and mostly crispiness. When made at home, and in many restaurants, they often lack one or all of these qualities, however. That's why I decided to do some research and make my own. After a few tries, I finally achieved the texture, taste, and crispiness I wanted. Believe me, with a bit of time and patience, these crispy homemade fries will knock your socks off. I often have mine with a nice juicy burger or hot dog. The entire family and your friends will love these fries.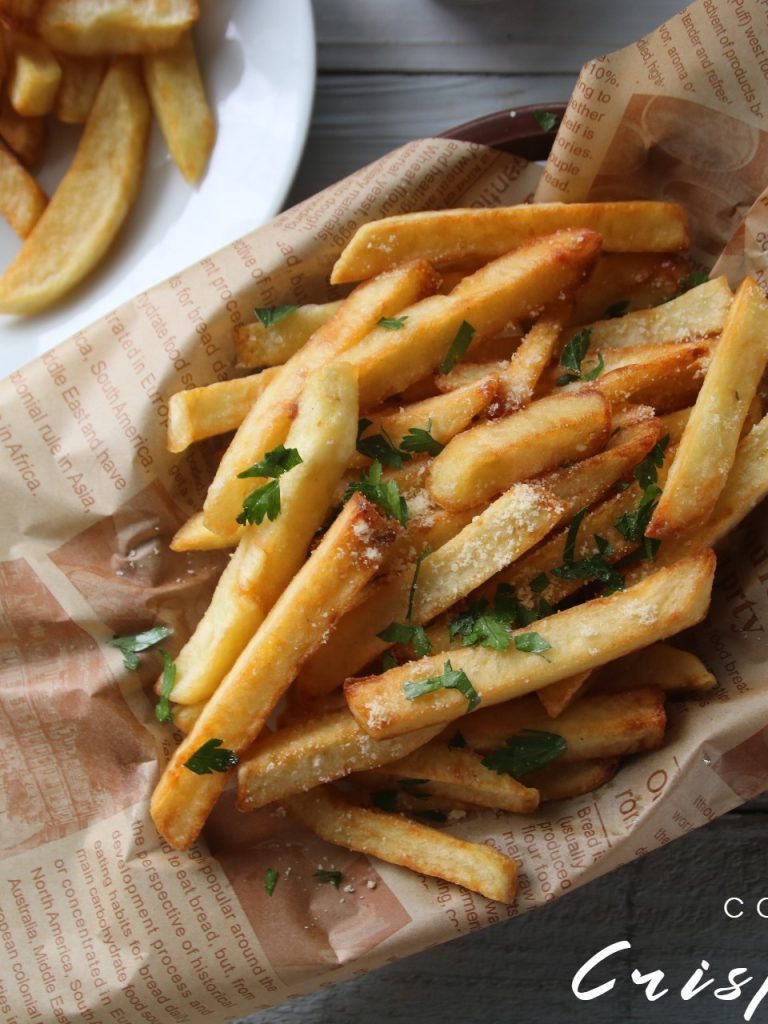 Crispy Homemade French Fries
Description
Fast food is really not that bad for you if prepared and cooked properly. The same applies to French fries. Use the right technique, oil, and ingredients and you will have the nicest and crispiest fried you've ever had.
You can use a fry cutter or slice the potatoes by hand. Make sure they are washed, cleaned, and peeled. 

After slicing, put the potatoes into a bowl of very cold water. Swirl around and get all the surface starch off you can.

Place on a baking sheet lined with paper towels or a dish towel. Pat the fries dry getting as much water off as possible. 

Heat your oil between 300 and 350 degrees F. Place the fries in and fry, in batches, for about 3 minutes. You don't want them to turn brown. Just cook a little on the inside.

Pat any excess oil off and dust the corn starch over the top. Toss them so they are covered. Place the fries in the freezer for about half an hour. They can also be bagged and frozen for longer and future use. 

Reheat your oil between 350 and 375 degrees F. Place the fries in and fry until golden brown and crisp. Place on a wire rack and serve with your favourite condiment.
---
Amount Per Serving

% Daily Value *

Total Fat 17g

27

%

Saturated Fat 2.8g

14

%

Trans Fat 0.1g

Sodium 250mg

11

%

Potassium 677mg

20

%

Total Carbohydrate 48g

16

%

Dietary Fiber 4.47g

18

%

Sugars 0.3g

Protein 4g

8

%
---
* Percent Daily Values are based on a 2,000 calorie diet. Your daily value may be higher or lower depending on your calorie needs. Nutritional values are a within reason estimate and my vary depending on several factors.
Note
I use russet potatoes as they have the most starch and least water. An older potato is best too. You can, however, use the potato of your choice. 
To season the fries, use the seasoning of your choice. 
French Fries, Snacks, Fast Food