I love hash browns. The problem is finding good hash browns. I went to McDonald's to try some and no. After that, Tim Horton's. No way. Off I went to the grocery store to try some frozen ones. That didn't work. Finally, I made my own and what a difference.
This hash brown recipe is easy to make, It makes crispy and delicious hash browns better than the ones you buy from fast food joints or stores. The great thing is, they consist of a simple combination of grated potatoes, onion powder, garlic, salt, pepper, and all purpose flour, which makes them easy to make.
They do require a bit of work, however. But, they are well worth it.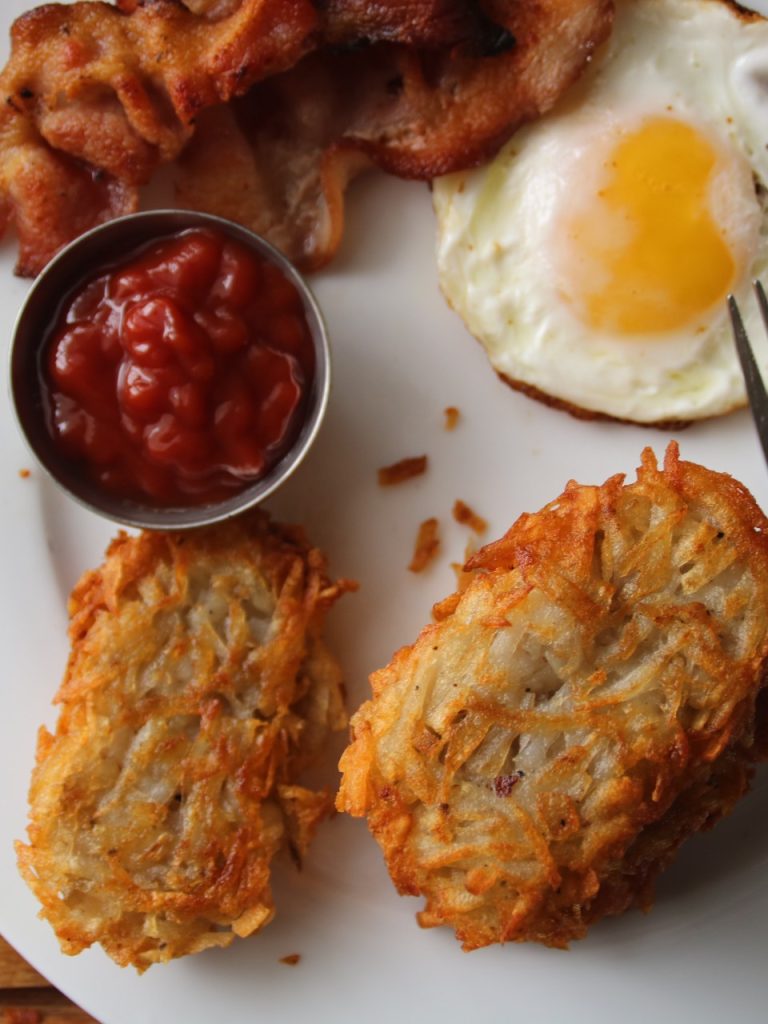 Delicious and Crispy Hash Browns at Home
Description
Hash browns are always a welcomed breakfast addition. I especially love them with bacon and eggs. These hash browns are better than any restaurant or store bought ones. As stated above, they are a bit of work but well worth the effort.
Peel and grate the potatoes. Set them into a bowl of very cold water, swirl, move them around, and allow them to sit for 15 minutes or so. You can also leave them in overnight to really get the starch out. 

Remove the potatoes from the water and place them into a cloth, paper towel, or piece of cheese cloth. Wring them to get the water out it. It's important to get as much water out as possible. Set them aside in a bowl.

Add oil to a pan over medium high heat. Put the potatoes in. Stir and fry for about 4 or 5 minutes. You just want a pre-fry on them. Do not get them browned. Place them back into the bowl. 

Season with salt, pepper, and garlic. Add the flour mixture in and mix until well combined. Allow the mixture to cool for a few minutes. You can also place it into the freezer or fridge to firm up too.

You can also add in 1/4 cup of cheese if you wish. This is optional, however.

Scoop up about 1/4 cup of the mixture. I place it into a measuring container or small bowl and press it down. Form the contents into a hash brown. Make the shape and size of your choice. 

Set the hash browns on a baking sheet lined with parchment paper. Put them in the freezer for about half an hour to set for best results. 

You can place them in a zip lock back and freeze them for future use. I don't suggest putting them in the oil right away.

Heat your oil to 350 degrees F or 180 C. Fry the hash browns, in batches, until golden brown. This will take about 3 or 4 minutes on each side. Set them aside on a wire rack.

Plate and serve. Enjoy your hash browns. 
Servings 1
---
Amount Per Serving

% Daily Value *

Total Fat 4.2g

7

%

Saturated Fat 0.4g

2

%

Cholesterol 10mg

4

%

Sodium 5.8mg

1

%

Potassium 144mg

5

%

Total Carbohydrate 9.4g

4

%

Dietary Fiber 1g

4

%

Sugars 0.1g

Protein 0.9g

2

%
---
* Percent Daily Values are based on a 2,000 calorie diet. Your daily value may be higher or lower depending on your calorie needs. Nutritional values are a within reason estimate and my vary depending on several factors.
Note
I use russet potatoes, but use the potatoes of your choice.
As mentioned above, you can add about 1/4 cup of cheese to the mixture. It does help with binding and adds additional flavour. 
Adjust the seasoning according to your liking.
The hash browns freeze very well in a zip lock bag or container. 
Hash Browns, Breakfast Recipes, Potato Recipes