Easy Baked Spaghetti Casserole with Pepperoni and Mozzarella Cheese is a recipe that your friends and family will love. If you are a spaghetti fiend, which many people are, this dish will be right up your alley. The great thing is, you can make it up in about 30 to 40 minutes which makes it a great midweek meal.
To make this delightful recipe, all you need is pasta, mozzarella cheese, spaghetti sauce, some basic seasoning, and you are off to the races. Most people will have all of this right in their pantry or fridge.
I always serve this up with some homemade garlic bread and a salad and everybody will beg for the recipe.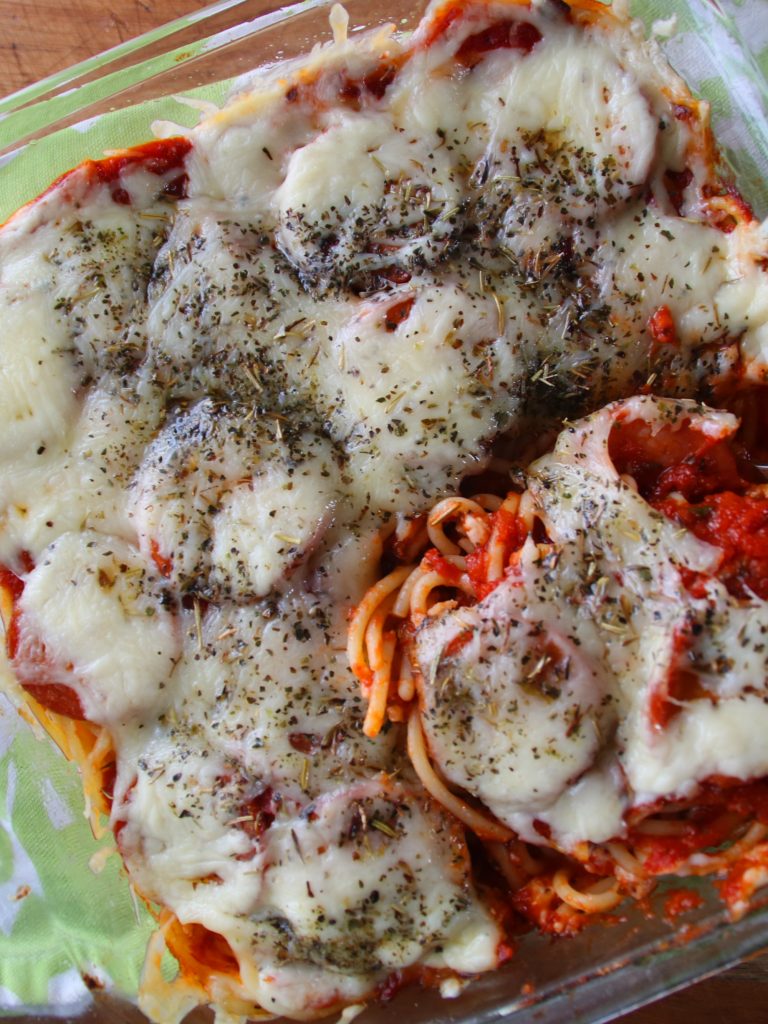 Easy Baked Spaghetti Casserole with Pepperoni and Mozzarella Cheese
Description
I'm always looking for fast and easy midweek meals and this baked spaghetti lasagna is it. As I said, most of the ingredients you will have right in your pantry and fridge. The wonderful thing is, the entire dish can be made in about 30 minutes. As one member said: "These recipes make life so much easier."
Add a layer of sauce to the bottom of a 9 by 9 inch casserole dish and spread it out evenly.

Place half the spaghetti over the sauce and spread it out once again. Follow this with by half the seasoning.

Evenly spread half the mozzarella over the top.

Add the remaining spaghetti over the top followed by the remaining sauce. 

Lay the pepperoni over it. After that, spread the remaining mozzarella over and the remaining seasoning. 

Place into a 360 degree F or 190 C preheated oven for 15 to 20 minutes.

Allow to set and rest for a few minutes. Plate, serve, and enjoy your easy baked spaghetti casserole.
Servings 1
---
Amount Per Serving

% Daily Value *

Total Fat 9.9g

16

%

Saturated Fat 4.2g

22

%

Cholesterol 16.3mg

6

%

Sodium 710mg

30

%

Potassium 92mg

3

%

Total Carbohydrate 37g

13

%

Dietary Fiber 5.2g

21

%

Sugars 4.4g

Protein 28g

57

%
---
* Percent Daily Values are based on a 2,000 calorie diet. Your daily value may be higher or lower depending on your calorie needs. Nutritional values are a within reason estimate and my vary depending on several factors.
Note
As always, you don't have to be married to a recipe. Feel free to change any of the ingredients according to you liking.
You can make the sauce from scratch. If so, you might want to consider using ground beef. I just really like the pepperoni. Just make sure you use a good pepperoni. 
Casseroles, Spaghetti, Lasagna Dish, 30 Minute Meals