Welcome to Cook n' Share! In this recipe, we're excited to show you how to "Level Up Your Snacks with This Easy Chickpea Hummus" recipe! Whether you're looking for a healthy and delicious snack or a crowd-pleasing appetizer, this creamy and flavorful hummus is the perfect choice.
In this tutorial, we'll guide you through the step-by-step process of making this homemade chickpea hummus. You won't believe how simple and quick it is to whip up this delectable treat with just a handful of ingredients. Plus, we'll share some pro tips to ensure your hummus turns out smooth and mouthwateringly good!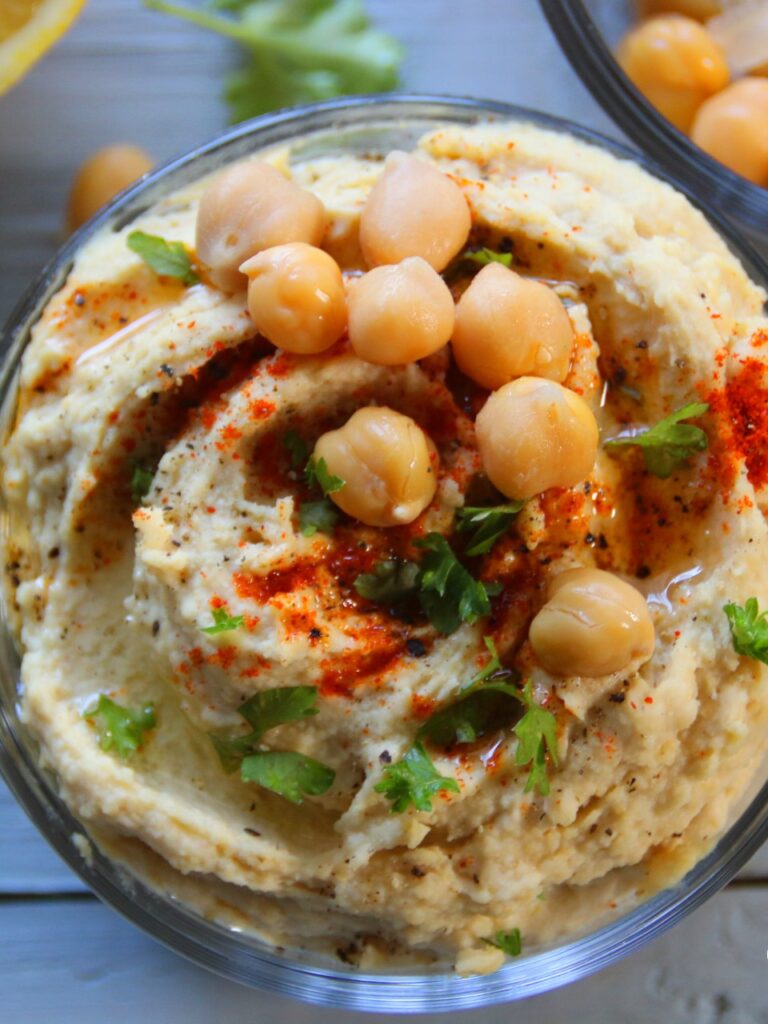 Easy Chickpea Hummus
Add all the ingredients to the bowel of a food processor and blend on high for about 2 minutes. 

For removing the chickpea skins, see the video.

Place the hummus in a bowl. Use the back of a spoon to put some swirls in the hummus. Add some olive oil inside the swirls. Garnish with a dust of paprika and parsley. 

Serve and enjoy your easy chickpea hummus. 
Serving Size 1 tbsp
Servings 1
---
Amount Per Serving

% Daily Value *

Total Fat 2.5g

4

%

Sodium 140mg

6

%

Total Carbohydrate 5g

2

%

Dietary Fiber 1g

4

%

Sugars 0.5g

Protein 1g

2

%
---
* Percent Daily Values are based on a 2,000 calorie diet. Your daily value may be higher or lower depending on your calorie needs. Nutritional values are a within reason estimate and my vary depending on several factors.
Note
Peeling Chickpeas for a Creamier Texture: For an exceptionally smooth and creamy hummus, you can take the extra step of peeling the chickpeas. While it can be a bit time-consuming, the result is worth it, as it removes the outer skin and makes the hummus even smoother.

Adjusting Consistency: If your hummus turns out thicker than you prefer, you can adjust the consistency by adding a little more water or olive oil. On the other hand, if it's too runny, add more chickpeas to thicken it up.

Enhancing Flavor with Tahini: Tahini is a key ingredient in traditional hummus, and it adds a nutty depth of flavor. You can adjust the amount of tahini according to your taste preferences – more tahini will give it a stronger sesame flavor, while less will let the chickpeas shine through.

Garlic and Lemon Zest: If you enjoy a more robust flavor, consider adding a clove or two of minced garlic to the hummus. For an extra zesty kick, incorporate some lemon zest. This adds brightness to the overall taste.
Dips, Hummus, Middle Eastern Recipes, Snacks