Sheet Pan Chicken Caprese is a simple, easy, and delicious way to cook chicken. In light of its simplicity, it makes a great midweek and back to school recipe. The hardest part is waiting for it to bake. The only thing you have to do is grab up some chicken breasts or thighs, cherry tomatoes, olive oil, basil, mozzarella, some seasoning. As the chicken bakes, make up that wonderful balsamic reduction, and you're off to the races. I often make it up in the sheet pan the night before and when I come home, simply slip it in the oven. Believe me your family and dinner guests will go wild over this recipe.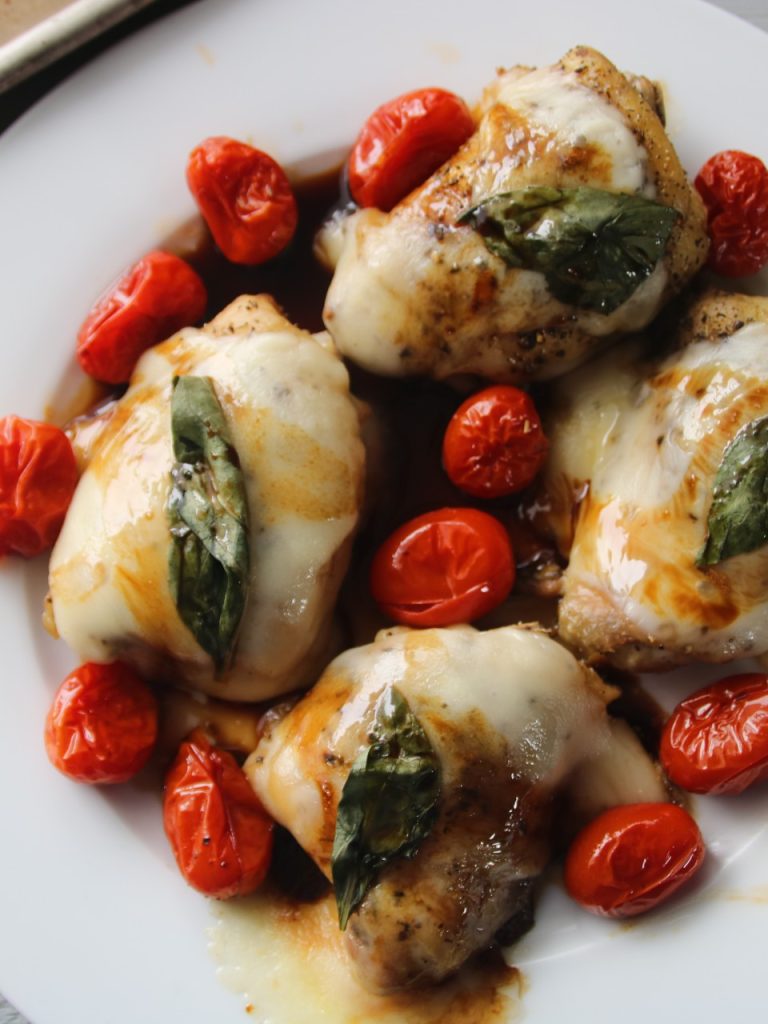 Easy Sheet Pan Chicken Caprese – Back to School Midweek Meal
Description
I'm always looking for midweek meals that are fast and simple. This caprese chicken recipe is certainly that. A few simple ingredients and steps and dinner is ready. Believe me, this recipe will tickle the pallets of your family and friend. 
Coat the bottom of the sheet pan with about 2 tbsp of oil. Place the chicken on skin side up and put the tomatoes around it. Spray or coat the chicken and tomatoes with the remaining oil. Season with salt, pepper, Italian seasoning, and garlic powder. 

Place the chicken into a 400 degree F or 200 C preheated oven for 40 minutes or until the chicken is cooked through.

Remove the chicken from the oven and lay the mozzarella cheese over the top. Return to the oven for an additional 5 minutes or until the cheese melts.

While the cheese is melting add the balsamic vinegar to a small pot and bring to a boil. After a boil, reduce the heat and stir until the vinegar reduces and thickens.

Remove the chicken from the oven once again. Lay the basil leaves over the top and drizzle the balsamic reduction over each piece. 

Serve and enjoy your caprese chicken.
Midweek Meals, Chicken Recipes, Italian Cuisine