This easy Southern mac and cheese recipe is a variation of traditional mac and cheese served in the Southern United States and macaroni and cheese made in The United Kingdom. It has, however, gained tremendous popularity throughout the wold over the decades.
In other words, the dish has been around for ages and has become a long sought after comfort food. As a matter of fact, mac and cheese immediately comes to mind when I think of comfort food. As a matter of fact, I don't only think of foods served to the sick, but a dish that warms the heart and mind.
Believe it or not, food actually speaks and has a personality of its own. It's similar to walking by a cold and calloused person on the street or meeting a jolly soul that greets you with a smile and friendly handshake or even a hug for that matter. Mac and cheese does just that. It, in my opinion, is similar to the warmth and smiles brought on by other soul or comfort foods such as chicken noodle soup.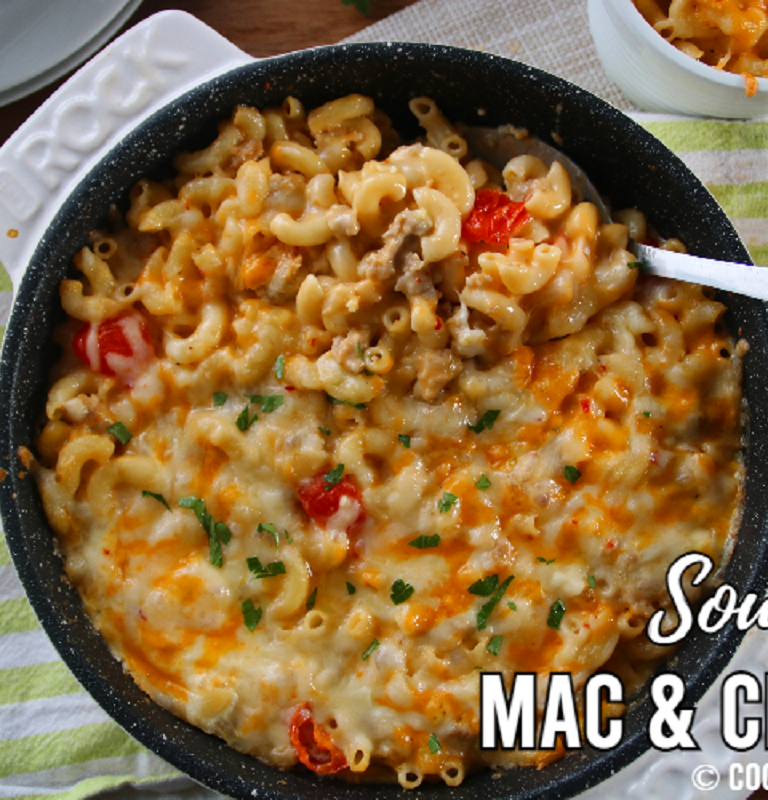 Easy Southern mac and cheese Recipe
Description
As one member said: "If you're trying to lift a friend's spirit, there's nothing better than a bowl of chicken noodle soup or a plate of mac and cheese." This mac and cheese recipe does exactly that. 
Add the noodles to a pot of salted boiling water and cook for 8 to 10 minutes until al dente. Drain and add back into the pot.

Add in the butter, Velveeta cheese, 2 cups of Tex Mex cheese, salt, pepper, garlic, and milk. Stir until well combined and creamy. If necessary, add a bit more milk.

Make the custard by combining the eggs and milk in a small bowl or measuring cup. Beat with a fork until combined.

Add half the mixture into the bottom of a casserole dish followed by 1/2 cup of the remaining Tex Mex. Then add the remaining layer of the mac and cheese mixture. Pour the custard mix over the top and add the remaining cheese.

Bake at 350 degrees F or 180 C for 30 minutes. You don't have to cover it. 

In the video I reversed that F and C. Please correct it.

Remove from the oven, garnish with parsley, and serve. 

Enjoy your easy Southern mac and cheese.

Drop us a comment and let us know how you enjoyed it!
Servings 1
---
Amount Per Serving

Calories 510kcal

Calories from Fat 259kcal

% Daily Value *

Total Fat 29g

45

%

Saturated Fat 16g

80

%

Trans Fat 0.8g

Cholesterol 96mg

32

%

Sodium 590mg

25

%

Potassium 184mg

6

%

Total Carbohydrate 39g

13

%

Dietary Fiber 2g

8

%

Sugars 3.6g

Protein 24g

48

%
---
* Percent Daily Values are based on a 2,000 calorie diet. Your daily value may be higher or lower depending on your calorie needs. Nutritional values are a within reason estimate and my vary depending on several factors.
Note
I use a combination of Tex Mex and Velveeta, but you can use the cheeses of your choice.
Also, vary the seasoning according to your liking. Some smoked paprika is always nice. 
Comfort Food, Soul Food, Southern Dishes, Mac and Cheese, Kraft Dinner