Looking for a delicious and healthy vegetarian recipe that will satisfy your taste buds? Look no further than these Easy Veggie Balls! In this video, we'll show you how to make a savory and filling meatless meal that's perfect for a quick lunch or dinner.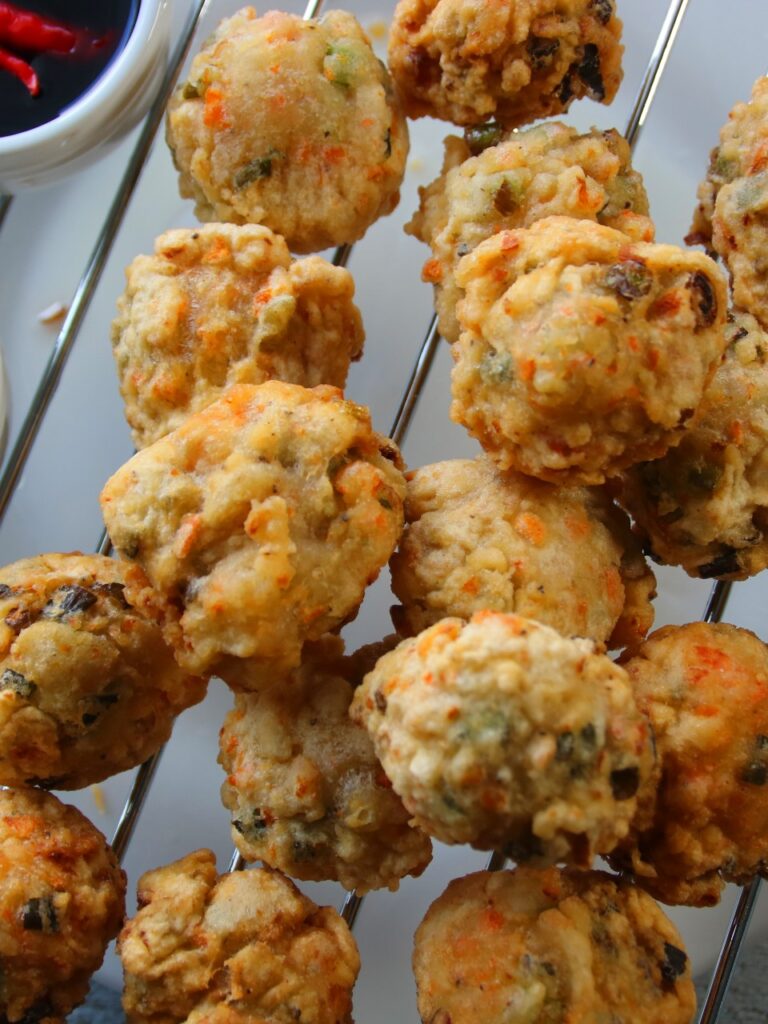 Easy Veggie Balls – Take a Break from Meat Today
Description
Whether you're a committed vegetarian or just looking to take a break from meat today, give our Easy Veggie Balls a try! Follow along with our step-by-step instructions and get ready to enjoy a delicious and healthy meal that's perfect for any occasion.
Add the flour, baking powder, carrots, onion, garlic, to a mixing bowl. Mix until well incorporated. 

Add in the water a little at a time and fold together. If the mixture is too thick, add a bit more water. If it is too thin, add more flour. Cover with wrap and allow to cool in the freezer for about 25 minutes.

Heat the oil in a frying pan or other cooking device to 350 degrees F or 180 C. Place the balls in and fry until they are golden brown. Set them aside on a wire rack to drain. 

Serve with your favorite dipping sauce and enjoy your easy veggie balls. 
Servings 1
---
Amount Per Serving

% Daily Value *

Total Fat 1.6g

3

%

Saturated Fat 0.3g

2

%

Cholesterol 5mg

2

%

Sodium 99mg

5

%

Potassium 85mg

3

%

Total Carbohydrate 1.4g

1

%

Dietary Fiber 0.8g

4

%

Sugars 0.2g

Protein 3.8g

8

%
---
* Percent Daily Values are based on a 2,000 calorie diet. Your daily value may be higher or lower depending on your calorie needs. Nutritional values are a within reason estimate and my vary depending on several factors.
Note
You can use any vegetables you like in your veggie balls. Some great options include grated carrots, zucchini, mushrooms, onions, and bell peppers. You can also add in some finely chopped herbs like parsley, cilantro, or basil for extra flavor.

When making the veggie ball mixture, it's important to blend the ingredients together well to create a cohesive mixture. You can use a food processor or blender to make the mixture smoother, or simply use a fork or potato masher to mash the ingredients together.

To help the veggie balls hold together, you can also use a binding agent like egg or flaxseed meal mixed with water. If you're vegan, you can use a vegan egg substitute or skip the binding agent altogether and rely on the vegetables to hold the mixture together.

To cook the veggie balls, you can bake them in the oven, fry them in a pan, or even grill them on a barbecue. You can also make a batch ahead of time and freeze them for later use.

Veggie balls are versatile and can be used in a variety of dishes. Try serving them with marinara sauce and spaghetti for a vegetarian twist on spaghetti and meatballs, or stuff them into a pita pocket with some hummus and veggies for a delicious vegetarian sandwich.
Veggie Balls, Vegetarian Recipes, Street Food, Vegetables, Side Dishes