In today's recipe, we're excited to share a delightful recipe for Family-Friendly Pizza Bake using rigatoni pasta. This delicious twist on classic pizza is sure to become a family favorite!
Our Pizza Bake with rigatoni takes the flavors and textures of pizza and combines them with the comforting goodness of rigatoni pasta. It's a creative and fun way to enjoy the flavors of pizza in a delightful casserole-style dish that will please both kids and adults alike.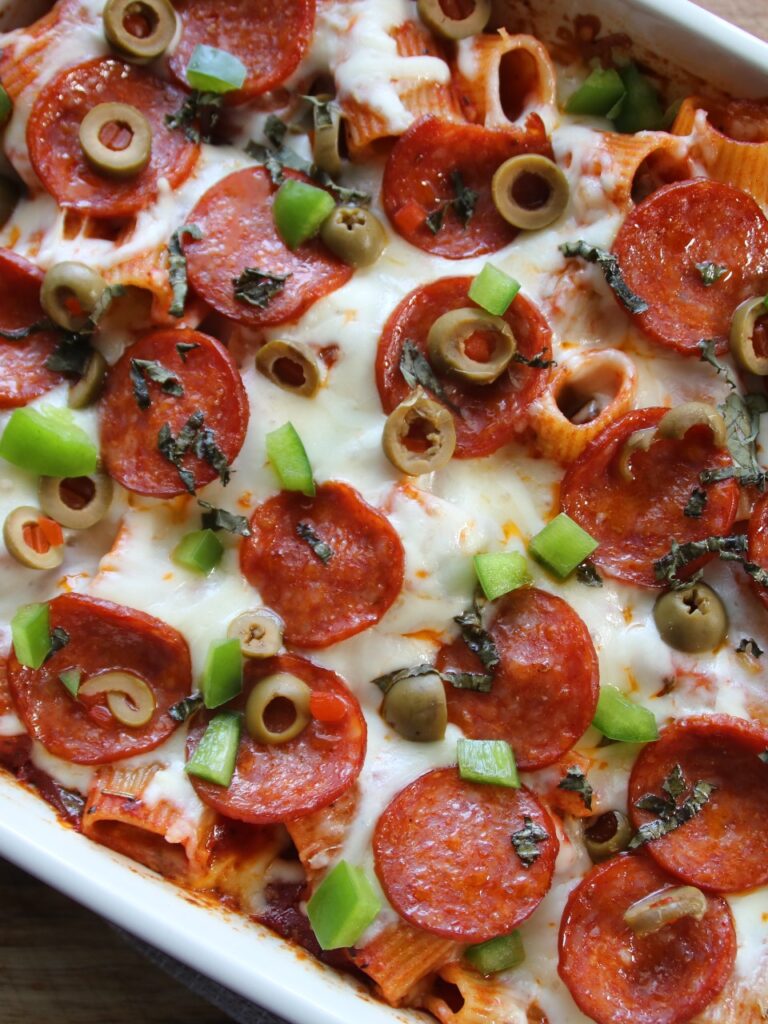 Family-Friendly Pizza Bake
Description
f you're ready to indulge in a scrumptious pizza-inspired dish with a twist, make sure to watch this video and try out our Family-Friendly Pizza Bake using rigatoni. Don't forget to hit that "Like" button, subscribe to our channel for more delicious recipes, and leave a comment below letting us know how your Pizza Bake turned out!
Add the rigatoni to a pot of salted boiling water and cook for 9 to 10 minutes until al dente. Drain and set aside. 

Add the oil to a pan over medium high heat. Place the sausage in and fry for a few minutes until cooked through. Put in the onion, garlic, and bell peppers. Stir in and fry until the onions become translucent, the bell pepper soften, and the garlic is fragrant. Pour in the tomato sauce, stir, and bring to a soft boil. Put the salt, pepper, Italian seasoning, basil, and hot chili flakes in. Stir until well combined. Add in the pasta and toss until completely coated with the sauce.

Add the mixture to a casserole dish, smooth out, and pat down. Top with the cheese, pepperoni, olives, and basil. Place in a 375 degree F or 190 C preheated oven for 20 to 25 minutes. 

Remove, serve, and enjoy your pizza bake. 
Serving Size 1 cup
Servings 1
---
Amount Per Serving

% Daily Value *

Total Fat 22g

34

%

Saturated Fat 8.8g

45

%

Trans Fat 0.8g

Cholesterol 72mg

24

%

Sodium 753mg

32

%

Total Carbohydrate 32g

11

%

Dietary Fiber 2.8g

12

%

Sugars 4.7g

Protein 26g

52

%
---
* Percent Daily Values are based on a 2,000 calorie diet. Your daily value may be higher or lower depending on your calorie needs. Nutritional values are a within reason estimate and my vary depending on several factors.
Note
Feel free to customize your Family-Friendly Pizza Bake with rigatoni by adding your favorite pizza toppings. Whether it's pepperoni, sausage, mushrooms, olives, or bell peppers, the choice is yours! Get creative and make it your own.
For an extra kick of flavor, you can sprinkle some crushed red pepper flakes or dried oregano over the top of the Pizza Bake before baking.
If you prefer a crispier texture, you can bake the Pizza Bake for a few additional minutes or broil it for a couple of minutes at the end to achieve a golden, bubbly crust.
Leftovers of this Pizza Bake can be stored in an airtight container in the refrigerator for up to 3 days. Simply reheat in the oven or microwave until heated through.
This recipe can be easily doubled or halved depending on the number of servings you need. Adjust the ingredient quantities accordingly.
Don't be afraid to experiment with different types of cheeses. Cheddar, Parmesan, or a blend of your favorite cheeses can add extra depth and richness to the dish.
Serve the Family-Friendly Pizza Bake with a side salad or some garlic breadsticks for a complete and satisfying meal.
Remember to let the Pizza Bake cool slightly before serving to avoid burning your mouth. The cheesy goodness will be worth the wait!
Have fun and enjoy the process of creating this family-friendly dish together. Cooking with loved ones can be a wonderful bonding experience.
Pizza, Pizza Recipe, Casserole, Family Recipe