Our dinner rolls are easy to make, fluffy, and elegant. I like them served up with just about any dish. Perhaps it is just me, but I enjoy them to soak up any liquid such as gravy. They are especially great at Christmas or Thanksgiving, but you can certainly enjoy them any time. They are great for breakfast when served up with some peanut butter or jam as well. I have been know to have them for afternoon tea too.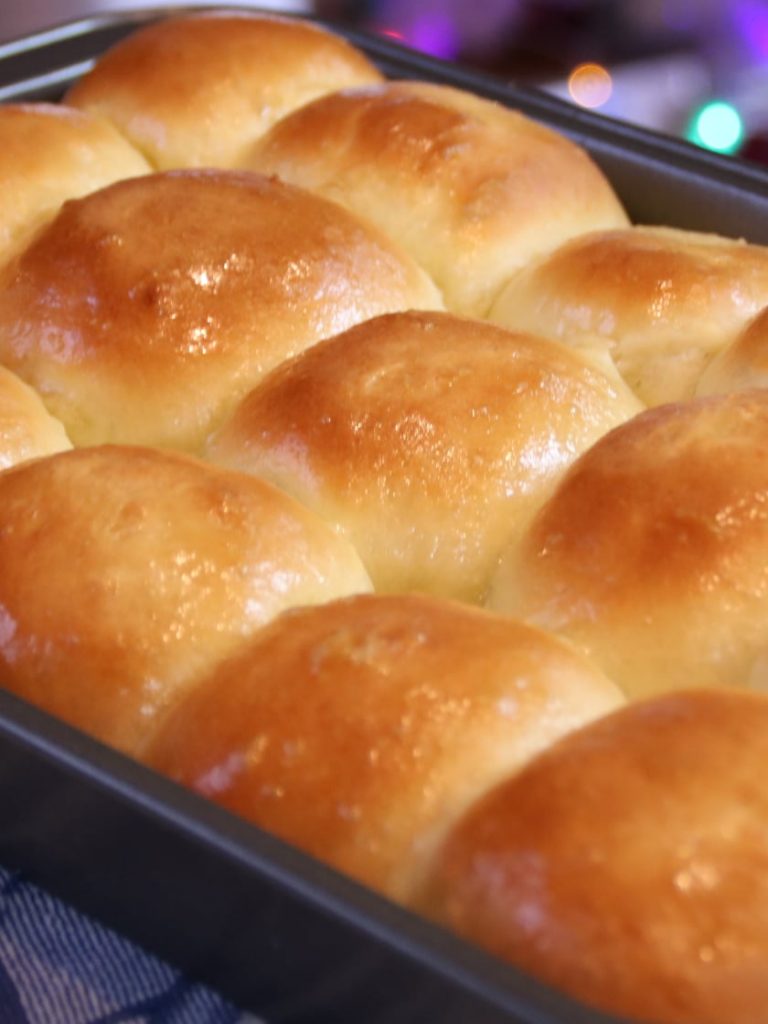 Fresh and Buttery Dinner Rolls
Description
As always, there are a few alterations you can make when doing the recipe. In example, I always add sugar to my rolls as I prefer them a little on the sweet side. You can always cut back on the sugar or leave it out completely if you like. You can also adjust the size if you like them a bit bigger or smaller than usual. You can also make the dough the night before, place it in the fridge, and make the rolls the next day. The dough can be frozen too, just make sure you freeze it before one of the rises. 
Give our dinner rolls a try and let us know what you think. 
Add the water, yeast, and sugar to a measuring cup, stir, and place it in a warm place for 5 or 10 minutes until it becomes foamy and bubbly.

Add the flour, sugar, and salt to the bowl of a stand mixer and whisk until nicely combined.

Pour the butter, eggs, and yeast mixture into the dry mixture and mix over medium speed until a dough forms.

Lightly flour a surface, place the dough on, and knead for about 5 minutes. Form it into a ball and place it into a clean, oiled bowl. Swirl it around until coated with the oil, and cover it with cling wrap. Set aside in a warm place for about an hour until it doubles in size.

Remove the wrap and poke the dough to release the air and gasses.

Form it into a disk and cut it into four pieces.

Make each piece into a log, cut each log into four pieces, and make each piece into a ball.

Spray a 9 by 13 inch baking tray with some spray, place each ball in (allowing a bit of space between each), cover with a damp cloth, and place in a warm place for the second proofing.

Preheat your oven to 375 F or 190 C.

Place the rolls in the oven and bake for 17 to 20 minutes.

Remove from the oven and brush some melted butter over the top.

Serve and enjoy your fresh and buttery dinner rolls.
Serving Size 1 bread
Servings 16
---
Amount Per Serving

% Daily Value *

Total Fat 1g

2

%

Total Carbohydrate 17g

6

%
---
* Percent Daily Values are based on a 2,000 calorie diet. Your daily value may be higher or lower depending on your calorie needs. Nutritional values are a within reason estimate and my vary depending on several factors.
bread