This juicy and succulent spatchcock chicken recipe produces one of the most delicious birds I have ever had. It's more the technique that makes the recipe so unique. The method of spatchcock chicken is rather simple, but the outcome is incredible. Using this process and the ingredients suggested, you will roast the juiciest, most succulent chicken you have ever had.
The actual technique simply involves butterflying a whole chicken by removing the backbone and making a small incision on the underside of the bird. After doing that, the chicken simply spreads out flat making it perfect for faster roasting or grilling.
In this recipe, I decided to air fry it, but it's equally as good roasted in the oven or barbecued on the grill. As mentioned previously, it's a matter of personal preference and what you have available.
As always, try this spatchcock chicken, and let us know what you think.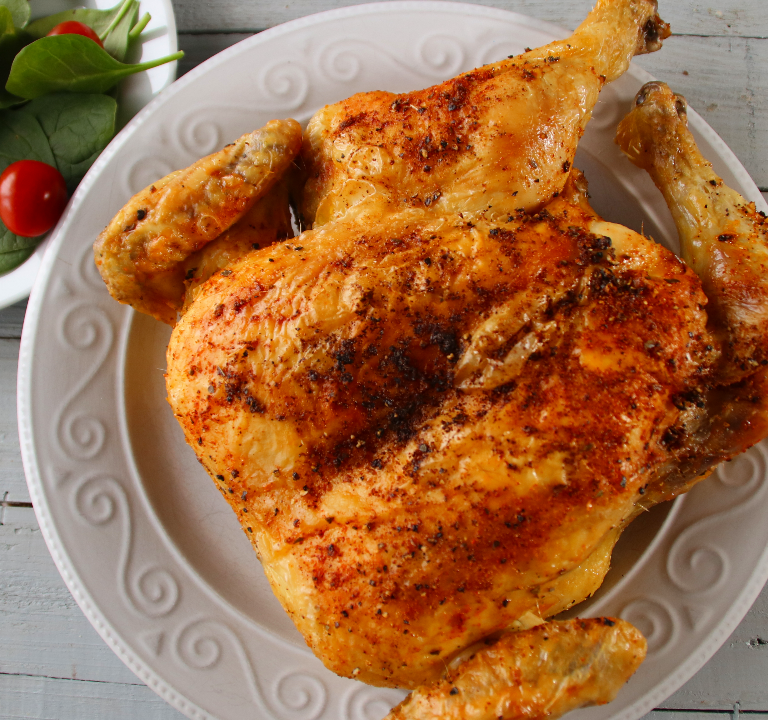 Juicy and Succulent Spatchcock Chicken
Description
I always love chicken done just about anyway. In my opinion, the faster it can be done the better. Nevertheless, this is often difficult with chicken.
One of my all-time favourites is roasted chicken. It seems to take forever to prepare the bird and roast it, however. Then I came across spatchcock chicken, and it was just up my alley. The entire recipe can be done in about 50 minutes and the outcome is incredible. As one guest said: "I thought this was impossible."
Using a pair of scissors, start cutting along the backbone at the neck side of the chicken and cut right down to the other end. Repeat for the opposite side of the backbone. 

Flip the chicken over and slice the cartilage on the other side (see video). 

Drizzle some olive oil over followed by half the seasoning. Message the ingredients into the bird. Repeat the process for the other side.

Tuck the wings under to prevent burning.

Place the chicken into an air fryer set at 360 F or 190 C and fry for 45 minutes. 

Alternatively, Place in a preheated oven set at the same temperature for about 55 minutes.

Serve and enjoy your juicy and succulent spatchcock chicken.
Serving Size 3 oz
Servings 1
---
Amount Per Serving

% Daily Value *

Total Fat 11g

17

%

Saturated Fat 3.2g

16

%

Cholesterol 65mg

22

%

Sodium 90mg

4

%

Potassium 180mg

6

%

Protein 20g

40

%
---
* Percent Daily Values are based on a 2,000 calorie diet. Your daily value may be higher or lower depending on your calorie needs. Nutritional values are a within reason estimate and my vary depending on several factors.
Note
The chicken can be roasted, air fried, or barbecued. The spatchcock method is excellent for the barbecue. 
The seasoning in the recipe is only a suggestion. Please feel free to add the seasoning of your choice.
The recipe works best with a smaller bird about 1 to 2 pounds or a game bird.
Chicken Recipe, Roasted Chicken, Air Fried Chicken, BBQ Chicken