Juicy spicy baked chicken – Air fried is a simple, yet incredibly delicious recipe. It is made with a sauce which serves as the marinate which is simply out of this world. The spicy baked chicken itself only takes about 30 minutes to prepare and bake. The longest time is waiting for it to marinate. What I usually do is make the marinate up the night before and allow the chicken to marinate overnight.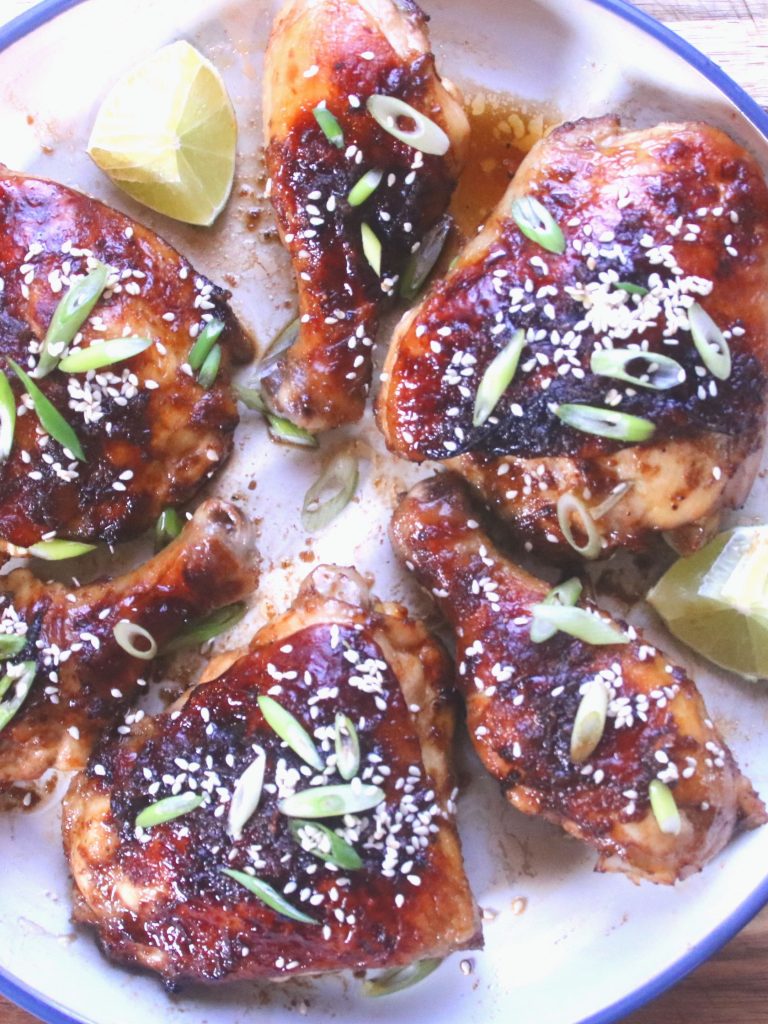 Juicy Spicy Baked Chicken – Air Fried
Description
This spicy air fried chicken recipe will knock your socks off. It can be either done in the oven or air fried. Personally, I prefer it air fried as it adds that extra crisp charred taste and appearance. 
Add the olive oil, honey, soy sauce, sriracha, lime, ginger, garlic, and pepper to a measuring cup. Mix until well combined.

Add the chicken to a bowl and pour 1/2 of the sauce over. Message the marinate into the meat, cover with cling wrap, place in the fridge, and allow it to marinate for about 30 minutes. You can also marinate it over night which is really the best.

Remove the chicken from the marinate and place in the air fryer or on an oven rack. Air fry at 400 F or 200 C for 20 - 25 minutes. Oven bake for 30 to 40.

Add the remaining marinate to a saucepan and bring to a simmer. Stir and simmer for a few minutes until the sauce begins to thicken. 

Remove the chicken from the air fryer or oven, plate, and spoon the sauce over the top. 

Garnish with sesame seeds and green onions. Serve and enjoy your juicy, spicy baked chicken. 
Servings 1
---
Amount Per Serving

% Daily Value *

Total Fat 5g

8

%

Saturated Fat 1g

5

%

Cholesterol 97mg

33

%

Sodium 392mg

17

%

Potassium 286mg

9

%
---
* Percent Daily Values are based on a 2,000 calorie diet. Your daily value may be higher or lower depending on your calorie needs. Nutritional values are a within reason estimate and my vary depending on several factors.
Note
As with any recipe, you can alter any of the ingredients according to your liking by adding some or eliminating some. Try our juicy spicy baked chicken today and, as always, let us know what you think.
air fried chicken, chicken recipes, baked chicken, dinner ideas