Are you looking for a side dish that will add a burst of flavor to your meal? Look no further! This Mexican Rice recipe is the answer. Made with simple and fresh ingredients, this dish is packed with aromatic spices and a hint of lime, making it a perfect addition to any Mexican-inspired meal. Whether you're serving it with tacos, enchiladas, or just as a standalone dish, this rice is sure to satisfy your taste buds. So, get your apron on and let's get cooking!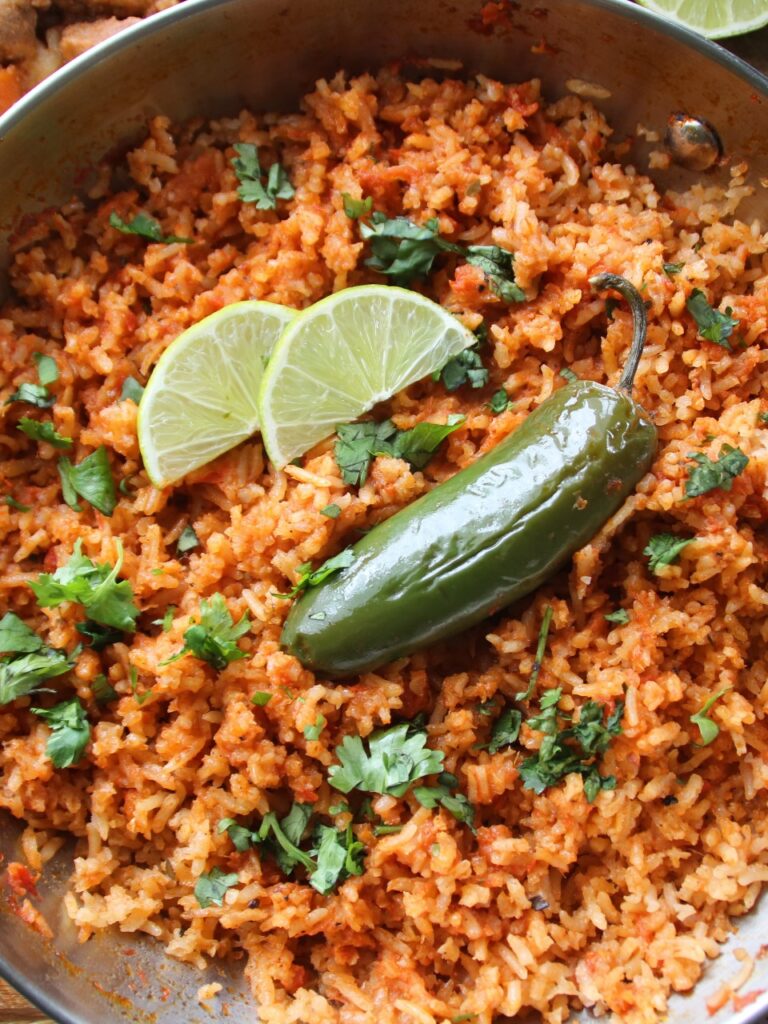 Marvellous Mexican Rice – Unleash the Flavours of Mexico!
Description
Get ready to add some spice to your dinner with this easy and delicious Mexican Rice recipe! This rice is the perfect way to add some extra flavour to your tacos, burritos, or enchiladas, or to enjoy as a tasty and filling main dish. So, let's get cooking! ¡Buen provecho!
Add the onion, garlic, tomatoes, and chicken stock to the container of a blender. Seal impulse until blended. Set aside.

Rinse and drain the rice to get rid of any starch.

Add the oil to a pan over medium heat. Place the rice in and stir and fry until it begins to brown and toast.

Adding the tomato paste, paprika, cumin, chilli powder, oregano, salt, and pepper. Using a spatula, stir and fry until the rice is completely coated.

Pouring the contents from the blender and stir until well combined. 

Add in the jalapeño, partially cover, reduce the heat to low, and allow it to simmer for 20 to 30 minutes.

After 20 to 30 minutes, take the lid off and remove the jalapeño. Using a spatula fork fluff the rice.

Partially cover once again and allowed to cook for another 10 minutes.

Spread the cilantro over the top, placed the lime wedges on, put the jalapeño into the middle, and serve.

Enjoy your marvellous Mexican rice.
Servings 1
---
Amount Per Serving

% Daily Value *

Total Fat 2g

4

%

Saturated Fat 1.1g

6

%

Trans Fat 0.2g

Cholesterol 4.2mg

2

%

Sodium 282mg

12

%

Total Carbohydrate 32g

11

%

Dietary Fiber 0.6g

3

%

Sugars 3g

Protein 5.5g

11

%
---
* Percent Daily Values are based on a 2,000 calorie diet. Your daily value may be higher or lower depending on your calorie needs. Nutritional values are a within reason estimate and my vary depending on several factors.
Note
Rice Selection: Use long-grain rice for this recipe, as it has a lower starch content than other types of rice, which helps the grains stay separate and fluffy after cooking.

Broth: Use a low-sodium chicken or vegetable broth for the best flavour and to control the amount of salt in the dish. You can also use tomato sauce or diced tomatoes instead of broth for a more traditional Mexican flavour.

Spices: Experiment with different spices to find the combination that you prefer. Some common were used in this recipe: chili powder, garlic, and paprika. Feel free to use others as well.

Vegetables: Feel free to add in any vegetables you have on hand, such as diced onion, green bell pepper, corn, carrots, or zucchini.

Toasting the Rice: Toasting the rice in a bit of oil before adding the liquids helps to prevent the grains from sticking together and adds a nutty flavor to the dish.

Simmering: Once the liquids have been added, it's important to let the rice simmer for the proper amount of time without stirring it too much. This helps the flavours to meld together and allows the rice to cook evenly.

Serving: Serve Mexican Rice as a side dish with tacos, burritos, or enchiladas, or enjoy it as a main dish topped with shredded cheese, fresh cilantro, and a squeeze of lime juice.

Storage: Store leftover Mexican Rice in an airtight container in the refrigerator for up to 3-4 days. Reheat it in the microwave or on the stovetop before serving.
Rice, Appetizer, Mexican, Recipe, Rice Recipe