Looking for a delicious and easy dessert recipe that will impress your friends and family? Look no further than this Creamy Blueberry Pound Cake recipe! With only five simple ingredients, you can whip up a scrumptious dessert in no time.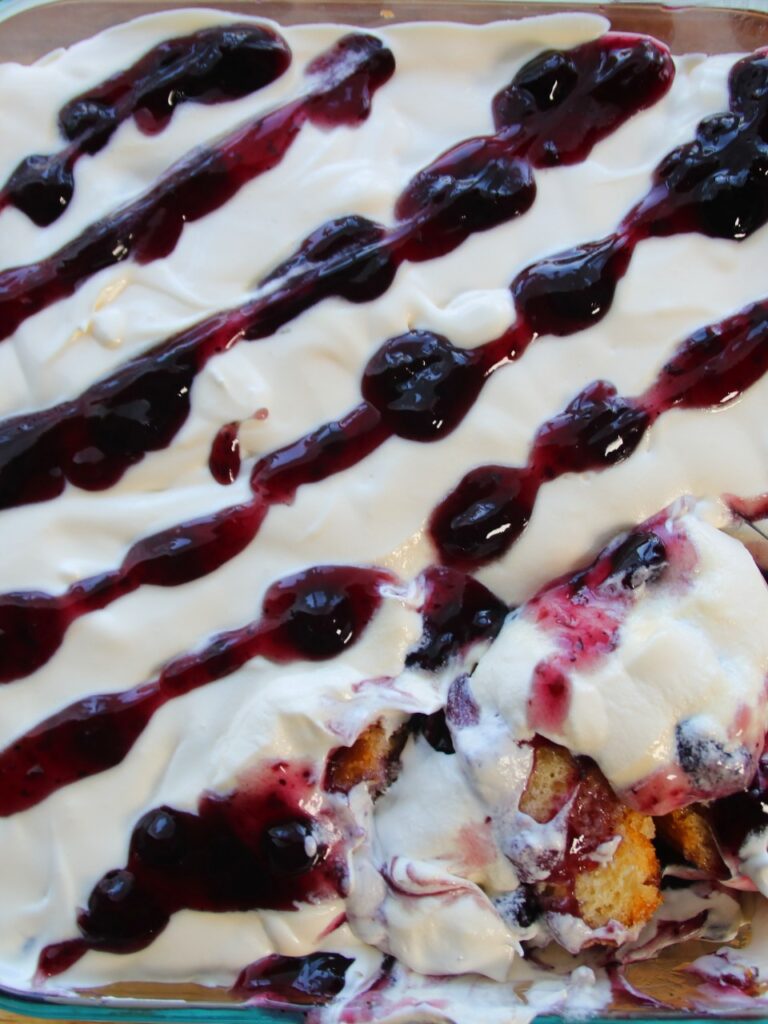 No Bake Creamy Blueberry Pound Cake Dessert, Easy 5 Ingredient Recipe
Description
If you're looking for a dessert recipe that's quick, easy, and sure to impress, be sure to check out this Creamy Blueberry Pound Cake recipe. Whether you're serving it for a special occasion or just whipping up a sweet treat for yourself, this dessert is sure to become a new favorite in your kitchen.
Instructions
Add the pound cakes pieces to a 9 by 9 baking dish and distribute evenly. Follow this by the can of blueberry pie filling. Spread the filling out evenly using a spatula or spoon. Reserve about 4 tbsp of the pie filling for a topping. 

Add the pudding mixture and milk to a mixing bowl. Whisk until well combined. Spoon in the cool whip and gently mix until well combined. 

Pour the mixture over the blueberry filling and spread evenly. 

Place the blueberry filling you reserved into a bowl and add a bit of water to it. Enough so you can stir it. About 1 tbsp. Microwave for about 30 seconds. Using a spoon, spread the mixture over the cool whip mixture in a decorative zig-zag fashion. 

Place in the fridge for about an hour or two to set. Overnight is fine. 
Desserts, Cakes, No Bake Desserts, Desserts and Baking