Our one pan sausage and veggie skillet is simply out of this world. The recipe can be made with a simple combination hot Italian sausages, chopped yellow bell peppers, chops zucchini, half a small onion, two cloves of chopped garlic, Worcester sauce, Italian seasoning, salt, pepper, cheery or grape tomatoes, and chopped green onions for garnish. Believe me, these flavours, when combined, and cooked produce a taste that is to die for. The great thing is, you can do the entire dish up in about 15 or 20 minutes. I always give myself about half an hour just in case I run into a snag. Your family and friends will simply love this dish.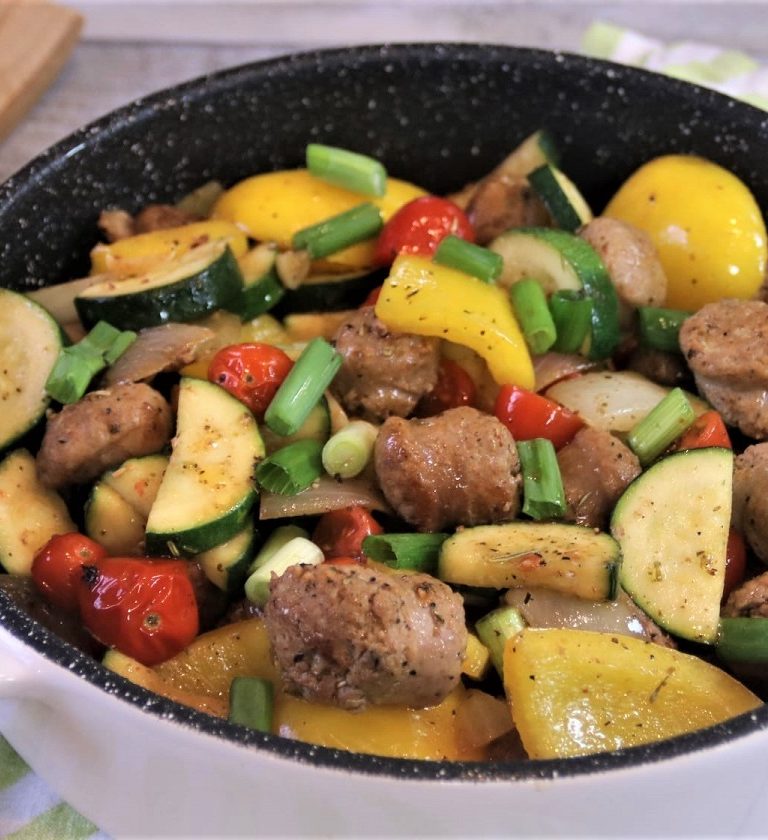 One Pan Sausage and Veggie Skillet
Description
As always, you can alter the ingredients to meet your taste. For example, yellow bell peppers don't have to be used, but I just like the colour and the flavour. In place of this, you could use red or green, or even those nice bright orange bell peppers. I really like the hot Italian sausage because they add that bit of heat, but you can use mild or medium if you like. If you're a garlic lover, simply add more; if you're not a garlic lover, add less. The same applies to the onion. Italian season doesn't have to be used but I just like the flavour. It just adds that extra little touch. 
Other than being fast, easy, and economical to make, it makes a fantastic lunch the next day. You'll find you have a little bit of extra juice in the bottom of the pan which I always use served up over some rice.
Give our one pan sausage and veggie skill of the try, and let us know what you think. 
Add the oil to a pan over medium high heat. Place the sausages in and fry them for about 4 to 5 minutes until cooked through.

Add in the bell pepper, zucchini, onion, garlic, Worcestershire sauce, and Italian seasoning, salt, and pepper. Toss and cook until the vegetables are tender crisp.

Put the cherry tomatoes in and fry until the tomatoes are just to the point of popping.

Plate, serve, and enjoy your one pan sausage and veggie skillet.
Serving Size 1 cup
Servings 4
---
Amount Per Serving

% Daily Value *

Total Fat 24g

37

%

Saturated Fat 7.9g

40

%

Protein 13g

26

%
---
* Percent Daily Values are based on a 2,000 calorie diet. Your daily value may be higher or lower depending on your calorie needs. Nutritional values are a within reason estimate and my vary depending on several factors.
sausage, one pan