Pumpkin swirl cupcakes are a decadent treat that brings fall to life. They are a mini cheesecake with that pumpkin goodness and rich flavor. I always make them up for dinner parties and many social events even if it is not fall. My guests just rant and rave about them and ask for more. I sometimes get very generous and give them the recipe. Believe me, they always come back for more. Served with a cup of tea, coffee, or glass of milk they are simply to die for.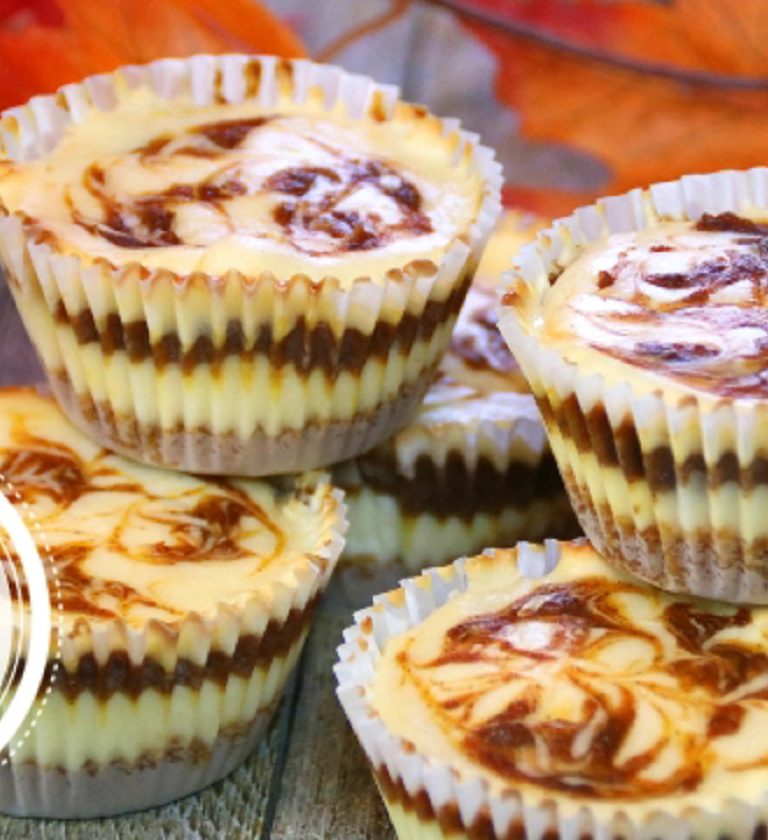 Pumpkin Swirl Cupcakes – The Most Decadent Dessert
Description
As always, there are certain minor changes you can make to the recipe. For example you can vary the amount of pumpkin puree and sugar added. The all spice is optional but provides a wonderful addition to the flavors. More or less cinnamon can be added as well. Personally, I like like lots of it as cinnamon is my favorite spice. One important tip is to allow them to COOL COMPLETELY before taking them out of the muffin liners and serving. I even put and keep mine in the fridge.
NOTE: This recipe will give you about 6 cupcakes. For more simple double or triple. 
Give them a try and let us know what you think.
Preheat your oven to 300 F or 150 C.

In the first mixing bowl, place in the graham crackers, butter, sugar, and cinnamon. Using a fork, mix until well incorporated and a sandy mixture is achieved.

Scoop up a heaping tablespoon and place it in the bottom of a muffin tray double lined with liners. Press the mixture down.

In the second mixing bow, place the cream cheese in and beat until it is smooth and creamy. Add in the icing sugar, icing sugar, and mix until well combined. Put the egg white in and gently beat - DO NOT OVER MIX.

In the third bowl, add in the pumpkin puree, cinnamon, flour, and all spice. Mix with a spatula until well incorporated.

Add half the cheesecake mixture to the muffin liners and gently smooth out. Cover this with some of the pumpkin puree. Save a bit for the end. Spread out once again.

Top off with the remaining half of the cheesecake mixture and spread out.

Using a toothpick or other small applicator, take about 1/8 tsp of the remaining pumpkin swirl and place 3 dots around each cupcake. Swirl each dot around to give it a nice effect.

Place them in the oven and allow to bake for 23 to 25 minutes.

Remove, place in the fridge, and allow to cool completely.

Serve and enjoy enjoy your pumpkin swirl muffins.
Serving Size 1
Servings 6
---
Amount Per Serving

% Daily Value *

Cholesterol 115mg

39

%

Sodium 320mg

14

%

Total Carbohydrate 30g

10

%
---
* Percent Daily Values are based on a 2,000 calorie diet. Your daily value may be higher or lower depending on your calorie needs. Nutritional values are a within reason estimate and my vary depending on several factors.
pumpkin cheesecake