Welcome to our kitchen, where summer comfort food takes center stage with this delicious Santa Fe Chili recipe featuring ground beef and sweet corn!
In this recipe, we'll show you how to create a hearty and flavorful chili that's perfect for those warm days when you crave a comforting yet satisfying meal. Packed with the rich and bold flavors of the Southwest, this Santa Fe Chili will transport your taste buds on a culinary adventure!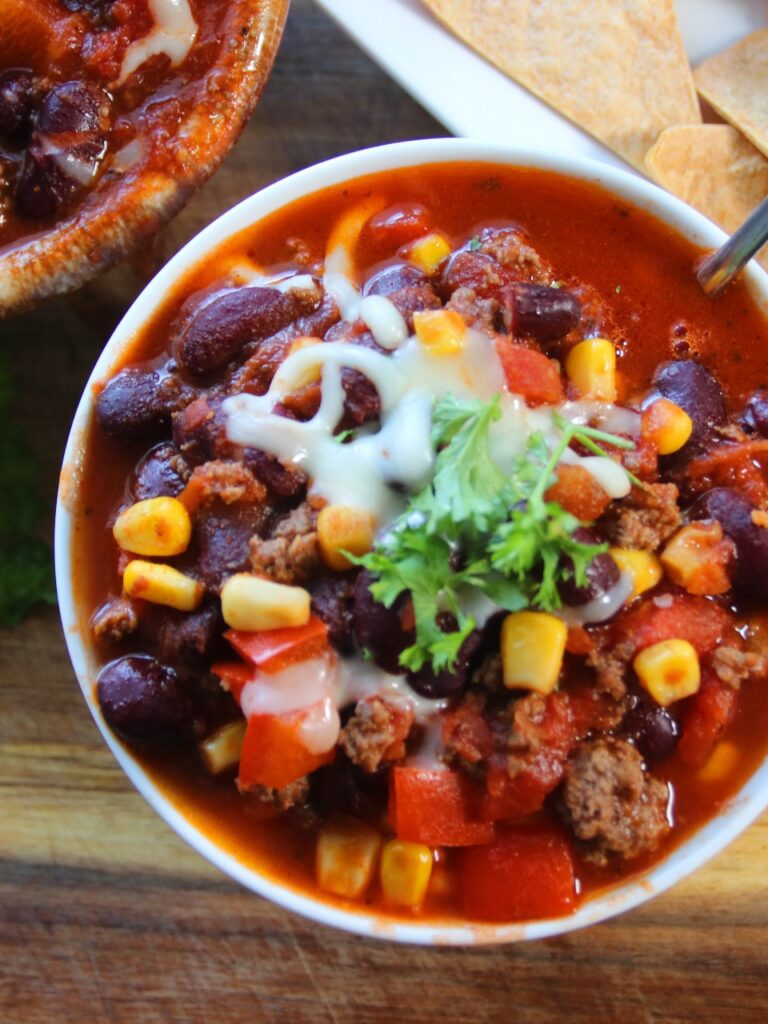 Santa Fe Chili with Ground Beef and Corn Recipe
Description
Our easy-to-follow recipe will guide you through every step, ensuring your chili turns out perfectly every time. From browning the ground beef to sautéing the aromatic onions and garlic, each ingredient comes together harmoniously to create a mouthwatering dish that will have your family and friends asking for seconds.
Add the oil to a Dutch oven or large pot. Add in the ground beef. Stir and fry over medium high heat until browned. 

Add in the onion and garlic. Stir and saute until the onion is translucent and the garlic is fragrant. 

Put the seasoning in. Stir and saute once again until the seasoning activates and coats the meat. Add in the salt and pepper and stir again. 

Put the red pepper in. Stir and fry briefly. Add in the tomato sauce, diced tomatoes, corn, and kidney beans. Stir until well combined. 

Place a lid on, reduce the heat to medium low, and allow to simmer for about 10 minutes. You can simmer it longer to maximize the flavors. 

Add the chili to a bowl, sprinkle cheese and parsley over the top. Serve and enjoy your Santa Fe Chili with Ground Beef and Corn
Servings 1
---
Amount Per Serving

% Daily Value *

Total Fat 11g

17

%

Saturated Fat 4g

20

%

Cholesterol 58mg

20

%

Sodium 650mg

28

%
---
* Percent Daily Values are based on a 2,000 calorie diet. Your daily value may be higher or lower depending on your calorie needs. Nutritional values are a within reason estimate and my vary depending on several factors.
Note
Ground Beef Options: For this Santa Fe Chili, you can use lean ground beef to keep it on the healthier side, or opt for a higher-fat content to enhance the richness of the dish. If you prefer a lighter version, you can even substitute ground turkey or chicken.

Customizing the Heat: The level of spiciness is entirely up to you! If you love a fiery kick, feel free to add extra chili powder or even some diced jalapeños. Conversely, if you prefer a milder flavor, reduce the amount of chili powder or use a mild variety.

Cooking the Corn: To enhance the sweetness of the corn, consider grilling the corn on the cob before cutting off the kernels. This step will add a smoky charred flavor to the chili, perfect for summertime cooking.

Dried vs. Canned Beans: While canned beans offer convenience, using dried beans that have been soaked overnight can result in a more flavorful and tender texture. If using canned beans, make sure to rinse and drain them before adding them to the chili.

Simmering Time: While this recipe provides a rough estimate for simmering, keep in mind that chili tends to improve in flavor the longer it cooks. If time permits, let it simmer on low heat for a couple of hours to allow the flavors to meld together beautifully.

Make Ahead and Freezing: Santa Fe Chili is an excellent meal prep option. You can prepare a big batch and freeze individual portions for quick and delicious meals during busy summer days. It will keep well in the freezer for up to three months.

Toppings Galore: The beauty of chili lies in the toppings! Serve your Santa Fe Chili with a variety of toppings like shredded cheese, sliced green onions, chopped cilantro, diced avocado, lime wedges, and crushed tortilla chips for that extra crunch.

Reheating Tips: If you're reheating leftover chili, add a splash of water or broth to maintain its consistency and prevent it from becoming too thick.

A Vegetarian Twist: For a vegetarian option, simply omit the ground beef and substitute with your favorite plant-based protein, such as diced tofu or tempeh, or include extra beans and vegetables for a hearty, meatless version.

Flavor Fusion: Feel free to get creative with the recipe and add your favorite vegetables or ingredients to personalize the Santa Fe Chili. Bell peppers, zucchini, black beans, or even a hint of cocoa powder can elevate the flavors and make it uniquely yours!
Now that you have these handy recipe notes, get ready to enjoy a scrumptious bowl of Summer Comfort Food: Santa Fe Chili with Ground Beef and Corn! Happy cooking and bon appétit!
Chilli, Chili, Comfort Food, Chilli Con Carney, Dinner, Lunch