Hot dogs have to be one of the all-time favourite American classics. I can't count how many places I've been and dogs have always been my grab on the go lunch. This sensational street food, however, comes in so many different variations.
Years ago, I remember walking down the street in New York City and hot dog vendors were everywhere. I was hungry and walked up to a hotdog cart and asked the vendor to give me a dog. I can still remember what his reply was, "What kind of hotdogs do you want, Mac." I said, "I don't know what do you suggest." He said, "Well, you gotta try a chilli dog." I tried one and, believe me, I've eaten them ever since. Ladies and gentlemen this recipe outlines how to make the best chilli dog you've ever had.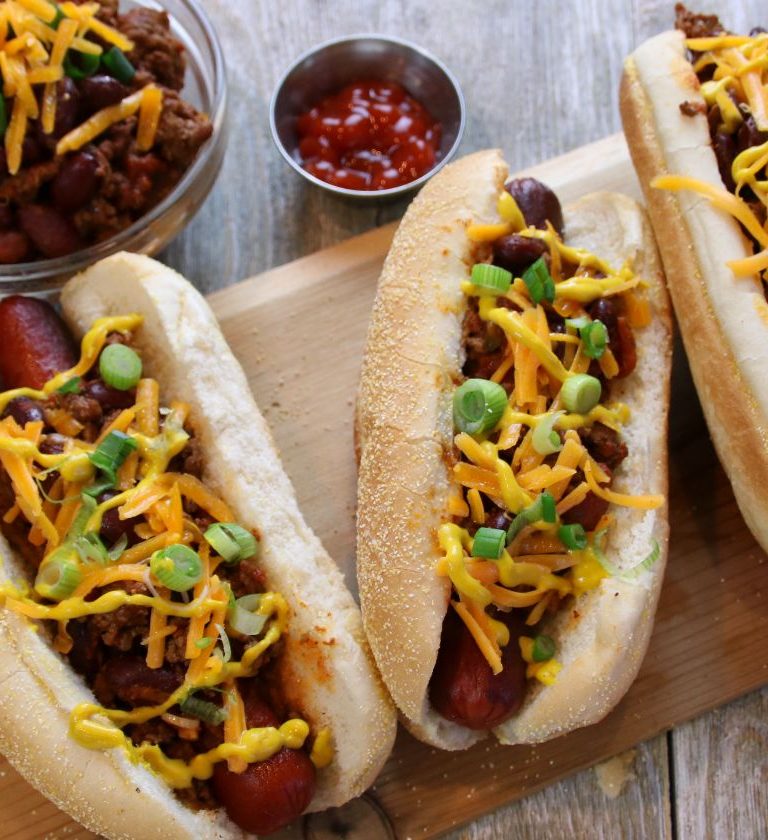 Sensational Chilli Dogs
Description
Our chilli dogs are so easy to make. You can whip them up about 30 minutes. I use beef dogs which you can buy in just about any grocery store or butcher shop. You can use the the wieners of your choice as well. They can be cooked up on the stove or even better on the grill which is a nice touch.
Add some oil to a pan over medium high heat. Place the ground beef in and break it down. Fry for 4 or 5 minutes until browned. Drain off any excess fat.

Place the onion in followed by the garlic. Stir and saute until the garlic becomes fragrant and the onions are translucent. 

Season the beef with salt, pepper, and chilli powder. Then add in the kidney beans and tomatoes. Stir until well combined. Lower the heat, place a lid on, and allow it to simmer for about 15 minutes. Set it aside and allow it to cool a little.

Add some oil in a pan over medium high heat. Put the wieners in and fry until cooked through and browned. 

Place the hot dogs in the buns and scoop the chilli sauce over it. 

You will end up with some extra chilli which you can heat up for lunch the next day.

Spread the cheese over the chilli followed by the mustard and onions.

Serve and enjoy your sensational chilli dogs.
Hot Dogs, Chilli Dogs, Lunch, Snacks, Kids Meals, Easy Recipes