Welcome to our YouTube channel, where culinary delights come to life! Get ready to tantalize your taste buds with our latest creation: the Mouthwatering Sheet Pan Sausage and Veggie Recipe – A Flavor Explosion! 🌶️🥦🍴
In this recipe, we're taking your dinner game to a whole new level with a one-pan wonder that's as easy to make as it is delicious to devour. Imagine succulent sausages sizzling alongside a rainbow of fresh, vibrant veggies, all roasted to perfection on a single sheet pan. The flavors meld together in a symphony of taste that'll leave you craving more.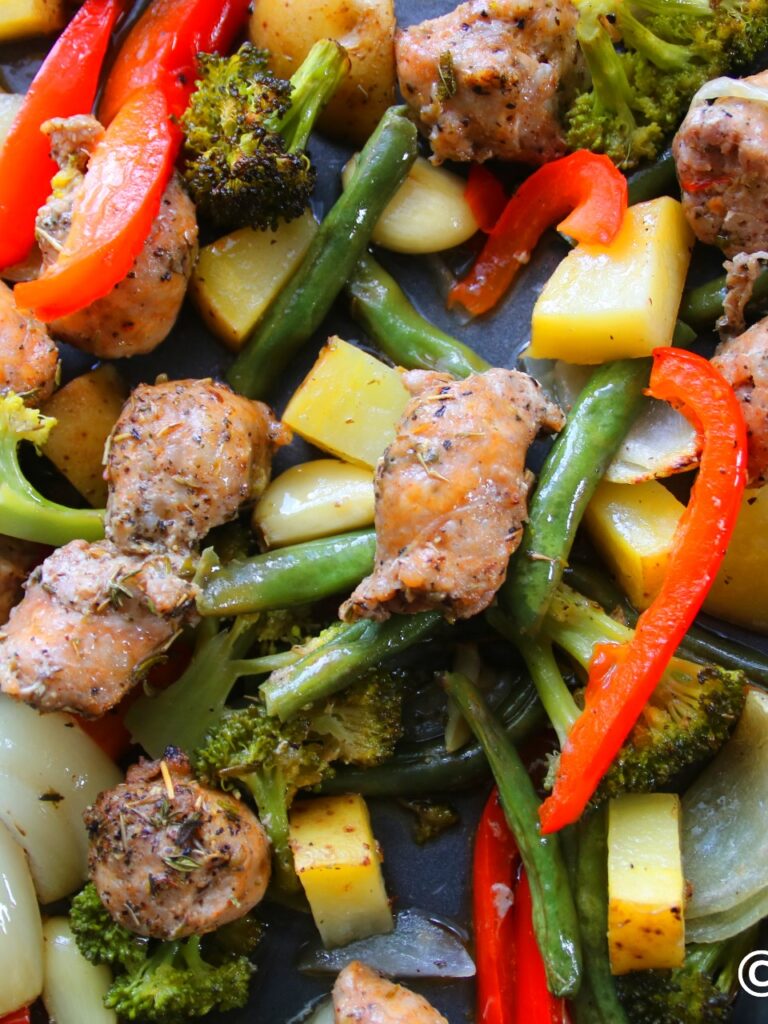 Sheet Pan Sausage and Veggie Recipe
Description
Whether you're a seasoned chef or just starting your culinary journey, this recipe is designed with simplicity in mind. We'll guide you through each step, from selecting the finest sausages and market-fresh veggies to achieving that golden caramelization that makes your mouth water.
Add all of the ingredients to a mixing bowl. Mix until well combined. Put the mixture on a sheet pan and spread out evenly. Place in a 375 degree F or 280 C preheated oven for about 30 minutes or until the potatoes are tender. 

Serve and enjoy your sheet pan sausage and veggie recipe. 
Servings 1
---
Amount Per Serving

% Daily Value *

Total Fat 22g

34

%

Saturated Fat 7.9g

40

%

Cholesterol 53mg

18

%

Sodium 745mg

32

%

Potassium 530mg

16

%

Total Carbohydrate 12g

4

%

Dietary Fiber 2g

8

%

Sugars 0.5g

Protein 12.3g

25

%
---
* Percent Daily Values are based on a 2,000 calorie diet. Your daily value may be higher or lower depending on your calorie needs. Nutritional values are a within reason estimate and my vary depending on several factors.
Note
Sausage Selection: Choose your favorite type of sausages for this recipe – whether it's spicy Italian, smoky chorizo, or classic bratwurst, the choice is yours! Opt for high-quality sausages with great flavor for the best results.
Veggie Variety: Feel free to customize the veggie mix based on what's in season or what you have on hand. Bell peppers, zucchini, red onions, cherry tomatoes, and broccoli all work wonderfully. Just remember to cut them into uniform sizes to ensure even cooking.
Spice it Up: If you're a fan of a little heat, sprinkle some red pepper flakes or drizzle hot sauce over the sausages and veggies before roasting. This will add an extra kick of flavor that's sure to please spicy food enthusiasts.
Sheet Pan Prep: To prevent sticking and make cleanup a breeze, line your sheet pan with parchment paper or use a non-stick cooking spray. This will also help achieve that beautiful caramelization without any hassle.
Seasoning Secret: Toss the sausages and veggies in olive oil and a generous sprinkle of your favorite seasonings. A mix of garlic powder, dried oregano, paprika, salt, and black pepper works like magic, infusing every bite with irresistible flavor.
Even Spacing: Arrange the sausages and veggies in a single layer on the sheet pan, making sure they're not overcrowded. This allows for proper air circulation and even cooking, giving you that delightful roasted texture.
Flavor Infusion: For an extra burst of flavor, consider adding minced garlic or fresh herbs like rosemary or thyme to the mix. These aromatic additions will take your sheet pan creation to the next level.
Cooking Time: Keep a close eye on your sausages and veggies as they cook. Cooking times can vary based on the size and type of ingredients. The sausages should be cooked through with an internal temperature of 160°F (71°C), and the veggies should be tender and slightly caramelized.
Garnish Grace: Before serving, add a final touch of freshness with a sprinkle of chopped parsley or grated Parmesan cheese. This not only enhances the visual appeal but also adds a pop of flavor.
Meal Pairing: This sheet pan delight can be enjoyed on its own, served over cooked quinoa or rice, or tucked into warm tortillas for a sensational sausage and veggie taco experience. Get creative and pair it with your favorite sides for a well-rounded meal.
Leftover Love: If you're lucky enough to have leftovers, store them in an airtight container in the fridge for up to three days. Reheat in the oven or microwave for a quick and satisfying meal later on.
Share the Joy: Gather your loved ones around and relish in the joy of sharing a scrumptious meal. Food has a unique way of bringing people together, so embrace the moment and savor every bite.
Sausage Recipe, Sheet Pan Recipes, Midweek Meals, Easy Recipes, Sausage and Veggies