If you are looking for a simple chicken recipe, it does not get much better then our garlic chicken. Made with simple ingredients such as olive oil, garlic, salt, pepper, just a mention  a few,  it is a delight on the palate. You simply can't forget the parmesan cheese though. I always garnish this simple chicken dish with some parsley and serve it up for the garden salad. A nice glass of white wine goes well with it.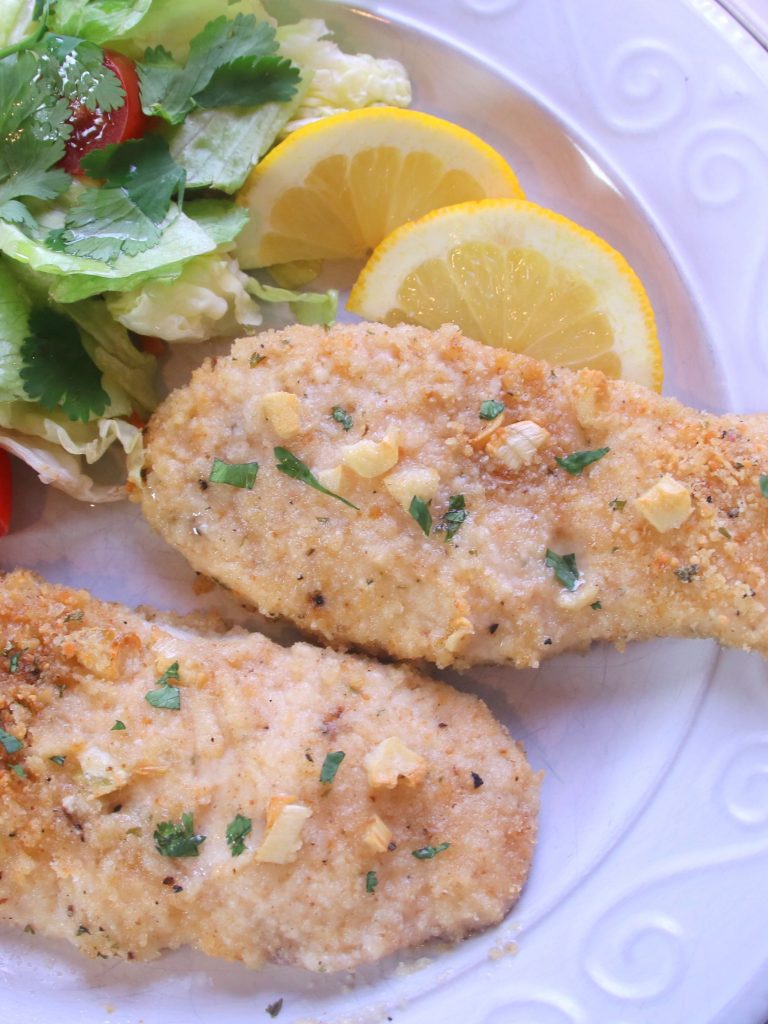 Simple and Easy Garlic Chicken
Description
As always, you can change the recipe, or parts of it, to suit your taste. For example, I use 3 large cloves of chopped garlic, but if you are a garlic lover, you can always add more. The same applies to the parmesan cheese. I use the grated Parmesan that you can buy in the tub, but you can use fresh parmesan as well. I don't use it for the simple reason that grated Parmesan never mixes well but the bread crumbs. Speaking of the breadcrumbs, I use Italian bread crumbs in the recipe simply because I like the spicing on them, but you can use panko what are the breadcrumbs of your choice.
Believe me, this recipe is simply delightful and your family and friends will love it. As a matter of fact, they will be begging you for the recipe.
Give our simple and easy garlic chicken a try and, as always, drop us a line and let us know what you think.
Heat your oven to 375 degrees F or 190 C.

Add the bread crumbs, Parmesan cheese, salt, and pepper to a mixing bowl. Whisk until well combined.

Pour the olive oil into a pan over low heat and add in the chopped garlic. Stir and heat for about 2 minutes or until fragrant. Turn off heat.

Roll the chicken breast in the olive oil and garlic mixture.

Dredge the chicken in the bread crumb mixture until each side is completely coated. Set them aside on a baking tray lined with aluminum foil. I always spray the foil with baking spray to ensure the breasts do not stick. Drizzle any remaining olive oil and garlic over the breasts.

Place them in the oven and bake for about 20 minutes depending on the thickness of the meat.

Garnish with parsley and serve with a nice garden salad.

Enjoy your simple and easy garlic chicken.
Serving Size 1
Servings 3
---
Amount Per Serving

% Daily Value *

Total Carbohydrate 16g

6

%

Protein 20g

40

%
---
* Percent Daily Values are based on a 2,000 calorie diet. Your daily value may be higher or lower depending on your calorie needs. Nutritional values are a within reason estimate and my vary depending on several factors.
garlic chicken