I just love comfort food and there is none better than smothered chicken gravy and mashed. Just imagine shredded chicken smothered in gravy over mashed potatoes. It just doesn't get any better. The great thing is, all you need is a couple of chicken breasts or some left over chicken, seasoning, flour, chicken stock, potatoes, and a couple of other ingredients you will have right in your pantry.
The entire dish can be make up in about 30 minutes and dinner is on the table. This is a meal your entire family will love. As always, give it a try and let us know what you think.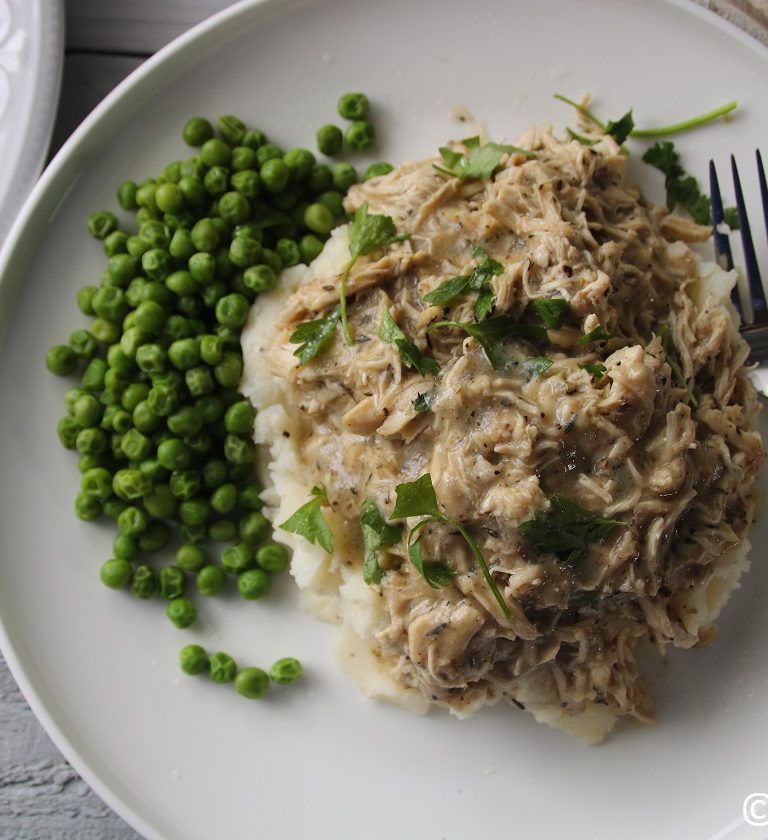 Smothered Chicken Gravy and Mashed
Description
Looking for a quick, easy, and delicious midweek meal. If so, this is the dish for you. Other than the chicken, you will have the ingredients right in your pantry and the entire dish can be made up in 30 minutes. It's budget friendly and delicious. What more can you ask for. 
Slice the chicken breasts in half and season with the salt, pepper, garlic, thyme, onion powder, and Italian seasoning. Season on both sides.

Add the oil to a pan over medium high heat, place the chicken in and fry until cooked though and no longer pink. 

Place the chicken on a plate and, using two forks, shred. You can also use a food processor or a stand mixer. Set the chicken aside.

In the same pan, add in the butter and allow it to melt down. Put the flour in and cook while stirring until it is cooked through and a roux forms. 

Pour in half the chicken stock and continue to whisk. Add in the sage, thyme, onion powder, pepper, and garlic powder. Whisk one again. Pour in the second half of the chicken stock and continue whisking until smooth and lump free.

Place the chicken in, stir, and allow to simmer for 2 or 3 minutes.

Serve over mashed potatoes with green peas on the side and enjoy.
---
Amount Per Serving

% Daily Value *

Total Fat 35g

54

%

Saturated Fat 17.99g

90

%

Trans Fat 2g

Cholesterol 175mg

59

%

Sodium 720mg

30

%

Potassium 585mg

17

%

Total Carbohydrate 10g

4

%

Dietary Fiber 1.98g

8

%

Sugars 1.5g

Protein 27.99g

56

%
---
* Percent Daily Values are based on a 2,000 calorie diet. Your daily value may be higher or lower depending on your calorie needs. Nutritional values are a within reason estimate and my vary depending on several factors.
Note
I use boneless skinless breasts but left over roasted chicken can be used as well. Feel free to use thighs as well. They can be juicier than breasts.
I use a stand mixer to shred my chicken which works amazingly well. You can also use a food processor or two forks. 
Tips From Member Steve Logan:
A couple more tips, instead of chicken broth, I suggest chicken stock. You can make it whenever you boil a whole chicken with skin/bone (save the extra in plastic ice cube trays in the freezer & use as needed in future). The broth is mostly sodium, a product of chicken base is real concentrated chicken in a jar & the best brand is on the shelf. The name is " Better Than Bouillon." This is a  huge difference in flavour. Twinxt broth/stock, 1 tsp makes 8 ounces of stock for those who do not make homemade chicken stock. With products they list ingredients from most to least contained & with broth it will be sodium, but base will be chicken. It's very easy to make & thicken. I use corn starch as is very neutral. Remove & cool a cup of stock after dissolved over heat. When cooled add 2 tbs of the corn starch to the removed cooled stock. Stir so no lumps & add to the rest of the stock & bring to a boil. Stir and whisk constantly, appx. 2 minutes, over med/high heat in a pot. The gravy will be the thickest when it returns to a boil.
Chicken Recipe, Comfort Food, 30 Minute Recipes, Midweek Meals