Spam fried rice is a simple and delicious recipe. Made with a combination of spam, garlic, mixed veggies, basmati rice, soy sauce, and scrambled eggs, it is a delightful side dish or whole meal. The great thing is, it can be made in under half and hour and served for breakfast, lunch, or dinner. Although the dish can be a side dish or whole meal. I oven have it as a whole meal. Believe me, like many of our recipes, your family and friends will love it.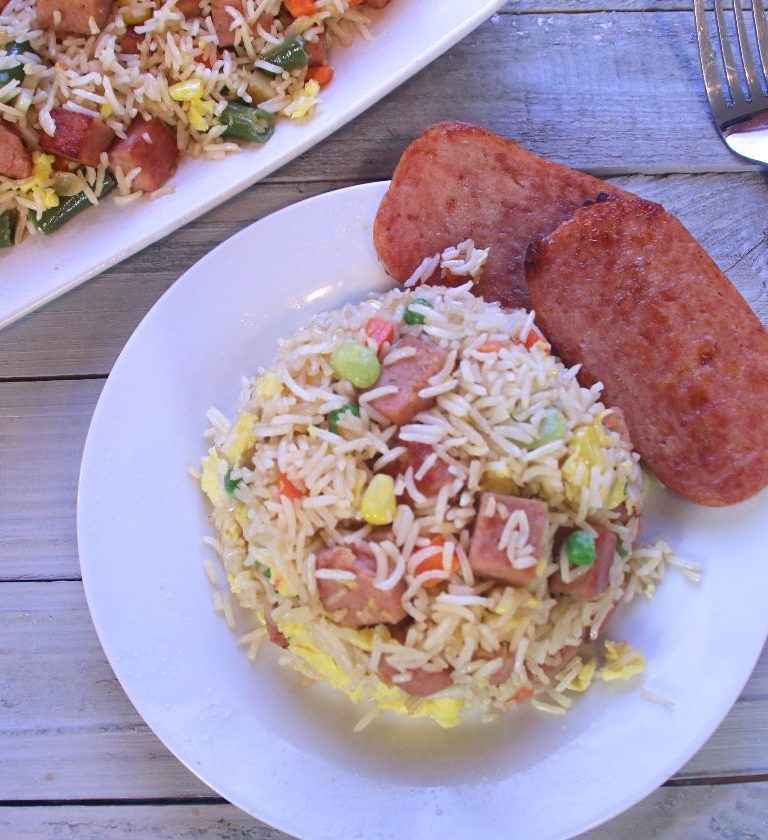 Spam Fried Rice
Description
There are a few tips to making the dish. To begin with, I use basmati rice as I like the texture and taste, but any type of rice can be used. The recipe calls for spam light, but you can use the regular spam if so desired. If you are a garlic lover, add more. If you are a pepper lover, go ahead and add it. I use frozen veggies with a mixture of corn, etc. but any type of veggie can be used.
It is interesting to note that spam was an old world war 2 staple and is still considered a meal for the wealthy in many Asian countries due to the influence of the war. Its nutritional value has been disputed in other parts of the globe, however.
Give our spam fried rice a try and, as always, let us know what you think.
Add the butter to a pan over medium high heat and allow it to melt down.

Add the spam in and cook it for a few minutes until heated through and browned a bit.

Put the garlic and mixed veggies. Stir until they are well combined and the veggies are heated through.

Add in the rice. Toss and fry until well incorporated and the rice is heated through.

Pour the soy sauce in and stir once again.

Push the rice mixture to one side, add in a bit more olive oil, and the beaten eggs. Scramble until cooked and set.

Toss everything once again.

Serve and enjoy your spam fried rice.
Serving Size 1 cup
Servings 4
---
Amount Per Serving

% Daily Value *

Total Fat 35g

54

%

Total Carbohydrate 34g

12

%
---
* Percent Daily Values are based on a 2,000 calorie diet. Your daily value may be higher or lower depending on your calorie needs. Nutritional values are a within reason estimate and my vary depending on several factors.
fried rice