Spiral baked potatoes is a simple recipe. They have to be one of the most unique baked potato recipes I have ever seen. I just love the appearance of them when they are don.The dish can be prepared so quickly and easily which makes them a great midweek meal. Actually, the longest time is waiting for them to bake. They go well with any protein such as chicken, beef, etc.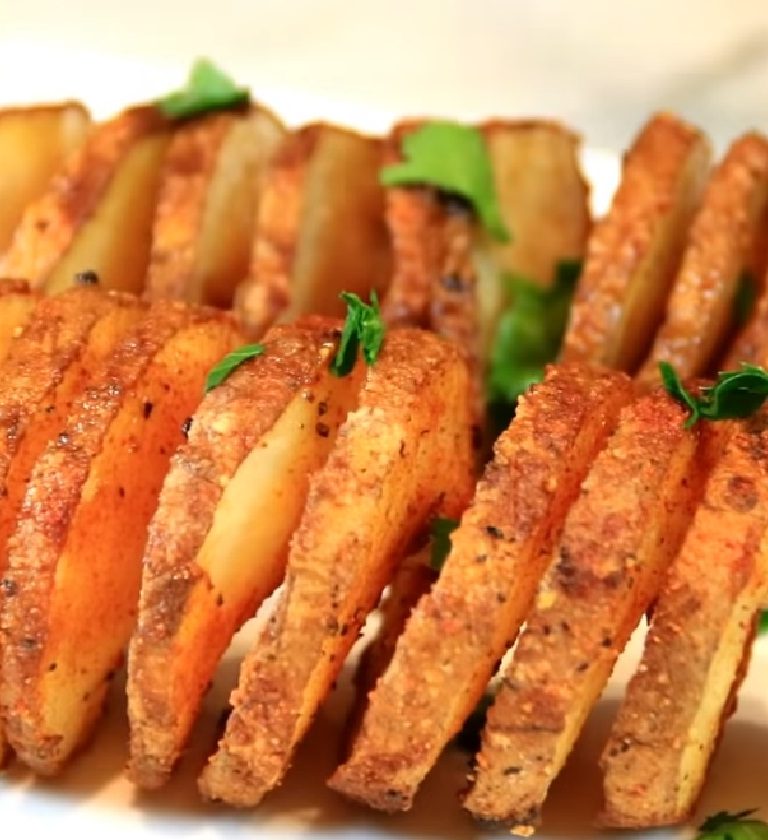 Spiral Baked Potatoes – Easy and Delicious
Description
I often have spiral potatoes with steak which I BBQ. Sometimes they are referred to as tornado potatoes. I bake them, but they can be deep fried or air fried too. Give the recipe a try and let us know what you think.
Insert a skewer into the center of potatoes. 

Starting at one end, slice the potatoes with a sharp knife down to the skewer, while turning and working your way to the other end of the potato. Don't cut the skewer, however. You want the slices about 1/2 or 3/4 inches apart. 

Spread or fan them out on the skewer so there is some distance between them. 

If you are confused, please watch the video.

Brush the entire potatoes with melted butter and season with salt, pepper, paprika,  and powdered parmesan cheese. 

Place on a wire rack or baking tray lined with parchment paper.

Place in a 350 degree F or 180 C preheated oven for about 60 minutes. 

Garnish with parsley, serve, and enjoy your spiral baked potatoes.
Servings 1
---
Amount Per Serving

% Daily Value *

Total Fat 3.6g

6

%

Saturated Fat 0.5g

3

%

Cholesterol 1.2mg

1

%

Sodium 883mg

37

%

Potassium 780mg

23

%

Total Carbohydrate 33g

11

%

Dietary Fiber 4.2g

17

%

Sugars 1.4g

Protein 3.8g

8

%
---
* Percent Daily Values are based on a 2,000 calorie diet. Your daily value may be higher or lower depending on your calorie needs. Nutritional values are a within reason estimate and my vary depending on several factors.
Note
I bake the spiral potatoes in the oven, but they can be air fried or microwaved as well. I put a simple coating of parmesan cheese, paprika, salt, and pepper on mine. Of course, you can use the spices of your choice. 
baked potato, spiral potatoes, curly fries