If you like strawberries and chicken, then our strawberry balsamic reduced chicken is the recipe for you. It is especially great during berry season when everything is fresh. This is my favourite time of the year anyway. Other things about the dish intrigue me as well. For example, this dish has such a visual pop when all of the ingredients are put together. Not to mention the combination of great flavours.
I'm a lover of balsamic vinegar. It is critical, however, to get a good vinegar. I would just shop around for a mid priced vinegar. The other thing is the basil. In my opinion, it has to be fresh basil. The dried just doesn't cut it. You can pick fresh basil up in just about any grocery store. Better yet, grow you own.
You can use any cut of chicken, but I prefer boneless, skinless breast because they are so much healthier and easy to work with. If you want to get really healthy, get yourself some free range or organic chicken breasts.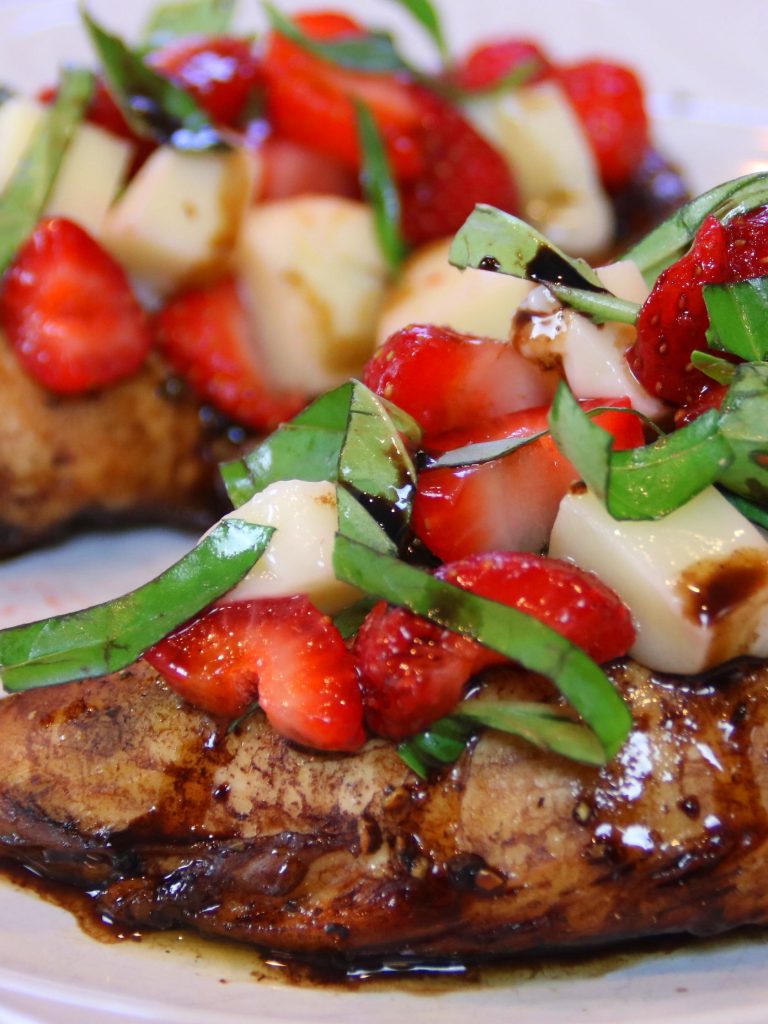 Strawberry Balsamic Reduced Chicken
Description
As the chicken marinates and bakes in half the vinegar, the other half is used to make a balsamic reduction. While the chicken is cooking, we make our special caprese topping which is simply yet elegant. This is placed over the chicken when it is cooked and plated. Then the balsamic reduction or poured over. The outcome is our of this world.
Give it a try and let us know what you think. 
Strawberry Balsamic Reduced Chicken.
Preheat your oven to 400 F 200 C.

Place the chicken breasts into a zip lock bag and pour half the vinegar over them.

Seal the bag and place in the fridge for 5 minutes or so - can be left up to 5 hours.

After about 10 minutes, place the chicken into a baking dish, pour the vinegar from the bag over the top, and season with salt and pepper.

Place the breasts in the oven for 30 to 35 minutes until they are cooked through and no longer pink.

Pour the remaining vinegar into a sauce pan and bring to a boil.

Reduce the heat to medium low and allow it to simmer for about 10 minutes until it reduces in half. Set it aside.

Meanwhile, make the caprese topping by placing the strawberries, mozzarella, and basil into a bowl. Stir gently until well combined.

Remove the chicken from the oven and plate it. Place the caprese topping over the top followed be a drizzle of the reduced balsamic vinegar.

Enjoy your strawberry balsamic reduced chicken.
Serving Size 1
Servings 2
---
Amount Per Serving

% Daily Value *

Cholesterol 70mg

24

%

Sodium 644mg

27

%

Total Carbohydrate 3.1g

2

%

Protein 26.3g

53

%
---
* Percent Daily Values are based on a 2,000 calorie diet. Your daily value may be higher or lower depending on your calorie needs. Nutritional values are a within reason estimate and my vary depending on several factors.
balsamic chicken