This recipe uses our famous simple batter to make our deep fried onion rings. A video which has received over 8 million views and was tested by thousands, including us. This time, however, we decided to air fry them instead of deep frying them. The outcome was incredible. A super crispy onion ring in less than half an hour.
The batter is simple: flour, corn starch, salt, pepper, garlic, cayenne pepper, and cold sparkling water (the real secret). Simply whip us the batter, dredge the rings in bread crumbs, and into the deep fryer. Wallah! Super crispy onion rings.
Serve these up as a snack, with a burger, a hot dog, etc. Your entire family will love these super crispy air fried onion rings.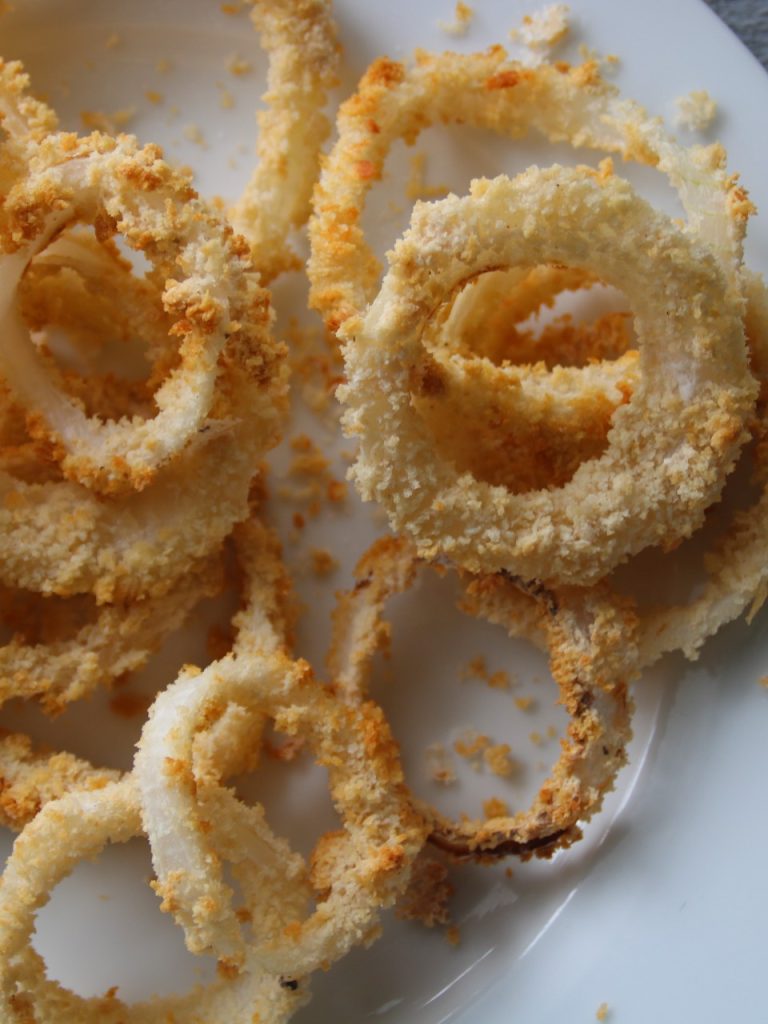 Super Crispy Air Fried Onion Rings
Description
I love onion rings, but they have to be crispy. There's nothing worse than sitting down to a plate of soggy onion rings. This recipe creates the crispiest, tastiest, and well formed onion rings I have ever had. As many members have stated: "These are the easiest and crispiest onion rings I have ever had." Your family and friends will simply love them. 
Make sure you have sliced the onions into 1/4 to 1/2 inch pieces and divided them into rings. There are some rings you will not be able to use as they are too small or large. I often use these for other purposes.

Add the dry ingredients to a mixing bowl and whisk until well combined. 

Slowly add in the sparkling water while mixing. Ensure the batter is fairly smooth and lump free. If you want the batter a little thicker, add less water.

Add the Panko bread crumbs to a separate mixing bowl. 

Dredge the rings into the batter and make sure they are completely covered. Allow any excess batter to drip free.

Dredge the rings into the bread crumbs and ensure they are completely covered. Set aside on a wire rack. 

Place the rings, in batches, into the bed of an air fryer and fry at 370 F or 190 C for about 10 minutes until golden brown. 

Serve and enjoy your super crispy air fried onion rings.
Serving Size 6
Servings 1
---
Amount Per Serving

% Daily Value *

Total Fat 18g

28

%

Saturated Fat 2g

10

%

Cholesterol 0.98mg

1

%

Sodium 626mg

27

%

Potassium 129mg

4

%

Total Carbohydrate 31g

11

%

Dietary Fiber 2.1g

9

%

Protein 3.8g

8

%
---
* Percent Daily Values are based on a 2,000 calorie diet. Your daily value may be higher or lower depending on your calorie needs. Nutritional values are a within reason estimate and my vary depending on several factors.
Note
White or yellow onions make nice rings, but you can use the onion of your choice. 
Using the sparkling water really helps with the crispiness. It's actually the carbonization that is the trick. You can use a good beer too if you wish.
As always, the spices are optional. The ones suggested are my preference, of course. 
Serve the rings up with some ketchup or a nice mayo dijon sauce.
Fast Food, 30 Minutes Recipes, Onion Rings, Onion Recipes