Baba Ghanoush is a classic Middle Eastern dish that is loved all around the world for its rich and smoky flavor. Made with roasted eggplant, tahini, garlic, lemon juice, and other flavorful ingredients, this dish is perfect as a dip, spread, or even a healthy snack. Whether you're a fan of traditional recipes or love to experiment with new flavors, Baba Ghanoush is a must-try dish that will satisfy your cravings and impress your guests.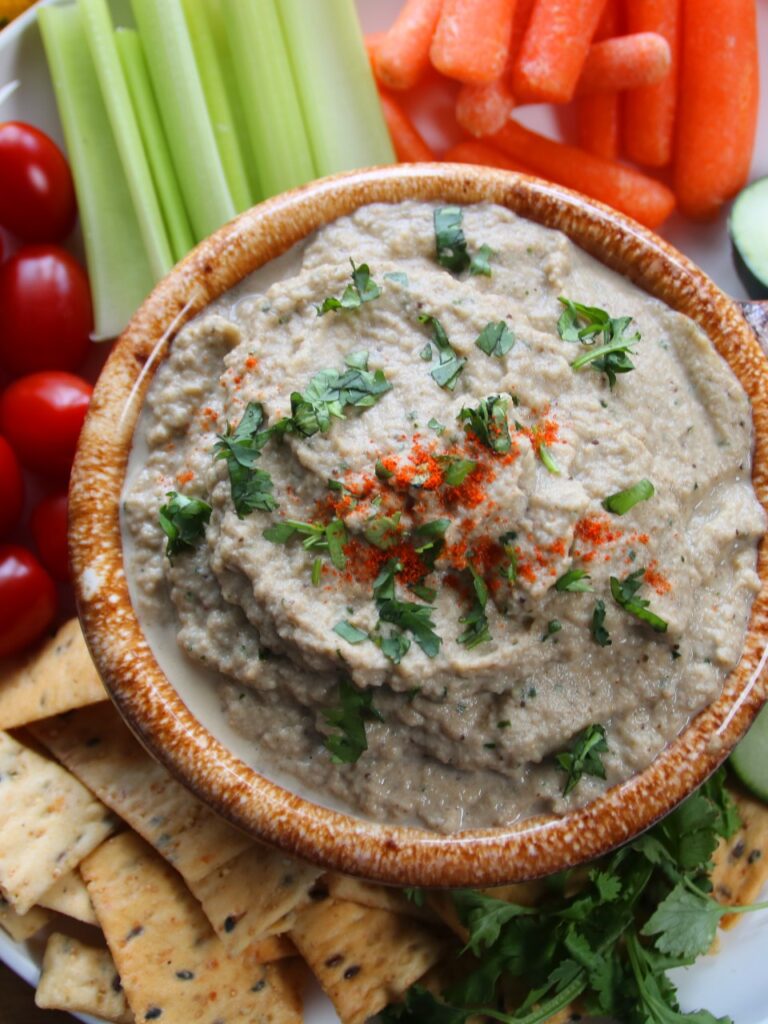 The Best Baba Ghanoush Dip
Description
In this video, we'll show you how to make the perfect Baba Ghanoush from scratch, step-by-step. We'll also share some tips and tricks to take your dish to the next level, and show you how to use Baba Ghanoush in different recipes. Get ready to take your taste buds on a journey to the Middle East with this delicious and nutritious dish!
Place the eggplants on a baking tray and pierce them several times with a fork. Put them into a 400 degree F preheated oven for about an hour. 

Slice the egg plants and spoon the flesh out into a food processor. Add in the garlic, tahini, garlic, lemon juice, olive oil, parsley, and paprika. Please the lid on the food processor and process for about two minutes. You should end up with a pasty mixture.

You can use a blender or potato masher as well. 

Serve with your favorite side dishes or main dishes and enjoy. 
Servings 1
---
Amount Per Serving

% Daily Value *

Total Fat 12.5g

20

%

Saturated Fat 1.8g

9

%

Sodium 169mg

8

%

Potassium 204mg

6

%

Total Carbohydrate 3.5g

2

%

Sugars 3g

Protein 3.5g

8

%
---
* Percent Daily Values are based on a 2,000 calorie diet. Your daily value may be higher or lower depending on your calorie needs. Nutritional values are a within reason estimate and my vary depending on several factors.
Note
Choose the right eggplant: Look for eggplants that are firm, glossy, and heavy for their size. The skin should be taut and free of blemishes. You can use either large globe eggplants or slender Japanese eggplants.

Roasting the eggplant: To get that smoky flavor, char the eggplant on an open flame or grill. This can be done using a gas stove or grill, or by placing the eggplant under a broiler in the oven.

Removing the skin: Once the eggplant is charred, allow it to cool slightly before peeling off the skin. The flesh should be soft and tender, and you can scoop it out with a spoon.

Tahini: This is a key ingredient in Baba Ghanoush and can be found in most grocery stores. Be sure to use a good quality tahini that is smooth and creamy. You can adjust the amount of tahini to your liking, depending on how nutty and rich you want the dip to be.

Garlic: Garlic adds a pungent kick to Baba Ghanoush. You can use as much or as little as you like, depending on your taste preferences.

Lemon juice: Fresh lemon juice is a must in Baba Ghanoush. It adds a bright, tangy flavor that balances out the richness of the tahini and eggplant.

Salt: Season the dip with salt to taste. You can also add other spices like cumin for extra flavor.

Serving suggestions: Baba Ghanoush is great as a dip with pita bread or raw veggies. It also makes a tasty spread on sandwiches or as a topping for salads. Enjoy!
Middle East recipes, Dips, Snacks, Appetizers