I love a Sunday roast of beef, but I have to have it perfectly done. I've gone through many methods of cooking roasts, but this has to been one of the best fail proof methods I've ever come across. It works perfectly every time. Give it a try and let us know what you think.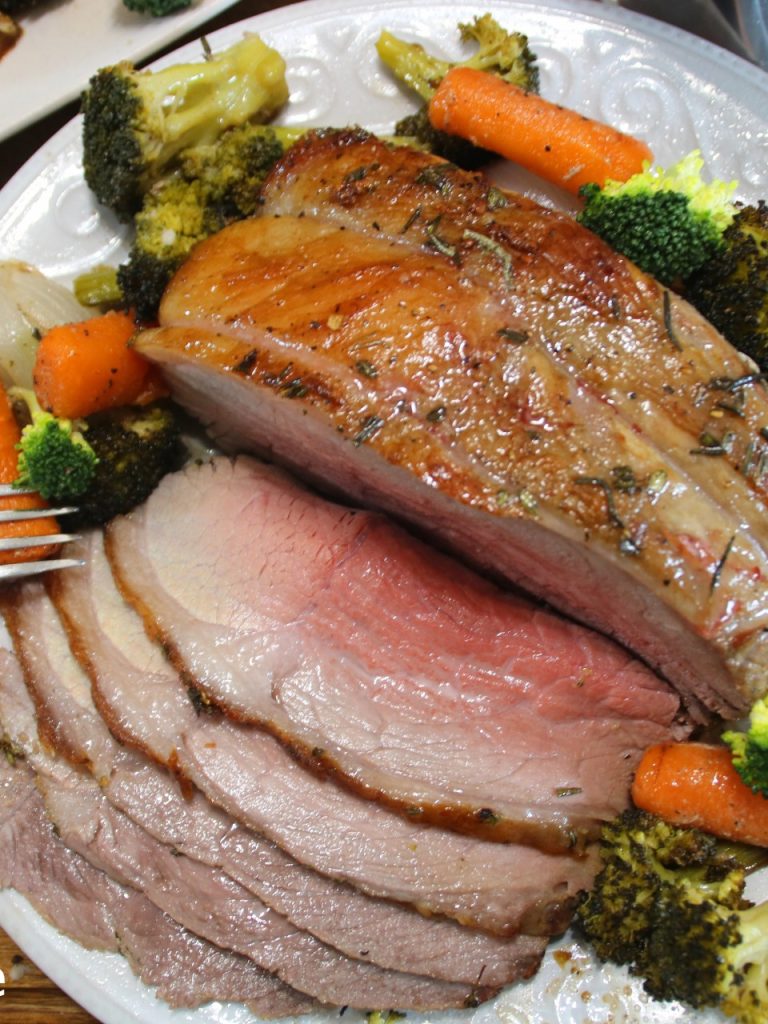 The Perfect Roast Beef with Garlic Gravy – Done to Perfection
Description
I love Sunday dinners especially when it's roast beef. The recipe presents the Cook n' Share way of doing a medium rare roast beef to perfection.
Lay the roast out at room temperature for 4 -6 hours for best results and an even cook.

Rub the olive oil all over the toast. Season with salt, pepper, garlic, thyme, and rosemary. Make sure all of the roast if covered with the seasoning.

Add the vegetables of your choice to the bottom of a baking tray with a top rack. I use broccoli, carrots, and onions, but it's entirely up to you. 

Lay the roast on the top rack fat side up.

Next, place the vegetables of your choice into the bottom of the roasting pan. The roast is placed on the top baking tray. Put the roast and vegetables into a 500 degree F or 260 degrees C preheated oven for 5 minutes per pound. My roast was about 2.2 pounds, so I left it about 13 minutes or so.

After about 13 minutes, the heat is turned off and the roast is left in the oven to bake for 15 minutes per pound. It is very "important not to open the oven door at all." In the case of this roast, I left it for 35 - 40 minutes, pulled it out, and allowed it to rest for an additional 15 minutes.
To Make the Garlic Gravy
While the roast is resting, add the oil to a pan over medium low heat. Place the garlic in and saute until brown and fragrant. 

 Add the butter to the pan  and allow it to melt down. Put the flour in and whisk until a roux forms. Keep whisking until desired level of brownness is achieved.

Add half the the beef stock and stir until it thickens. Pour the second half in and continue to stir until it's thick and rich. Add in the pepper and stir once again.

Slice the beef, pour the gravy over, and serve with the vegetables.
Servings 1
---
Amount Per Serving

% Daily Value *

Total Fat 11.5g

18

%

Sodium 57mg

3

%

Potassium 26mg

1

%
---
* Percent Daily Values are based on a 2,000 calorie diet. Your daily value may be higher or lower depending on your calorie needs. Nutritional values are a within reason estimate and my vary depending on several factors.
Roast Beef, Medium Rare Roast Beef, Dinner Recipes