Our sloppy joe grilled cheese is the ultimate treat. It might be a little on the unhealthy side, but it's incredibly delicious. Made with a combination of ground beef, our homemade sloppy joe sauce, and cheddar cheese, the taste is simply out of this world. This sloppy joe with cheese  is the ultimate sandwich everybody loves.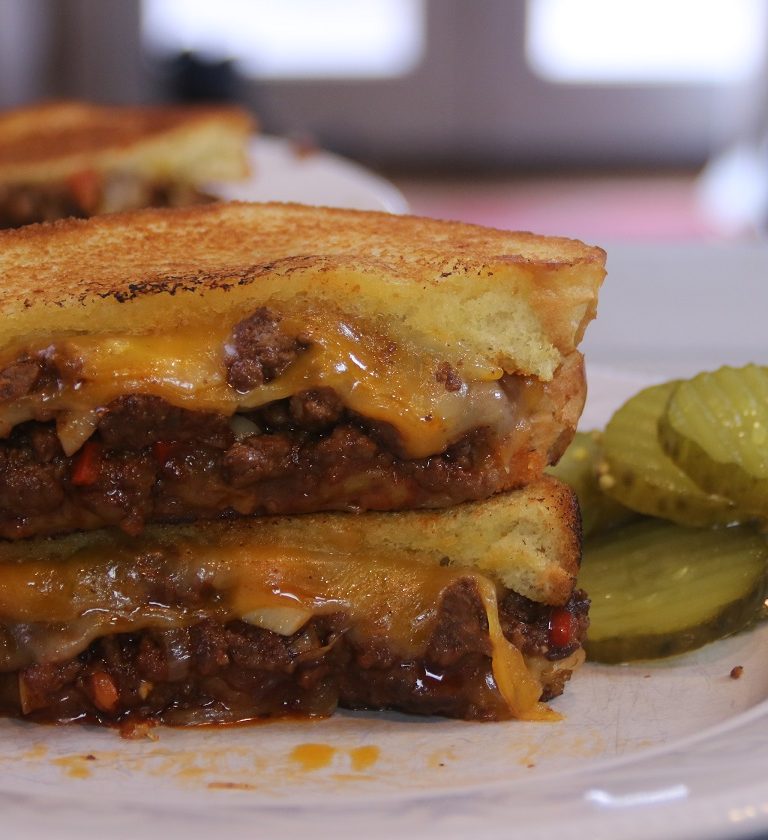 Ultimate Sloppy Joe Grilled Cheese
Description
As always, there are a few tips to making this wonderful sloppy joe sandwich. First off, the ketchup is an essential component to the sloppy joe mixture. I like French's, but you can use the ketchup of your choice. Secondly is the cheese. We use sliced marble cheddar. This is not the processed cheese but rather the real cheese slices. As the recipe is a grilled cheese sandwich, it is of upmost important that a good cheese is used. Shredded cheese also does a great job. In essence, use the cheese of your choice.
I use a lean ground beef which is never really lean. There is always a great deal of fat that fried off the beef. In light of this, I drain about 70 percent of the fat off before adding any other ingredients.
Give our ultimate sloppy joe a try and let us know what you think.
Add the ground beef to a pan over medium high heat. Fry until the beef is browned and drain off about 70 percent of the excess fat.

Put the bell pepper, onion, and garlic in. Saute until fragrant and the onions begin to become translucent.

Add in the ketchup, Worcestershire sauce, sugar, salt, and pepper. Stir until well combined.

Lay 3 pieces of bread out and place a slice of cheese on each. Spoon a generous amount of the sloppy joe mixture over the top.

Place another slice of cheese over the mixture and put the last piece of bread on each sandwich. Add about a tbsp of butter to a pan over medium heat and place the sandwiches in. You can do them in batches as well.

Press each sandwich. down a little and allow to cook for about 3 minutes until the bread is brown the the cheese begins to melt. Flip the sandwich, add in more butter, and repeat the process.

Plate and serve with your favorite sauce. Enjoy your ultimate sloppy joe grilled cheese sandwich.
Serving Size 1
Servings 3
---
Amount Per Serving

Calories 350kcal

Calories from Fat 14kcal

% Daily Value *

Sodium 630mg

27

%

Total Carbohydrate 45g

15

%

Sugars 6g

Protein 17g

34

%
---
* Percent Daily Values are based on a 2,000 calorie diet. Your daily value may be higher or lower depending on your calorie needs. Nutritional values are a within reason estimate and my vary depending on several factors.