When I was younger I remember working night shift. Hungry and tired I just wanted to chow down on a good sandwich. One of my all-time favourites was a steak sandwich. I can still taste it today. That incredible cuts of steak I've ever had topped with cheese in my favourite sauce. Oh my goodness, I could've eaten them all day long. As a matter of fact, I still could eat them all day long.
This type of sandwich, however, can be done in many ways. Being somewhat biased I suppose, our ultimate steak sandwich is one of the best. Of course, the recipe will explain all of the details and you can be the judge.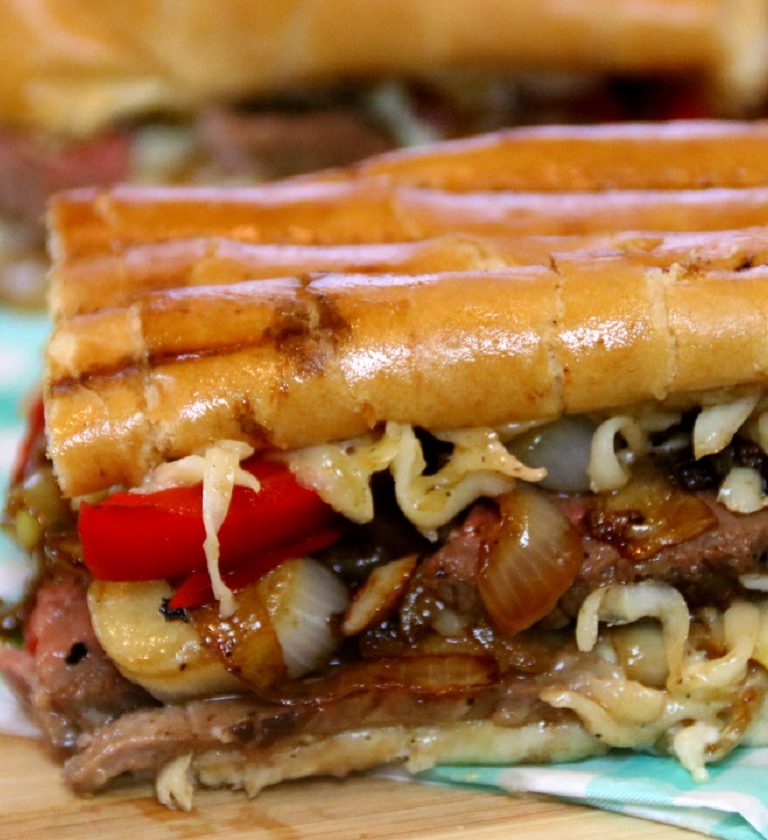 Ultimate Steak Sandwich
Description
We make our ultimate steak sandwich with a combination of grilled steak, cheese, and bell peppers. it is then served on a delightful French bun. The outcome is incredible. Believe me, your friends, guests, and family are going to love it.
Season the steak with salt, pepper, and garlic powder on both sides.

Add the butter to a preheated pan over medium high heat. Let the butter melt down and add the oil in. 

The oil will keep the butter from burning.

Place the steak in and fry on both sides until a nice sear is achieved. This will take a few minutes on each side. Set the steak aside to rest.

In the same pan, place in the onion, garlic, and the red bell pepper. Saute until fragrant and tender crisp.

Slice the steak fairly fine against the grain. 

Cut the buns in half and spread the may onto the bottom of each bun followed by the mustard, steak slices, the fried bell peppers and onion. Then, spread the mozzarella over the top. 

Close the buns and grill in a press until both sides are brown. If you don't have a press, you can use a pan on medium high heat with a lid on top. 

Serve and enjoy your ultimate steak sandwich. 
Servings 1
---
Amount Per Serving

% Daily Value *

Total Fat 7g

11

%

Saturated Fat 1.9g

10

%

Cholesterol 36mg

12

%

Sodium 391mg

17

%

Potassium 270mg

8

%

Total Carbohydrate 30g

10

%
---
Vitamin C

4

mg

Calcium

4

mg
* Percent Daily Values are based on a 2,000 calorie diet. Your daily value may be higher or lower depending on your calorie needs. Nutritional values are a within reason estimate and my vary depending on several factors.
Note
As with most recipes, you can alter the ingredients according to your taste. For example, some mushrooms could be added. Lettuce, tomatoes, etc. can be added as well. You be the boss of your sandwich. 
Steak, Subs, Sandwiches, Steak Sandwich, Lunch