Hey guys. Welcome back to Cook n' Share where we bring you the best recipes to try at home. Today, we are sharing a mouth-watering recipe for Chicken Fajita Pasta that is sure to become a family favourite. This recipe combines the classic flavours of fajitas with the creamy goodness of pasta, creating a delicious and satisfying meal that everyone will love.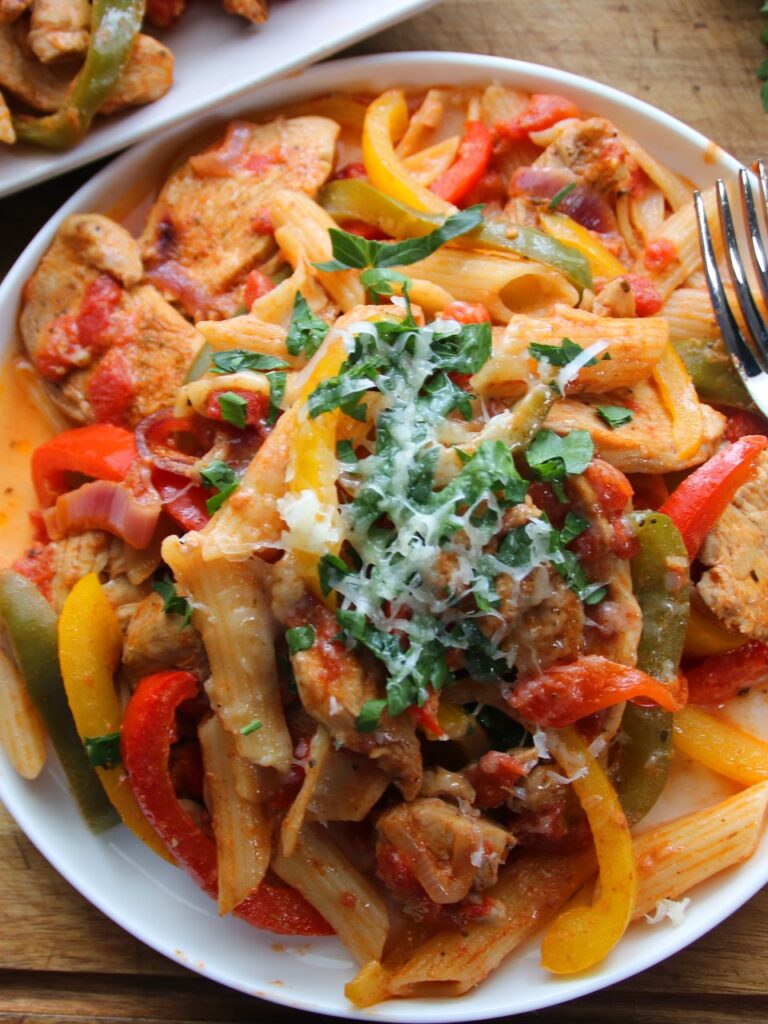 Chicken Fajita Pasta
Description
To make this dish, we start by cooking sliced chicken breasts in a skillet with a combination of fajita seasoning until they are juicy and tender. Then, we add in onions and bell peppers to give it that authentic fajita flavour. Once the vegetables are cooked to perfection, we make a creamy sauce and add the pasta.
Add the oil to a pan over medium high heat. Place the chicken in and season with salt, pepper, chilli powder, cumin, and oregano. Stir and fry until the chicken is cooked through.  Set aside on a plate.

Add some salt to a pot of boiling water. Place the pasta in and allow it to cook for about 10 minutes until al dente. Drain and set aside. 

In the same pan as the chicken, add in the other tablespoon of olive oil followed by the onion, red bell pepper, yellow bell pepper, and green bell pepper. Stir and sauté until the bell peppers begin to soften in the onion becomes translucent. Add in the garlic and sauté for another two minutes.

Add in the tomatoes and heavy cream. Mix until well combined and bring to a boil. 

Put the chicken back in followed by the pasta. Using two spoons, toss until well combined and the sauce covers the pasta and chicken. Allowed to simmer for an additional 10 or 15 minutes.

Plate. Top with Parmesan cheese and garnish with cilantro. Serve and enjoy your chicken fajita pasta.
Servings 1
---
Amount Per Serving

% Daily Value *

Total Fat 6.5g

10

%

Saturated Fat 1.2g

6

%

Cholesterol 82mg

28

%

Sodium 1250mg

53

%

Potassium 825mg

24

%

Total Carbohydrate 45g

15

%

Dietary Fiber 7.2g

29

%

Sugars 7.8g

Protein 32g

64

%
---
* Percent Daily Values are based on a 2,000 calorie diet. Your daily value may be higher or lower depending on your calorie needs. Nutritional values are a within reason estimate and my vary depending on several factors.
Note
Ingredient Substitutions: If you're missing an ingredient or want to try a variation, there are plenty of ways to make this recipe your own. For example, you can use shrimp instead of chicken, add in some black beans for extra protein, or swap out the heavy cream for Greek yogurt.

Cooking Tips: To make this recipe even easier, there are a few cooking tips you can keep in mind. For instance, cook the pasta and chicken simultaneously to save time, use pre-cut veggies for convenience, and make the sauce ahead of time and store it in the fridge until you're ready to use it.

Serving Suggestions: Chicken Fajita Pasta is a versatile dish that can be served in a variety of ways. For example, you can top it with shredded cheese, sliced avocado, or cilantro for added flavour and texture. It can also be served with a side salad or some garlic bread for a complete meal.

Storage and Reheating: If you have leftovers, store them in an airtight container in the fridge for up to 3-4 days or in the freezer for up to 2-3 months. To reheat, simply microwave the pasta until heated through, stirring occasionally to distribute the sauce.

Nutrition Information: While Chicken Fajita Pasta is a tasty and satisfying meal, it's important to keep in mind its nutritional content. Depending on the specific ingredients used, the dish can range from moderate to high in calories, fat, and sodium. Consider portion sizes and balance out the meal with plenty of veggies and other nutritious foods throughout the day.
Texas, Chicken, Chicken Fajita, Pasta, Easy Dinner, 30 Minute Meals