One pan pork chops and beans is an old recipe revisited. You will be surprised what a few ingredients can do. The main ingredients we use are some pork chops and a can of beans. Believe me, the entire family will love this recipe. The great things is, you can make it in one pan and it takes 30 minutes. This is a super midweek meal.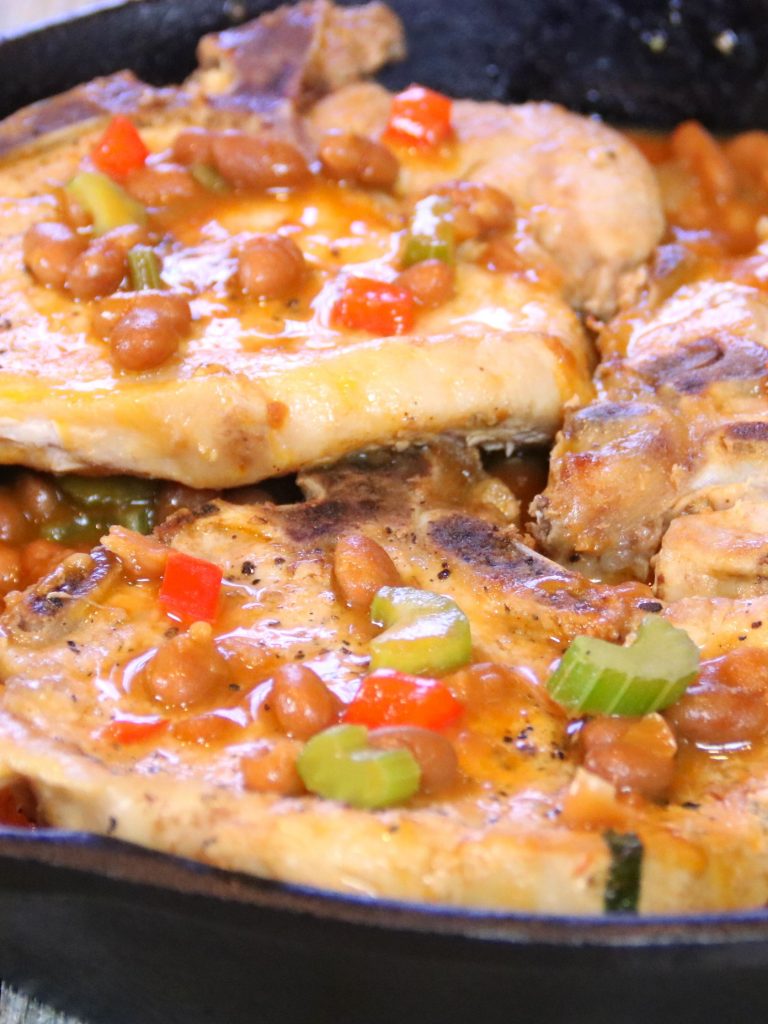 One Pan Pork Chops and Beans in 30 minutes
Description
Pork chops and beans or a traditional and delicious recipe. The great thing is, the entire dish can be put together in about 30 minutes. In light of this, it makes a fantastic mid week meal. Your family and friends will love it.
Pork Chop and Beans Ingredients
How to Make the Pork Chops and Beans
Season the pork chops with salt and pepper.

Add the oil to the pan over medium high heat. Place the pork chops in and fry for about 4 to 5 minutes on each side until browned. Remove it and set them aside on a plate.

In the same pan add in the onions and celery. Stir and fry and do the onions are translucent and the celery semi tender.

Adding the beans, sugar, and the red bell peppers. Stir and cook for about 2 to 3 minutes.

Add the pork chops back in along with any juices on the plate, cover, and allowed to cook for an additional five minutes.

Plate, serve, and enjoy you're 1 pound pork chops and beans in 30 minutes.
Note
Although the main ingredients of this recipe for pork chops and beans, any other ingredient can be added. I add a few additional things to the recipe for flavour, but feel free to add your own. That is the beauty of cooking.
Pork Chops, Beans, Canned Beans, 30 Minute Recipe