Tasty tuna and rice balls recipe – fast and easy snack is incredible. Is simple a matter of cooking up some rice, adding some seaweed (if you desire), rolling them into a ball and placing some a tuna salad mixture into the middle. It doesn't get much easier.
The concept of the recipe is actually Japanese and Korean. I first encountered them in Korea and decided to add my own twist. They are a simple and easy party idea your guests will certainly enjoy.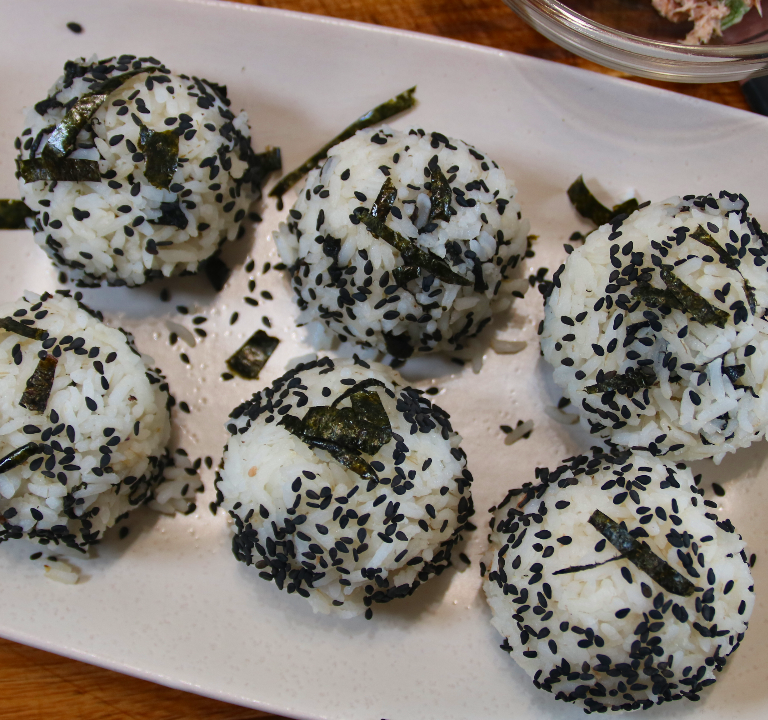 Tasty Tuna and Rice Balls Recipe – Fast and Easy
Description
I was in South Korea and came across these incredible little rice balls they were selling on the street. Of course, I had to go back home and reproduce them. The outcome was incredible. After that, I served them up at a party and my guests went wild. 
Add the rice, sesame oil and seaweed strips to a bowl. Mix until well combined. If you are making rice balls without the seaweed, just don't add it.  

In a separate bowl, combine the tuna, salt, pepper, garlic, and mayo. Mix until well incorporated.

Spray some oil on your hands and scoop 2 heaping tablespoons of the mixture into your palm. Roll it into a ball and flatten it out. Scoop up about a teaspoon of the tuna mixture and put it in the centre. Add one more heaping tablespoon of the rice mixture over it and form it into a ball. Roll the balls in the sesame seed and place on a plate. 

Serve and enjoy your tasty tuna rice balls. 
Servings 1
---
Amount Per Serving

% Daily Value *

Total Fat 2.9g

5

%

Saturated Fat 0.9g

5

%

Cholesterol 119mg

40

%

Sodium 524mg

22

%

Potassium 135mg

4

%

Total Carbohydrate 32g

11

%

Dietary Fiber 1.3g

6

%

Protein 16.2g

33

%
---
* Percent Daily Values are based on a 2,000 calorie diet. Your daily value may be higher or lower depending on your calorie needs. Nutritional values are a within reason estimate and my vary depending on several factors.
Note
There are a few tips to making the rice more pliable which makes it easier to create the balls.
First, use the rice freshly cooked. Just cool enough so you can work with it.
Basmati or Japanese rice seems to work well. It seems to be stickier when freshly cooked. Long grain rice will work, but it's not as good.
Don't undercook the rice. If anything overcook it a bit.
In terms of the tuna salad, you can adjust the seasoning and amount of mayo used to suit your taste.
Use a good tuna. Believe me, it will make all the difference in the world.
Japanese Recipes, Snacks, Korean Street Food, Party Food, Finger Food