With just a handful of ingredients, you'll be able to create a dish that is both easy to make and incredibly delicious. The combination of mayo, parmesan cheese, and garlic forms a rich and creamy coating that keeps the chicken moist and tender. Every bite is packed with savory goodness!
In this step-by-step tutorial, we'll guide you through the entire cooking process, ensuring that you can replicate this mouthwatering dish with ease. Whether you're a seasoned chef or a beginner in the kitchen, you'll find this recipe accessible and enjoyable to recreate.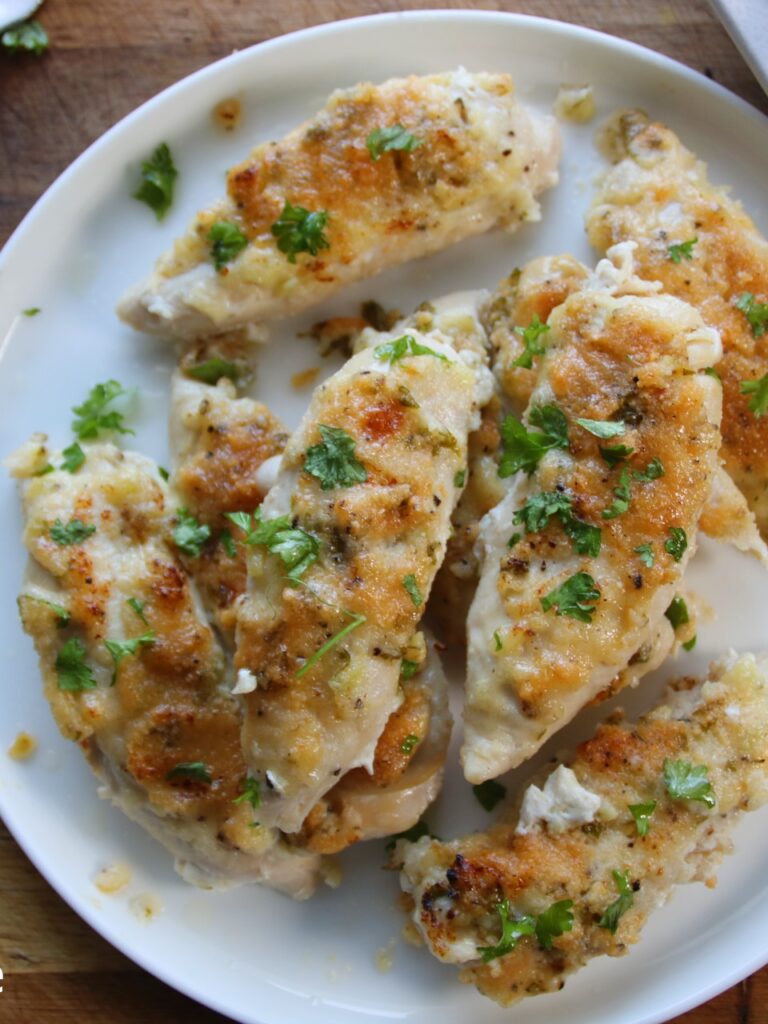 Amazingly Tender Mayo Parmesan Garlic Chicken
Description
if you're looking to elevate your chicken game and surprise your family or guests with a dish they won't forget, make sure to watch this video and give this recipe a try. Don't forget to hit that subscribe button and turn on notifications so you won't miss any of our upcoming mouthwatering recipes. Get ready to experience the incredible flavors of our Amazingly Tender Mayo Parmesan Garlic Chicken!
Add the chicken tenders and milk to a bowl. Cover and allow to marinate for two hours or overnight.

Add the mayo, Parmesan, garlic, salt, pepper, and 1 1/2 tbsp of chopped parsley to a mixing bowl. Mix until well combined. 

Let the chicken drain and place it into the bottom of a baking or casserole dish. Spread the coating over the top. 

Bake in a 375 degree preheated oven for about 40 minutes until cooked though. 

Plate, garnish with parsley, and serve. 

Enjoy your Amazingly Easy Tender Mayo Parmesan Garlic Chicken.
Servings 1
---
Amount Per Serving

% Daily Value *

Total Fat 5g

8

%

Saturated Fat 0.5g

3

%

Cholesterol 55mg

19

%

Sodium 350mg

15

%

Total Carbohydrate 1g

1

%

Protein 22g

44

%
---
* Percent Daily Values are based on a 2,000 calorie diet. Your daily value may be higher or lower depending on your calorie needs. Nutritional values are a within reason estimate and my vary depending on several factors.
Note
Chicken Selection: You can also use boneless, skinless chicken breasts or chicken thighs for this recipe. Adjust the cooking time accordingly based on the thickness of the chicken pieces.

Mayo Selection: Use regular mayonnaise for this recipe. Avoid using light or reduced-fat mayo, as it may affect the richness and creaminess of the dish.

Parmesan Cheese: Grate fresh Parmesan cheese for the best flavor and texture. I use pre-packaged grated Parmesan but it may not melt as smoothly or provide the same depth of flavor.

Garlic Intensity: The amount of garlic used in this recipe can be adjusted according to your personal preference. If you love a strong garlic flavor, feel free to add an extra clove or two.

Seasoning Variations: You can add additional seasonings or herbs to the mayo mixture to customize the flavors. Options like dried Italian seasoning, paprika, or dried herbs like thyme or rosemary can enhance the taste profile.

Breadcrumbs Option: For an extra crispy exterior, you can coat the chicken with breadcrumbs after applying the mayo mixture. Simply dip the chicken in breadcrumbs before placing it in the oven. This will add a delightful crunch to each bite.

Oven Temperature and Cooking Time: Preheat your oven to 400°F (200°C) for this recipe. Cooking times may vary depending on the thickness of the chicken. It is essential to ensure that the chicken reaches an internal temperature of 165°F (75°C) for safe consumption.

Resting Time: Allow the chicken to rest for a few minutes after removing it from the oven. This will help the juices redistribute and result in more tender and juicy chicken.

Serving Suggestions: Serve the Amazingly Tender Mayo Parmesan Garlic Chicken as a main course alongside your favorite sides. It pairs well with mashed potatoes, steamed vegetables, or a fresh green salad.

Storage and Reheating: Leftover chicken can be stored in an airtight container in the refrigerator for up to 3 days. To reheat, place the chicken in a preheated oven at 350°F (175°C) for about 10-15 minutes or until heated through.
Chicken Recipe, Easy Chicken, Chicken Tenders, Midweek Meals