In this recipe, we're taking on a meal hack challenge that will revolutionize the way you think about canned ravioli. Join us as we explore the possibilities of transforming this humble pantry staple into a gourmet delight using just two additional cans!
If you've ever found yourself in need of a quick, easy, and budget-friendly meal, this is the recipe for you. We'll show you step-by-step how to elevate canned ravioli to new heights, turning it into a dish that will leave your taste buds craving for more. With a few simple ingredients and some creative techniques, we'll prove that a satisfying and delicious meal can be achieved in no time.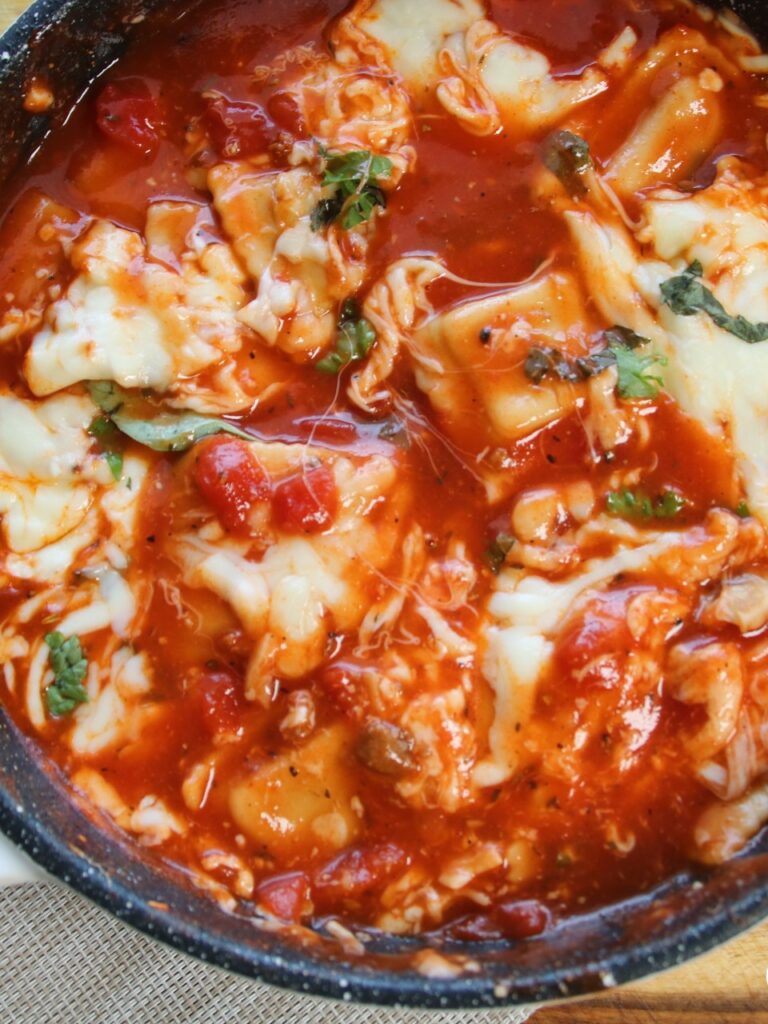 Elevating Canned Ravioli – Is it Possible?
Description
Our kitchen experiment is all about maximizing flavor and texture. From adding a burst of freshness with herbs and spices to incorporating complementary ingredients, we'll guide you through each stage of the process.
Add the ravioli, diced tomatoes, garlic, onion powder, salt, pepper, tomato paste, and Italian seasoning to a casserole dish. Mix until well combined. 

Spread the mozzarella over the top and top with the basil. Place in a 350 degree F or 180 C preheated oven for about 20 minutes. 

Serve and enjoy your elevated canned ravioli. 
Servings 1
---
Amount Per Serving

% Daily Value *

Total Fat 5.5g

9

%

Saturated Fat 2g

10

%

Cholesterol 7mg

3

%

Sodium 910mg

38

%

Potassium 320mg

10

%

Total Carbohydrate 30g

10

%

Dietary Fiber 1g

4

%

Sugars 4g

Protein 5g

10

%
---
* Percent Daily Values are based on a 2,000 calorie diet. Your daily value may be higher or lower depending on your calorie needs. Nutritional values are a within reason estimate and my vary depending on several factors.
Note
Quality Canned Ravioli: While canned ravioli is a convenient option, not all brands are created equal. Look for high-quality canned ravioli that uses good ingredients and has a flavorful sauce. You can read reviews or try different brands to find the one you prefer.

Sauteed Vegetables: One way to elevate canned ravioli is by adding sautéed vegetables. Heat some olive oil in a pan and sauté diced onions, garlic, bell peppers, mushrooms, or any vegetables of your choice until they are tender and slightly caramelized. This will add depth of flavor and texture to the dish.

Seasoning and Herbs: Taste the canned ravioli before serving and adjust the seasoning if needed. You can enhance the flavor by adding herbs and spices like dried basil, oregano, thyme, or a sprinkle of red pepper flakes for a touch of heat. Experiment with different seasonings to find the combination that suits your taste.

Fresh Ingredients: Consider incorporating fresh ingredients to complement the canned ravioli. For example, chop up some fresh basil or parsley and sprinkle it over the dish before serving. This will add brightness and freshness to the overall flavor profile.

Cheese Topping: If you're a cheese lover, grate some Parmesan, mozzarella, or another cheese of your choice over the ravioli before serving. Place the dish under the broiler for a few minutes until the cheese is melted and bubbly. This will create a delicious cheesy crust that elevates the dish.

Custom Additions: Get creative and add your own twist to the canned ravioli. You can incorporate cooked Italian sausage, ground beef, or shredded chicken for added protein. Or mix in some roasted tomatoes, sun-dried tomatoes, olives, or capers for extra depth of flavor.

Fresh Garnishes: To give the dish a finishing touch, top it with fresh garnishes such as chopped parsley, basil leaves, or a drizzle of extra virgin olive oil. These simple additions can enhance the visual appeal and add an extra layer of flavor.
Remember, while canned ravioli may not match the taste of homemade ravioli, these tips can help elevate the flavor and presentation to make it a more enjoyable meal. Experiment, have fun, and discover your own unique ways to enhance the canned ravioli experience!
Casserole, Canned Ravioli Recipe, Easy Recipes, 30 Minute Meals