In this recipe, we're going to show you how to make restaurant-worthy chicken tandoori right in the comfort of your own home, so you can skip the takeout and impress your family and friends with your culinary skills.
Chicken tandoori is a classic Indian dish known for its vibrant flavors and tender, juicy meat. With our easy step-by-step recipe, you'll learn the secrets to achieving that authentic taste and texture without needing a tandoor oven.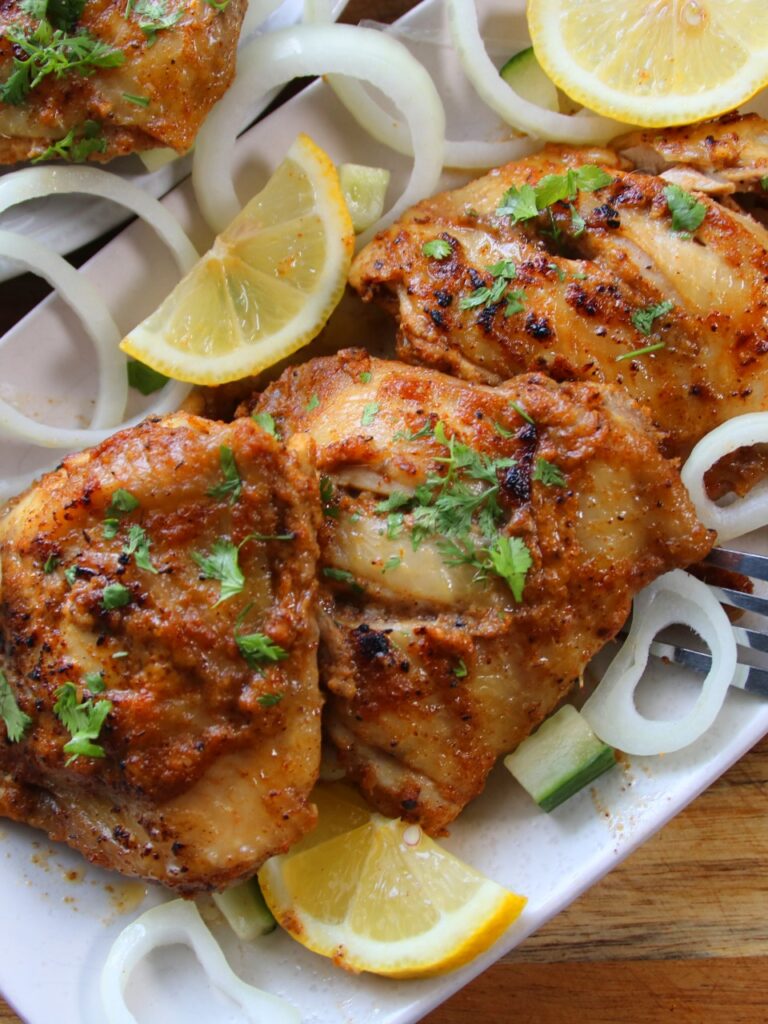 Skip the Takeout Chicken Tandoori at Home
Description
We'll guide you through the entire process, from marinating the chicken in a blend of aromatic spices and yogurt, to cooking it to perfection using a grill or oven. You'll be amazed at how simple it is to recreate the mouthwatering flavors that you would find in your favorite Indian restaurant.
Whether you're a cooking enthusiast looking to expand your culinary repertoire or simply someone who wants to enjoy a delicious homemade meal, this recipe is for you. Join us on this culinary adventure and discover the joy of creating your own mouthwatering chicken tandoori.
Add the yogurt, ginger, garlic, onion powder, tandoori marsala, salt, and pepper to a mixing bowl and mix until well combined. 

Make two diagonal slits in the top of each thigh and place them into the marinate. Mix until the chicken is completely coated. Wrap cling wrap over the top and place in the fridge for at least one hour - overnight is best. 

Add the chicken to a baking sheet lined with parchment paper. Spoon any remaining sauce over the top. Place in a 375 degree F or 190 C preheated oven for 40 - 45 minutes or until the chicken is done. 

Remove the chicken from the oven, plate, and garnish with the cilantro. Serve with lemon wedges and sliced onions. 

Enjoy your chicken tandoori. 
Servings 1
---
Amount Per Serving

% Daily Value *

Total Fat 14g

22

%

Saturated Fat 5.2g

26

%

Cholesterol 140mg

47

%

Sodium 450mg

19

%

Total Carbohydrate 7.2g

3

%

Dietary Fiber 0.8g

4

%

Sugars 4.2g

Protein 35g

70

%
---
* Percent Daily Values are based on a 2,000 calorie diet. Your daily value may be higher or lower depending on your calorie needs. Nutritional values are a within reason estimate and my vary depending on several factors.
Note
It's best to use bone-in, skinless chicken pieces such as drumsticks or thighs for this recipe, as they retain moisture and have a richer flavor. However, boneless chicken can also be used if preferred.
The marinating process is crucial for infusing the chicken with flavors. Allow the chicken to marinate for at least 2 hours, but for the best results, marinate it overnight in the refrigerator. This will ensure the spices penetrate the meat, resulting in tender and flavorful chicken.
If you don't have access to a grill or tandoor oven, don't worry! You can achieve similar results by using a conventional oven or stovetop grill pan. Simply adjust the cooking time and temperature accordingly.
For a smokier flavor, you can try adding a small amount of liquid smoke to the marinade. This will mimic the traditional smoky taste of tandoori chicken cooked in a clay oven.
Serve the chicken tandoori with fresh lemon wedges, mint chutney, and naan bread or steamed rice. These accompaniments complement the flavors of the dish and provide a well-rounded meal.
Feel free to adjust the spice levels according to your preference. If you prefer a milder flavor, reduce the amount of chili powder or omit it altogether. On the other hand, if you like it extra spicy, you can add a pinch of cayenne pepper or increase the chili powder.
Experiment with different variations by adding other spices such as ground cumin, ground coriander, or garam masala to the marinade. These additions can elevate the flavors and add a unique twist to the traditional chicken tandoori.
Remember to preheat your grill or oven before cooking the chicken to ensure even cooking and to lock in the juices.
Allow the chicken to rest for a few minutes after cooking to retain its juiciness before serving. This will help the flavors settle and make the meat more tender.
Enjoy the chicken tandoori as a main course or as part of a larger Indian feast. It's perfect for special occasions, family gatherings, or simply satisfying your craving for authentic Indian flavors.
Chicken Dish, Chicken Tandoori, Indian Cuisine, Take Out Copycat