Welcome to Cook n' Share, where we bring you quick and delicious recipes perfect for busy nights! In this video, we're excited to share our Easy 20-Minute Scallion Chicken recipe – a true one-pan wonder that will save you time and satisfy your taste buds.
Life can get hectic, and that's why we've crafted this flavorful and fuss-free dish that's perfect for those evenings when you're short on time but still want a satisfying homemade meal. Our Scallion Chicken recipe combines tender chicken with vibrant scallions, creating a harmony of flavors that will leave you craving more.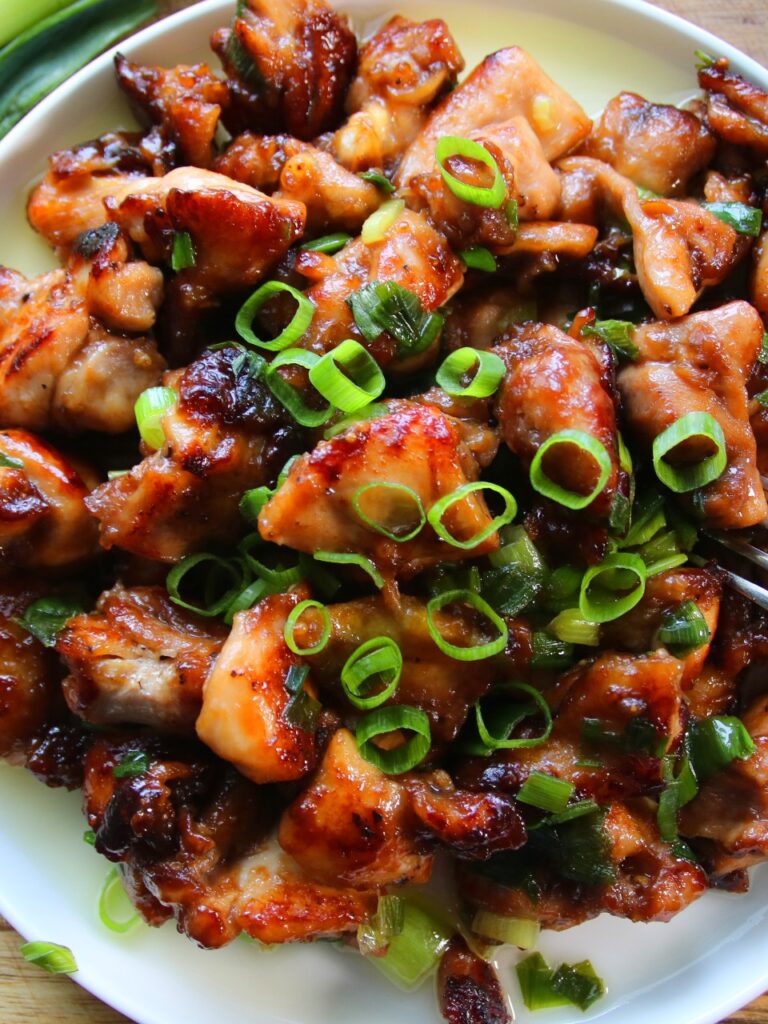 Easy 20-Minute Scallion Chicken
Description
With just one pan, you'll be amazed at how effortlessly this dish comes together. We'll guide you through each step of the process, from preparing the ingredients to achieving that perfect blend of flavors. The best part? It takes only 20 minutes from start to finish, making it an ideal choice for those busy weeknights when you need a quick dinner solution.
Add the chicken, soy sauce, oyster sauce, honey, pepper, and corn starch to a mixing bowl. Mix until the chicken is well coated with all the ingredients. Set aside. 

Add the oil to a pan over medium high heat. Place the chicken in and stir and fry until cooked though. Add in the scallions, reserving a few for garnish. Cook and stir for an additional 2 or 3 minutes. 

Plate and garnish with the additional scallions. 

Serve and enjoy your scallion chicken. 
Servings 1
---
Amount Per Serving

% Daily Value *

Total Fat 6.8g

11

%

Saturated Fat 1.2g

6

%

Cholesterol 85mg

29

%

Sodium 920mg

39

%

Potassium 850mg

25

%

Total Carbohydrate 14.2g

5

%

Dietary Fiber 5.2g

21

%

Sugars 4.2g

Protein 38g

76

%
---
* Percent Daily Values are based on a 2,000 calorie diet. Your daily value may be higher or lower depending on your calorie needs. Nutritional values are a within reason estimate and my vary depending on several factors.
Note
Additional Recipe Notes:
Chicken Selection: Use boneless, skinless chicken breasts or thighs for this recipe. You can also cut the chicken into bite-sized pieces for faster cooking.

Scallion Preparation: Wash and trim the scallions, using both the green and white parts for maximum flavor. Slice them diagonally to add a visual appeal to the dish.

Seasoning: Feel free to customize the seasoning to your preference. You can add a pinch of red pepper flakes for some heat or incorporate other herbs and spices like garlic powder, paprika, or thyme.

Cooking Pan: Choose a wide and deep skillet or pan to ensure even cooking and prevent overcrowding of the ingredients.

High Heat: Start by heating the pan over medium-high heat to sear the chicken and lock in the juices. Adjust the heat as needed to prevent burning.

Sautéing: Sauté the scallions until they're just tender, ensuring they retain their vibrant color and fresh flavor.

Deglazing: When deglazing the pan with chicken broth or white wine, use a wooden spoon to scrape up any flavorful browned bits from the bottom of the pan.

Sauce Thickness: Allow the sauce to simmer and reduce slightly. If you prefer a thicker sauce, you can mix a small amount of cornstarch with water and add it to the pan to thicken the sauce further.

Garnish: Consider garnishing the dish with additional sliced scallions, sesame seeds, or chopped fresh herbs like parsley or cilantro for a burst of color and added flavor.

Serving Ideas: This Scallion Chicken pairs well with steamed rice, quinoa, or noodles. You can also serve it alongside a crisp salad or sautéed vegetables.

Leftovers: If you have leftovers, store them in an airtight container in the refrigerator for up to 2-3 days. Reheat gently in a pan over low heat or in the microwave.

Meal Prep: You can easily prepare the ingredients in advance to save time on busy nights. Chop the chicken and scallions, and measure out the seasonings for even quicker assembly.

Enjoy the convenience and incredible flavors of this Easy 20-Minute Scallion Chicken, a versatile dish that will become a staple in your weeknight dinner repertoire.
Scallion Chicken, One-Pan Meals, Easy Dinner, Midweek Meal. One-Pan Chicken