This dish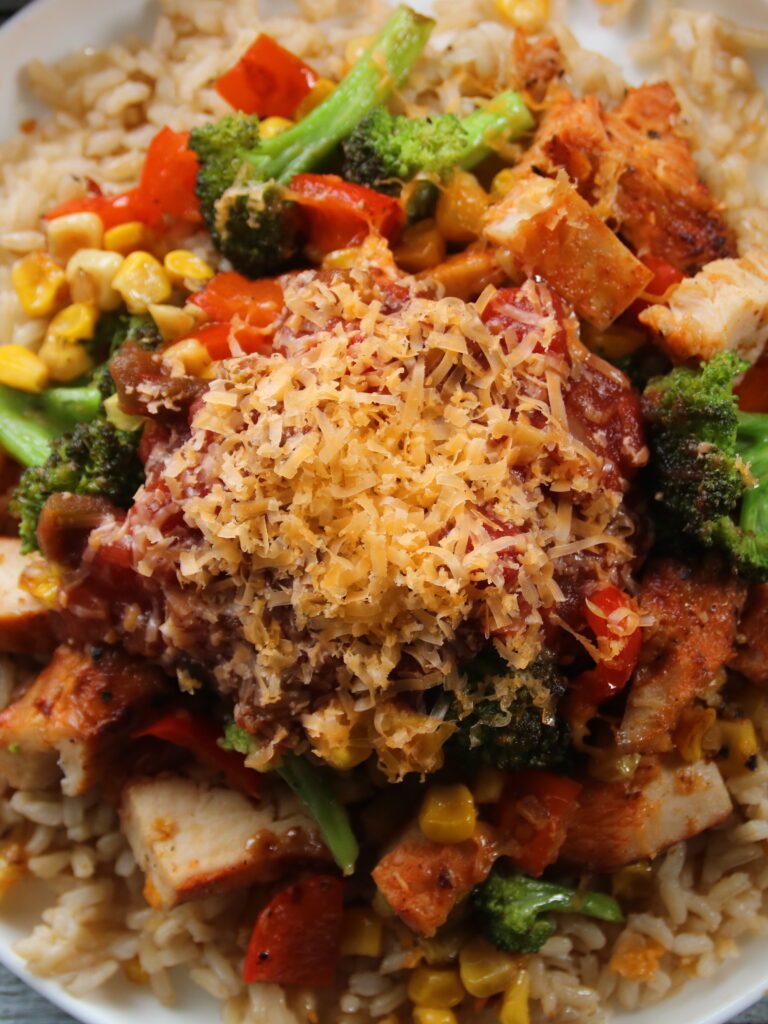 Amazing 15 Minute Midweek Chicken Special
Description
Welcome to our kitchen, where quick and delicious meals come to life! In today's episode of "Midweek Special," we're whipping up a mouthwatering 15-Minute Chicken, Veggies, Corn, and Salsa dish that's perfect for those busy weeknights. With a burst of flavors and vibrant colors, this recipe will not only satisfy your taste buds but also save you precious time in the kitchen.
Pour the oil into a pan over medium high heat. Add in the broccoli, red bell pepper, and corn. Fry for 4 or 5 minutes until the veggies are fork tender. 

Add in the onion and garlic and saute until fragrant. Put the chicken in and season with salt, pepper, and hot pepper flakes. 

Serve over rice and top with salsa and cheese. Enjoy your 15 minute chicken veggies and corn. 
Note
Chicken Selection: Opt for boneless, skinless chicken breasts or thighs for this recipe. They cook quickly and evenly, making them perfect for a 15-minute meal.
Veggie Variety: Feel free to use your favorite vegetables for the medley. Bell peppers, zucchini, cherry tomatoes, and snap peas are great choices. Make sure to slice them uniformly to ensure even cooking.
Corn Options: You can use fresh, frozen, or canned corn, depending on what's available. If using fresh corn, simply slice the kernels off the cob.
Salsa Suggestions: Choose a salsa with the heat level and flavor profile you prefer. Whether it's mild, medium, or spicy, the salsa will add a vibrant kick to your dish.
Seasoning: A combination of basic seasonings such as garlic powder, onion powder, paprika, and a touch of chili powder can elevate the flavors of your chicken and veggies.
Quick Marinade: If you have a few extra minutes, marinate the chicken with a mix of olive oil, lime juice, and your favorite herbs for added depth of flavor.
Cooking Technique: Searing the chicken in a hot pan for a couple of minutes on each side helps lock in the juices. Once the chicken is almost cooked through, add the veggies for a brief sauté, ensuring they retain their crispness and vibrant colors.
Plating Perfection: Arrange the cooked chicken on a bed of vegetables and corn for a stunning presentation. Drizzle the salsa over the top and garnish with fresh cilantro or chopped green onions.
Serving Options: This dish pairs beautifully with steamed rice, quinoa, or warm tortillas. Create your own bowl or wrap to suit your preference.
Customization: Feel free to get creative with additional toppings or sides. Sour cream, grated cheese, avocado slices, or a squeeze of fresh lime juice can take this dish to the next level.
Leftover Magic: If you happen to have any leftovers, use them to make delicious wraps, salads, or even stuffed peppers the next day.
Storage: Store any leftovers in an airtight container in the refrigerator for up to 2-3 days.
Remember, cooking is all about experimenting and making the recipe your own. Adjust seasonings, ingredients, and cooking times to match your taste preferences and dietary needs. Enjoy your 15-Minute Chicken, Veggies, Corn, and Salsa – Midweek Special!
15 Minute Meal, Dinner, Chicken Recipes, Chicken and Salsa