Our Spanish-style ground beef dish is a delightful fusion of traditional Spanish flavors and modern convenience. It's a go-to recipe that'll satisfy your taste buds without keeping you tied to the kitchen. Whether you're a busy professional, a student on the go, or just someone craving a delicious meal without the fuss, this recipe has got you covered.
In just a matter of minutes, we'll show you how to create a harmonious blend of tender ground beef, aromatic spices, and vibrant veggies that'll transport your taste buds to the streets of Spain. This dish is not only bursting with flavors but also customizable to your liking – add a little extra spice, pile on more veggies, or keep it simple and classic.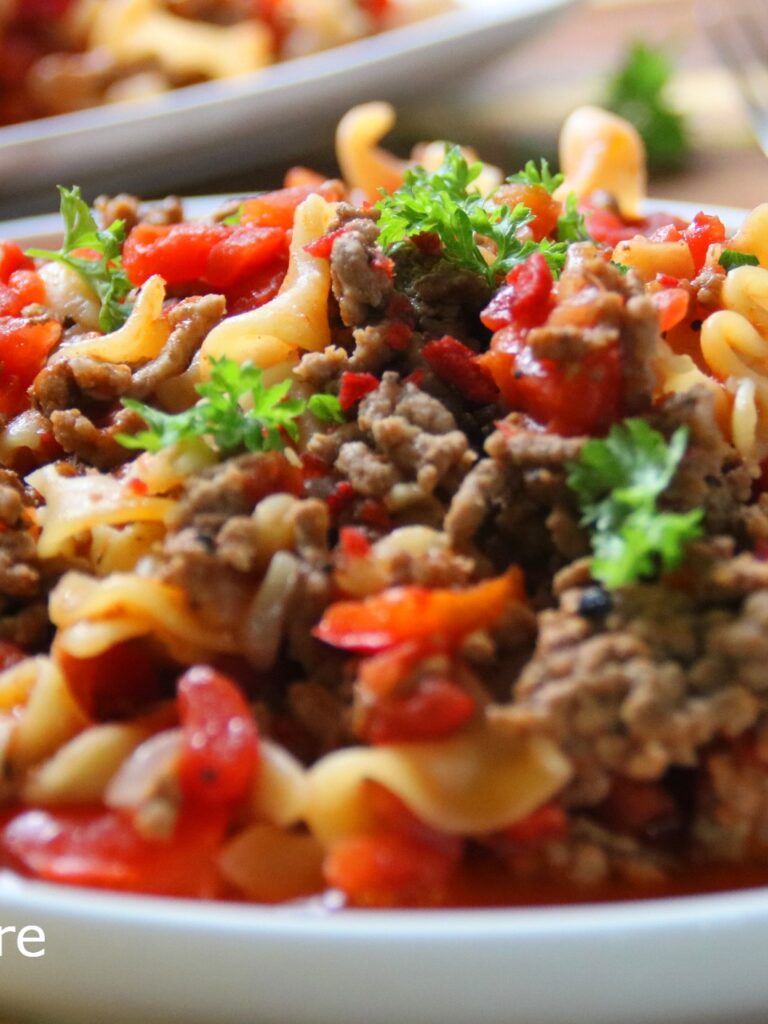 Easy Spanish Ground Beef
Description
In this recipe, we're bringing you a quick and quirky twist on a classic Spanish-style ground beef recipe that's perfect for those busy days when you want maximum flavor with minimal effort.
Pour the oil into a pan over medium high heat. Add in the ground beef and fry until browned. 

Add in the bell pepper and fry until fork tender. Add in the onion and garlic. Stir and saute until fragrant. 

Season with salt, pepper, and sriracha. Pour in the diced tomatoes, water, and add the noodles. Stir until well combined and bring to a boil. Place a lid over, lower the heat, and allow to soft boil for 15 to 20 minutes until the noodles are soft. 

Garnish with bacon bits and parsley. Serve and enjoy your easy Spanish style ground beef.
Servings 1
---
Amount Per Serving

% Daily Value *

Total Fat 23g

36

%

Saturated Fat 8.3g

42

%

Cholesterol 65mg

22

%

Total Carbohydrate 42g

15

%

Dietary Fiber 3.2g

13

%

Sugars 3.5g

Protein 28g

57

%
---
* Percent Daily Values are based on a 2,000 calorie diet. Your daily value may be higher or lower depending on your calorie needs. Nutritional values are a within reason estimate and my vary depending on several factors.
Note
Ingredients Substitution: Feel free to get creative with the ingredients. Swap ground beef for ground turkey or chicken for a lighter version. If you prefer a vegetarian option, try using plant-based meat alternatives.

Spice Level: Adjust the spice levels to your preference. If you're a fan of heat, add extra red pepper flakes or a finely chopped jalapeño. For a milder flavor, reduce the amount of paprika and omit the chili flakes.

Veggie Variations: While our recipe includes bell peppers and onions, you can throw in other veggies like zucchini, corn, or even diced tomatoes for added texture and color.

Toppings Galore: Don't be shy with the toppings! A sprinkle of fresh chopped cilantro, a squeeze of lime juice, or a dollop of sour cream can elevate the flavors and add a touch of freshness.

Serving Suggestions: This Spanish-style ground beef is incredibly versatile. Serve it over cooked rice, stuff it into tortillas for flavorful tacos, or pile it onto crusty bread for a mouthwatering sandwich.

Make-Ahead Magic: Prepare a larger batch of the ground beef mixture and store it in the fridge for up to 3 days. It's a convenient base for various meals throughout the week.

Freezer Friendly: This recipe is perfect for meal prep. Once cooled, store portions of the cooked ground beef in airtight containers or freezer bags, and freeze for up to 2-3 months. Thaw and reheat for quick and easy future meals.

Customize with Cheese: To add an extra layer of indulgence, melt your favorite cheese over the cooked beef mixture. Cheddar, Monterey Jack, or a blend of Mexican cheeses work wonderfully.

Enhance with Sides: Complete your meal with classic Spanish sides like saffron-infused rice, patatas bravas (fried potatoes), or a refreshing side salad.

Cooking for a Crowd: Scaling up the recipe is a breeze. Just adjust the quantities accordingly and enjoy a fantastic dish for gatherings, potlucks, or family dinners.
Remember, cooking is all about personalization, so don't hesitate to make this Spanish-style ground beef recipe your own. Enjoy the delicious flavors and the convenience it brings to your busy days!
Ground Beef Recipe, Spanish Ground Beef, Midweek Meals, 30 Minute Meals, Easy Recipes