Welcome to our kitchen, where we're taking you on a culinary journey to the vibrant streets of Cuba with our Easy Cuban-Style Sauteed Ground Beef recipe! In just 30 minutes, you can create a dish that's bursting with the rich flavors and spices that define Cuban cuisine.
Join us as we show you step-by-step how to whip up this delicious sauteed ground beef, also known as Picadillo, that's perfect for those busy weeknight dinners or when you're craving a taste of something exotic without spending hours in the kitchen.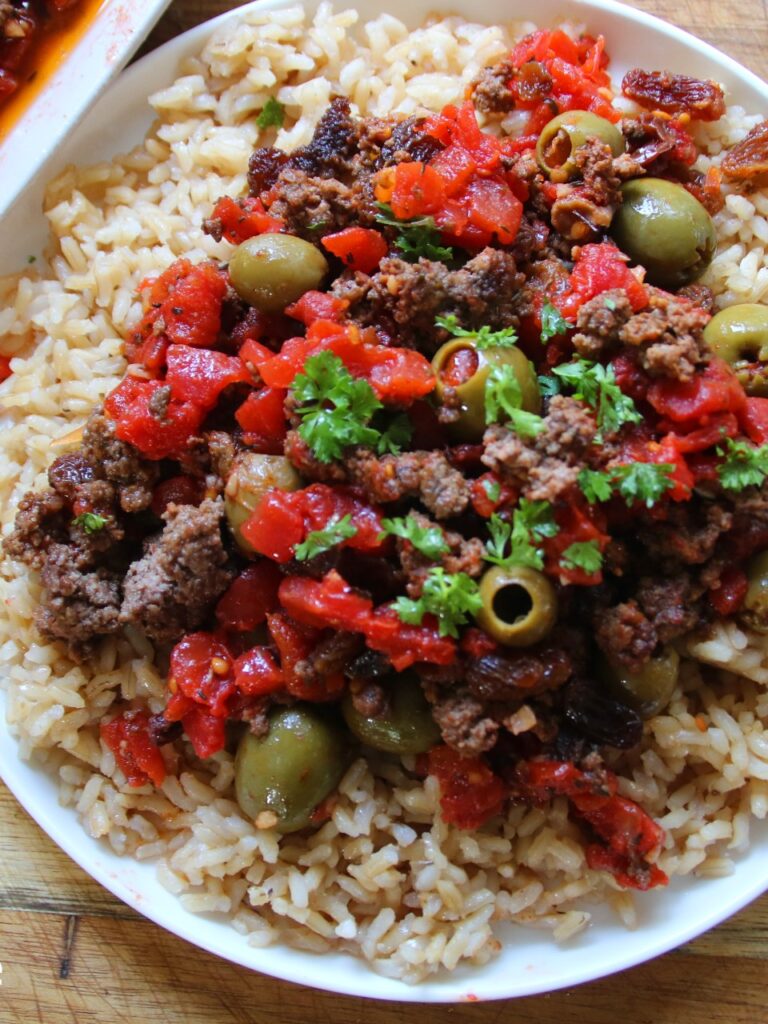 Easy Cuban Style Sauteed Ground Beef
Description
From the sizzling of the beef to the medley of aromatic ingredients that infuse the dish, you'll learn all the tricks to achieve that authentic Cuban taste without the hassle. This recipe strikes the perfect balance between convenience and authenticity, making it a go-to option for both beginner and seasoned chefs.
Add oil to a pan over medium high heat. Place the ground beef in and fry until browned. 

Add in the onion and garlic. Stir and saute until fragrant. 

Add in the Italian seasoning, cumin, oregano, salt, and pepper. Stir and fry for a few minutes. Pour in the tomatoes, vinegar, raisins, and olives. Stir until combined. Lower the heat and simmer for about 4 or 5 minutes. 

Serve over rice and garnish with parsley. Enjoy!
Servings 1
---
Amount Per Serving

% Daily Value *

Total Fat 34g

53

%

Saturated Fat 11g

56

%

Trans Fat 1.1g

Cholesterol 135mg

45

%

Sodium 510mg

22

%

Total Carbohydrate 18g

6

%

Dietary Fiber 1.7g

7

%

Sugars 12g

Protein 43g

86

%
---
* Percent Daily Values are based on a 2,000 calorie diet. Your daily value may be higher or lower depending on your calorie needs. Nutritional values are a within reason estimate and my vary depending on several factors.
Note
Recipe Notes:
Meat Choice: While traditional Cuban picadillo is made with ground beef, you can also use ground turkey, chicken, or even a meat substitute for a lighter twist.

Aromatics Variety: Experiment with the combination of aromatics like onions, garlic, and bell peppers to customize the flavors according to your preference. Red or green bell peppers both work well.

Raisins and Olives: The inclusion of raisins and green olives is a signature of Cuban picadillo, adding sweet and tangy notes. Adjust the quantity based on your taste.

Spice Level: Adjust the amount of spices like cumin and oregano to suit your preferred spice level. You can also add a pinch of cayenne pepper for a hint of heat.

Tomato Sauce Base: Using a good-quality tomato sauce is crucial to achieve the rich, saucy consistency. You can also use crushed tomatoes or tomato paste diluted with a bit of water.

Serving Ideas: Serve the sauteed ground beef over a bed of fluffy white rice for a classic presentation. It's also delicious as a filling for tacos, empanadas, or stuffed bell peppers.

Garnish: Top the dish with freshly chopped cilantro or parsley for a burst of color and freshness.

Meal Prep: This sauteed ground beef freezes well, so consider making a double batch and freezing half for a quick meal option on busy days.

Side Dishes: Accompany your Cuban-style picadillo with classic sides like black beans, fried plantains, or a simple green salad for a well-rounded meal.

Leftover Remix: Use any leftover sauteed ground beef to create flavorful sandwiches, wraps, or even as a topping for baked potatoes.
Ground Beef Recipes, Cuban Cuisine, 30 Minute Recipes, Midweek Meals, Picadillo